Sophie White's debut novel is a comprehensive account of the trials and tribulations of influencer culture and a perfect hit for someone looking to curl up and immerse themselves into the witty world we only ever see through a filter. This charming novel takes a deep dive into the online validation that comes with a rising social media following and gives the reader a 'fly on the wall' look behind the obsession.
Ali Jones, a young woman who is working in the media industry, is absolutely repulsed by the obsession that is Instagram. However, once she hits the download button and starts posting online, Ali becomes every bit as enthusiastic about her online presence as she is oblivious to what is going on in her life in the real world.
Housemate and best friend Liv bases her thesis around the absurdity that is Ali's faux social media account, all the while trying to pry Ali away from her phone. But to no avail. 'The disintegration of society', Liv muttered. 'AKA Instagram'.
Ali finally reaches a new low when she starts to lie about a #secretproject in the works. When her followers speculate that she's pregnant she happily runs with the idea. This new revelation puts her on the path to success, which according to her is bagging a Glossie award.
However, as Ali's following rises, she finds herself unable to keep up with her web of lies. An old hookup, Tinder Sam, comes back into the picture as he believes he's the baby daddy and Ali can't bring herself to tell him the truth. While living a lie she is also trying to manage her dad's deteriorating dementia and complicated family dynamics.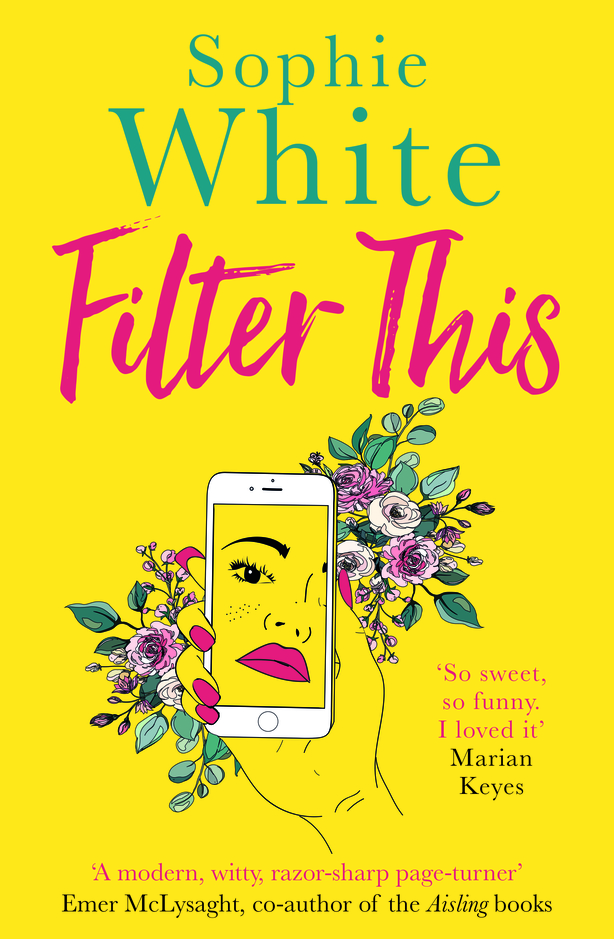 It is apparent that Ali cannot FaceFix the holes that are appearing in her life. The car crash that is her impending fall is not the only story-line to keep readers intrigued. The insight into the life of Instagram queen and ultimate mumfluencer (yes I did just cringe writing that), Shelly Devine in chapter three was a breath of fresh air.
Unlike Ali, Shelly is not excited by the opportunities and adoration that comes with being an influencer. She is exhausted from the grueling schedule that is needed to make the SHELLY brand run smoothly. Meanwhile, the cracks in her marriage are becoming irreparable. Between a possible stalker and her own surprise bundle of joy due to be arriving in the coming months, Shelly's life slowly becomes that of nightmares. The juxtaposition of Ali's rise and Shelly's decline is perfectly balanced and shows that they are just cogs in the machine, fighting for their five minutes of fame.
It takes talent to turn such a shallow, trivial topic like social media into an eloquent piece of writing, and it is apparent the author has this in abundance. From the little anecdotes about bad dates to the relatable Irish cultural stereotypes and phrases, White reels the reader in and keeps them glued to the page every step of the way. Reaching the end of the three hundred and seventy five page novel, I wished that I could stay reading about these women's lives I had grown to like. I am eagerly awaiting what is in store for these fallen influencers in Filter This 2.