And how was your week? Here's our handy tipsheet of Cultural musts...
Get Around To It
We're loving the brand pop culture new podcast from journalists Aoife Barry and RTÉ Culture contributor Lauren Murphy, as they "finally get around to watching, reading and listening to stuff we wanted to get around to watching, reading and listening to." Listen to it here.
Just a reminder that the very first episode of Get Around to It, the culture podcast by me & @sweetoblivion26 is out now. Find out why I don't like Derry Girls (gasp) & who we want killed off in Game of Thrones, etc. Plenty more book/music/film chat, too! https://t.co/WTIeqFVNVE

— Lauren Murphy (@laurenmurphy_) May 8, 2019
Keanu Reeves
John Wick: Parabellum is the third installment in the defining action franchise of the modern age - this time out, Keanu Reeves is in the desert, on a horse and fighting bad guys with a ninja sword on a motorbike. Also: Halle Berry! Take our money now. Dublin's Light House cinema is also hosting Keanurama, a 15-film Reeves retrospective through May and June, which includes everything from arthouse classics River's Edge and My Own Private Idaho to kick-ass masterworks Speed and Point Break. And he's the new face of Saint Laurent. Icon!
Session at the Dublin Dance Festival
Hot Ticket Alert: Riverdance veteran Colin Dunne and internationally revered Flemish-Moroccan choreographer and dancer, Sidi Larbi Cherkaoui - he provided the moves for Beyonce & Jay-Z's Apesh*t video - perform together on the Abbey Stage this Friday and Saturday (May 10th and 11th), in an eagerly anticipated new duet commissioned by Dublin Dance Festival - find out more here.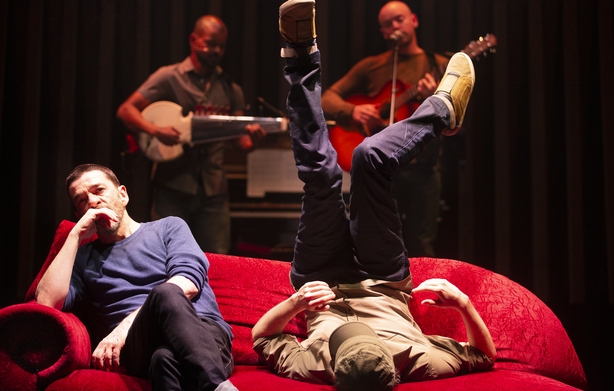 Dublin Palms by Hugo Hamilton
One of the giants of contemporary Irish fiction, the latest novel from the author of The Speckled People and Every Single Minute is, according to The Irish Times, 'a quietly powerful and wise fictional memoir'.
Finished Hugo Hamilton's new one on Saturday - it's an impressive novel on, amongst many other things, being lost in in three languages (Irish, English and German) and feeling at home in none of them, a theme he's explored before. pic.twitter.com/uVPjRHxAV1

— Rick O'Shea (@rickoshea) May 7, 2019
12-year-old uilleann piper Sorcha Ní Scolaí
This week's internet sensation, and vivid proof that the future of Irish traditional music is in very capable (and talented) hands - here's Sorcha performing at the Seamus Ennis centenary event in Naul, Co. Dublin - you can listen to it on The Rolling Wave on RTÉ Radio 1 this Sunday at 9pm.
I Think You Should Leave
Tim Robinson's indescribable new sketch comedy series for Netflix, produced by Andy Samberg and his Lonely Island posse, is dark, deeply twisted and utterly hilarious, sprinkled with choice cameos from the cream of the current US comedy crop, from Will Forte to Patti Harrison - a cult sensation is born.
Gods Of Rap
The title of the event isn't overselling it, for a change - hip-hop legends Wu Tang Clan, Public Enemy and De La Soul assemble at Dublin's 3 Arena on Tuesday, May 14th, celebrating the anniversary of three truly iconic records: Wu-Tang's Enter the Wu-Tang (36 Chambers) turns 25, Public Enemy's It Takes A Nation Of Millions To Hold Us Back turns 30, and De La Soul's 3 Feet High and Rising turns 30. Pay your respects, and do believe the hype.
High Life
If the first English language film from French filmmaker Claire Denis' looks absolutely bonkers - watch the trailer below - that's because it is. Kudos to Robert Pattinson, who's parlayed his Twilight superstardom into a series of challenging indie movie roles, from Cosmopolis to Good Time to this out-there sci-fi tale, and has become a truly compelling screen presence.
Bingo at the International Dublin Gay Theatre Festival
An honest and funny pick from this year's IDGTF gives a new meaning to the phrase "infectious humour". Writer and performer Alan Flanagan's play, which runs 13-18 May, explores STIs and LGBTQ identity through the story of a man dealing with extremely bad news and learning to be a grown-up - find out more here.
Tickets are flying out the door for @GayTheatre this year and #BingoPlay is no exception. Book now to avoid abject, Kafkaesque disappointment. https://t.co/7ygo6RtISm

— Alan Flanagan (@alanflanagan) May 9, 2019
Vampire Weekend - Father of the Bride
New York's finest return after a lengthy hiatus, minus co-founder Rostam Batmangliji, but with added choirs, bells, whistles and Haim - it's ambitious, eclectic, inspired and a bit of a triumph.
Contributors: Rick O'Shea, Derek O'Connor, Nigel Wheatley