Frank McGuinness's uproarious and outrageous stories tend to depict insecure, unhinged individuals who find themselves on the wrong side of a comfortable life.
Paprika, the playwright and poet's first collection of stories, opens with The Sunday Father, a demented alcoholic romp involving an Irish expat returning reluctantly from England for his father's funeral. His wife puts pressure on him for decency's sake, he wouldn't otherwise have bothered returning for the obsequies. The protagonist was born an only child, years ago father walked out on the small family unit, mother has passed on since.
The second wife, now widowed, is suitably ensconced by her husband's remains which lie in an open coffin at their home. She is offering Guinness or whiskey, the only drinks they ever kept, she says. Cue a vaguely unhinged Dublin wake, complete with priest, permeated by blunt truth-telling in sharp dialogue, a welter, in short of merciless begrudgery and bitterness.
Family dysfunction seems to hang over The Opening Night as Leo the insecure assistant theatre manager clashes with his manipulative, volatile actress sister Detta who got him his job, and reminds him of this in patronising fashion. She herself suffers a humiliatingly public breakdown in the course of the story.
Animals is a strange tale set in 'a border town' concerning two young male teachers. The strange saga thrives on petty misunderstandings and eviscerates pathetic macho insecurity.
Hywel concerns a summer friendship between two young lads in the Inishowen area of Donegal, McGuinness's own heartland. The eponymous Hywel is the son of a local woman who emigrated to Cardiff and married a Welshman, `a convert' (to Catholicism), as it is rumoured balefully in the parish. The friendship sours suddenly over, well, a pair of underpants and a swim in a lake.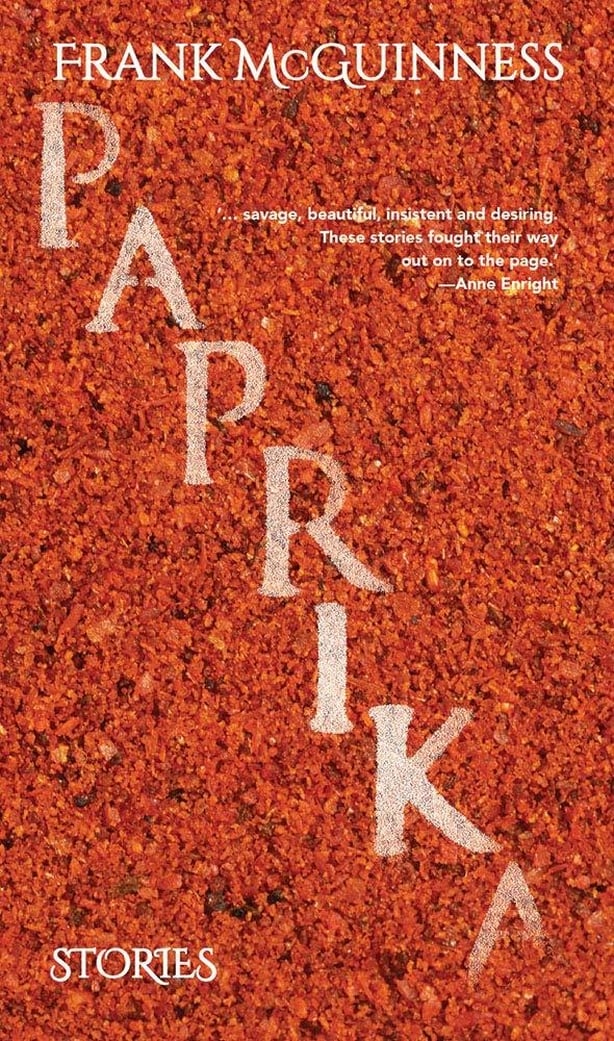 The protagonist of Paprika, the title story, is an unhinged individual who believes himself to be an opera singer at the Met, starring in Verdi's Otello. 
The Widow's Ferret is an almost phantasmagoric story about a southern Catholic women marooned by widowhood, who is rendered unhinged by the loss of her RIC husband who was shot and killed. She is beginning to hallucinate - it seems from drink - and imagine all sorts of demented visions. A raw and strange story.
Chocolate and Oranges details the fraught relationship between a callous Romanian cleaning supervisor and her fellow countryman who works for her at the same posh hotel. She is attempting to get her hands on a handsome tip that has been left in a hotel bedroom that he has cleaned. He could do with the money and he pulls a fast one on her - a sting in the tale, in other words.
Dominie mixes ancient cures, relics and idolatry to convincing effect, as a dying school teacher incurs the wrath of his female nurse, who has survived leprosy with a scarred, mutilated face. She is caring for this awkward elderly man and she too is awkward and stubborn and capable of vengeful acts when roused. Thus, as in the case of the previous story, someone meets their match at the story's conclusion.
Justice served in a startling collection.