Your reviewer, it so happens, shares some of the same experience of early seventies Dublin as the author, so he allows himself the temerity to suggest the one-time denizen of Hatch Street may be wrong in one small detail.
This is the matter of the screening of Federico Fellini's infinitely warm, almost phantasmagoric film, Amarcord which Tóibín believes he saw in the spring of 1975 in the company his late friend, Gerry McNamara.
If memory serves, Fellini's film - if it screened in Dublin in the spring, as he indicates - got its run in 1974, . Perhaps the film returned to the Academy but I doubt it. You tended to get one go at most things in the early Seventies.
Pedantic, me, then? Never that. Should it be pedantry, let it be considered then a lame excuse to recall that beautiful film, seen in one's late teenage years and never seen again in the same light. In fact never really seen again at all, which we strongly assume is also the case for Mr Tóibín. Do I recall trying to watch it on a video or something? Useless, that entire lack of Italian panorama and magic that the Academy screen and its red velvet seats afforded us as we sat in the dark was missing.
Such detail enlivens and leavens this absorbing set of essays on the fathers of three illustrious Irish writers. In its own way, it is the author's means of coming at a part-memoir. It offers personal revelation in fleeting, numinous glimpses, as Tóibín makes his own story contingent on these other biographies, assessed here with perspicacity and humour.
The 22-page introduction to this book of essays on the fathers of Wilde, Yeats and Joyce features Colm Toibín on a nostalgic stroll through the Westland Row/Trinity College area, remarking on the notable buildings and sights and the beginnings of his relationship with them as a student at UCD. He remembers deceased friends Anthony Cronin, poet and writer, and the aforementioned Gerry McNamara, who, much later on, worked on comedy scripts for RTÉ Radio. He recalls sending early poems to Thomas Kinsella, whose wife, like Anthony Cronin, hailed from Enniscorthy, the author's town.
This ushering in of personal detail at the beginning sets up the individual essays, a living writer walking in the footsteps of Yeats, Joyce, Wilde and their fathers. The abiding effect is of fragilities and foibles passed on and somehow or other the gift of artistic creation, however chaotic or painful the circumstances. A taste for scandal is prefigured, one might unkindly observe, in the case of William Wilde. As a young man, the Wilde paterfamilias had fathered a child, born in 1883, thereafter known as Henry Wilson.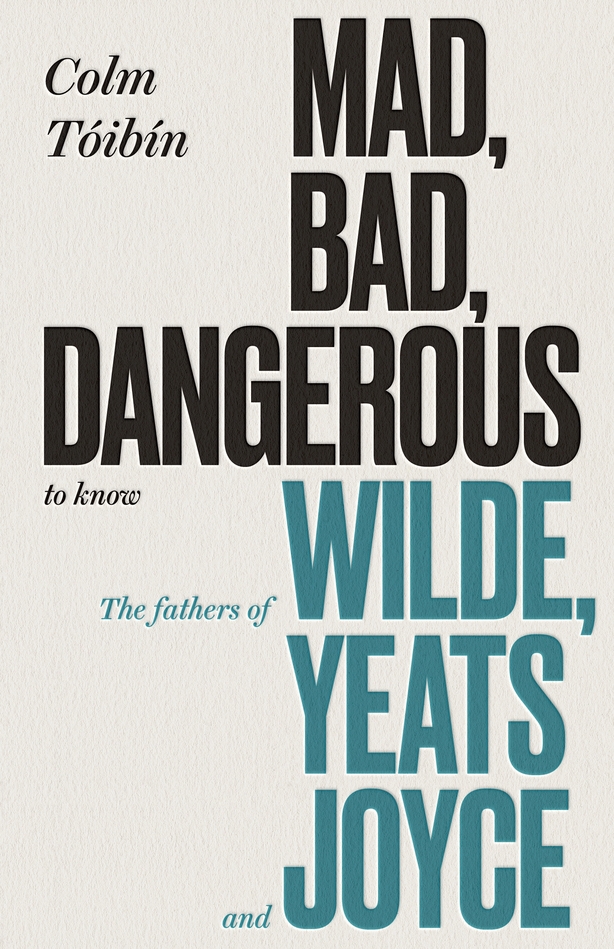 By the time of his marriage, he had fathered two more illegitimate daughters, who were cared for as wards by William's eldest brother, Ralph. It is fascinating to discover in this 186-page work how Joyce's parents filtered into a story like Grace from Dubliners, and into Stephen Hero, A Portrait of the Artist As A Young Man and Ulysses. "But John Stanislaus Joyce's son forgot nothing," writes Tóibín. "And nothing was resolved by his staying away from Dublin. His father remained raw and present."
In his account of the garrulous John B Yeats, the artist father of William and Jack, and his New York years, the author weaves in memories of the late John McGahern. Tóibín and McGahern both admired William C Murphy's biography of John Yeats, so the Leitrim man's cameo becomes relevant and oddly instructive. McGahern often dipped into John Yeats' letters, and we learn that he tended in any case to read the same few books over and over.
It's that kind of book, tendrils of anecdote and recollection which shoot off at a slant from the main body, yet always pertinent to these intriguing portraits of distinguished Irish lives, seen from a new vantage point. Tóibín can be a superb essayist on writers and their work, understanding intuitively and with an uncanny intimacy how they did what they did, be it American writers such as James Baldwin, Elizabeth Bishop, Henry James, and his study of these Irish masters is illuminating.