Every week, Simply Folk host Ruth Smith selects a classic record from the folk archives.
This week, she's chosen the classic compilation album A Woman's Heart.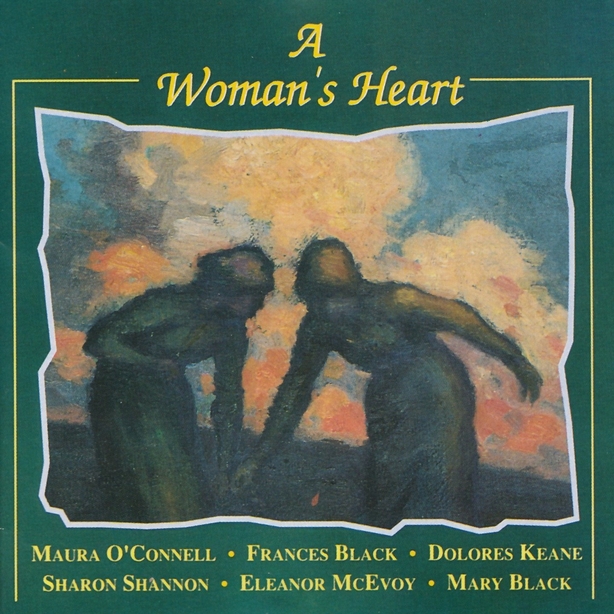 A Woman's Heart (released 1992, Dara Records)
Featuring Maura O'Connell, Frances Black, Dolores Keane, Sharon Shannon, Eleanor McEvoy & Mary Black
Produced by Joe O'Reilly
The chart music landscape of the early 90's may well be synonymous with the rise of the boyband pop formula, but the biggest commercial hit on our shores in 1992 was from a female folk collective under the banner of A Woman's Heart. The unprecedented success of the album resulted in sales of over 750,000 copies in Ireland and over 1 million copies worldwide, more than any other album in Irish chart history.
LISTEN: A Woman's Heart, via Spotify
Given that the album was created on a tiny budget, even recording during the night for cheaper studio rates, it makes its success all the sweeter. Eleanor McEvoy, (composer of the title track, and now Chairperson of IMRO) remembers "Mary Black coming in to us at two in the morning to sing her part of the title track's duet. We were told the album might shift about three thousand copies, so we couldn't believe it when it just kept on climbing the charts."
LISTEN: Summerfly by Maura O'Connell, from A Woman's Heart
As a result, the five singers on the album, sisters Frances & Mary Black, Maura O'Connell, Dolores Keane and Eleanor McEvoy along with box player Sharon Shannon, became household names. Their voices defined a generation, opening up a different type of listener experience and inspiring many young singers and instrumentalists, drawing them along in their musical slipstream.
LISTEN: Caledonia by Dolores Keane, from A Woman's Heart
Like so many other young girls in the early 90's, I remember being surprised and intrigued by this album of all-female performers, and now in retrospect see the power of the feminist adage 'If you can't see it, you can't be it'.
LISTEN: Vanities by Mary Black, from A Woman's Heart
Twenty six years on from the success of A Woman's Heart, 2018 sees the launch of Fair Plé, a grassroots, female-led initiative advocating for equal opportunity and gender balance in the arena of folk and traditional music.
'The rising of the women means the rising of us all'

-From women's trade union anthem Bread And Roses, by James Oppenheim
Many of the musicians and singers at the helm of Fair Plé were the teenagers of the 90's, and are now creating their own wave of investigation and open debate to assist not only the hearts, but the voices, choices and careers of female performers for the generations to come.
Fair Plé presents Rising Tides, a two-day event in Liberty Hall on Saturday 8th & Sunday 9th September - go here to register for panel discussions and buy tickets for the Finale concert on Sunday 9th September.
Listen to Simply Folk on RTÉ Radio 1 on Sundays at 10pm. Ruth Smith is the co-presenter (with John Creedon) of this year's inaugural RTÉ Radio 1 Irish Folk Awards, which take place on October 25th, 2018 in Vicar Street, Dublin - find out more here.