Every week, Simply Folk host Ruth Smith selects a record from the folk music archives.
This week, she's chosen Light in the Western Sky by Stockton's Wing.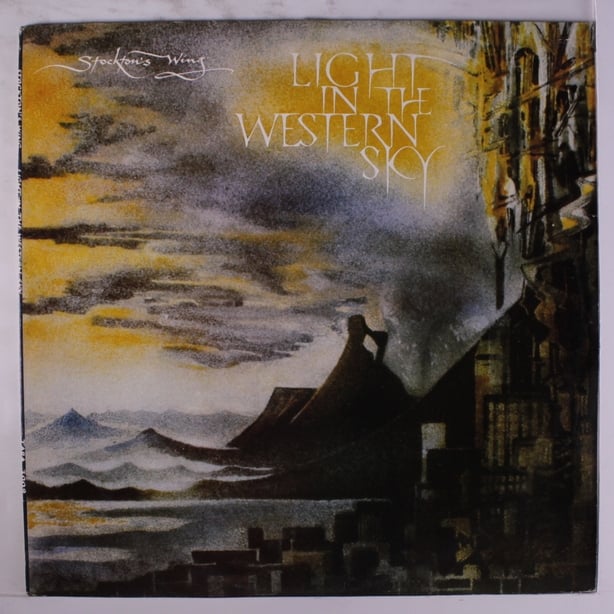 Light in the Western Sky by Stockton's Wing (Released 1982 on Tara Records)
Recorded at Windmill Lane Studios, Dublin
Producer P.J. Curtis
A year on from celebrating their 40th anniversary, Stockton's Wing performed at this year's Fleadh Cheoil na hÉireann in Drogheda with original members Maurice Lennon, Paul Roche, Tommy Hayes and Mike Hanrahan gathering to celebrate and perform with their bandmate Kieran Hanrahan (presenter of RTÉ Radio 1's Céilí House), the receipient of the 3rd annual Flanagan Brothers Award.
The fledging Wing crew began their musical journey in Ennis in 1977, on the back of the Fleadh and All-Ireland success for Kieran, Tommy, Paul and Maurice. The four champion instrumentalists joined forces with singer Tony Callinan to enter a Guinness-sponsored talent competition, which they won. Soon, they found themselves in the studio recording their debut album.
WATCH: Stockton's Wing on Nighthawks, circa 1991:
The band's name comes from the Bruce Springsteen song Backstreets; "Slow dancing on a moonlit street at Stockton's Wing, where desperate lovers park to meet the last of the Duke Street Kings".
The choice of name set the tone for this Irish quintet; poetic, personal and looking outwards, free to fly across geographical and creative borders, to create a sound that was an exciting blend of world music, folk and trad with a distinctly 80's groove.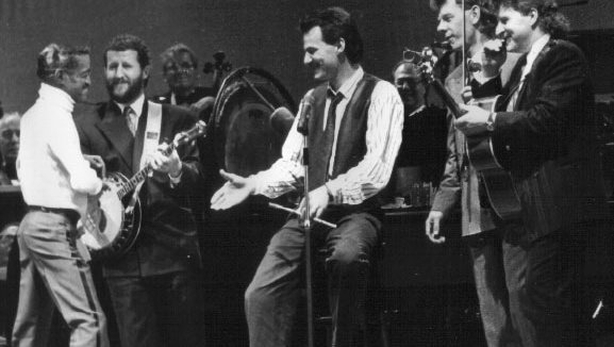 Their 2nd album Take a Chance (1980) featured new lead singer Mike Hanrahan who had replaced Callinan in 1979, with Mike's Tumbleweed partner Maura O'Connell on backing vocals. Another new arrival to the Wing fold was Australian Steve Cooney, who the band met at Ballisodare Folk Festival. Cooney brought his unique, individual flare with bass licks and didgeridoo drones and warbles to the mix.
Produced by P.J Curtis, their 3rd album Light in the Western Sky featured two hit singles, Walk Away and Beautiful Affair.
The album has been described as 'a seminal, innovative recording in the history of Irish music. A highly-polished work, it represented a significant shift in musical direction, focusing more on the groups creative original material'. Some of the highlights include:
Beautiful Affair
Beautiful Affair, named as one of the top 75 songs in the history of RTÉ Radio & voted No. 7 in top 20 all-time best Irish songs by Today FM listeners.
Walk Away
A fan favourite, performed live at Dublin's National Stadium in 1984.
The Belltable
This set grows from a tender soundscape of percussion and bass groove in ¾ time and the original composition The Belltable Waltz, layered and building towards the traditional jig The Girls of Banbridge before peeling it all back to the waltz and fading out with a smooth, tropical groove.
The Golden Stud
A combination of Aboriginal and Irish music – this set features the haunting composition The Golden Stud. Here they are performing live in Dunamaise Arts Centre, Portlaoise in 2015.
Lucy Campbell's Reel
The only track from the album not included on the essential compilation album The Stocktons Wing Collection.
Listen to Simply Folk on RTÉ Radio 1 on Sundays at 10pm. Ruth Smith is the co-presenter (with John Creedon) of this year's inaugural RTÉ Radio 1 Irish Folk Awards, which take place on October 25th, 2018 in Vicar Street, Dublin - find out more here.