Every week, Simply Folk host Ruth Smith selects a record from the folk music archives.
This week, she picks The Bothy Band 1975 by The Bothy Band.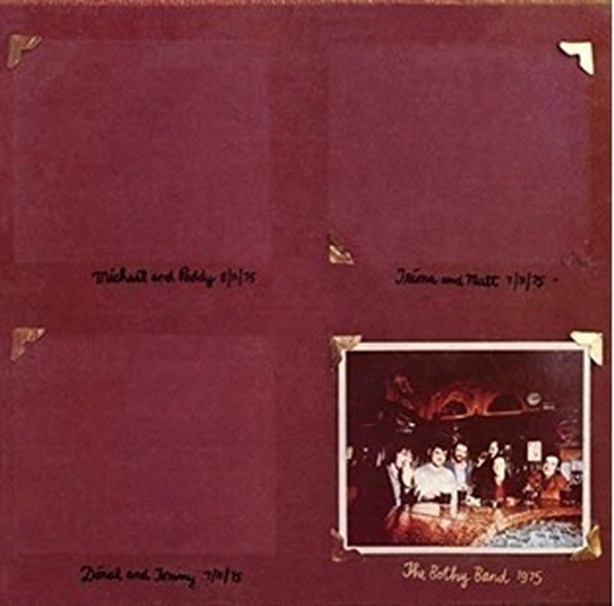 The Bothy Band 1975 by The Bothy Band
Released 1975 by Mulligan Records (Ireland)
Dónal Lunny (bouzouki, vocals), Paddy Keenan (pipes, whistle), Matt Molloy (flute, whistle), Tommy Peoples (fiddle),
Tríona Ní Dhomhnaill (clavinet, bodhrán, vocals), Mícheál Ó Domhnaill (guitar, vocals)
Co-produced by Mícheál Ó Domhnaill & Dónal Lunny.
The Bothy Band – an incendiary mix of driving folk-rock rhythms fused with complex contrapuntal layers of harmonic curiosity and robust melodic skill.

As individuals and as a collective they drew from the deep well of traditional Irish music, but The Bothy Band were more than just a trad band.
Their debut 1975 was a game-changer of an album for music fans and music makers of the time.
They opened the door to so much of the innovation that was to come, laying the foundations for groups like Lúnasa, Altan and Dervish who continued and expanded on their blueprint.
Given the recent passing of legendary fiddler and composer Tommy Peoples, The Bothy Band 1975 seemed like the right choice for this addition to Simply Folk Recommends – to add to the many tributes paid to him in the past week.
Looking ahead to this Sunday on RTÉ Radio 1, Peter Browne will dedicate The Rolling Wave at 9pm to the music of Tommy Peoples; selections from his solo work, collaborations and compositions, with reactions from Paddy Glackin, Mairéad Ní Mhaonaigh and Dermot McLoughlin.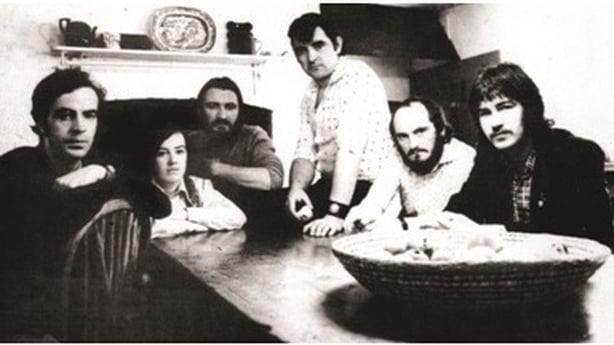 A 14 track tune-laden album, with only 3 song numbers, the overall sound is a progressive and exciting fusion of trad, folk, rock & eastern idioms.
The result is a masterclass in arrangement and accompaniment, a mélange of syncopation and polyphonic surprises; with Tríona's keyboard skills, Lunny's bouzouki and Mícheál's Guitar creating a fiery rhythmic attack behind the muscular melodic trio of Molloy (flute & tin whistle), Keenan (pipes) and Peoples (fiddle).
The opening track, the Kesh Jig Set, starts with the launch pad of a strummed G chord jig rhythm and D drone on the pipes and from there it takes off.
From start to finish, this album is absorbing and exciting.
A couple of tracks to mention…
Julia Delaney
The track starts with the fiddle of Tommy Peoples, joined by Matt Molloy on flute.
When the accompaniment drops, the brazen syncoption and incessant round of 4-5-6-7 chords off the beat, giving a kind of stop/start quality to the interplay of melody and accompaniment, all the time building tension and anticipation for what's to come with the resolve.
And on top of all of that organised chaos, the high descant of a whistle glitters its filigree on top, before all but the fiddle and flute drop out and order and calm is restored.
Hector the Hero: The Laird of Drumblaire
A classic lament written by Scottish composer and fiddler James Scott Skinner and played by Tommy Peoples (fiddle) and Matt Molloy (flute). Tommy brings his signature pathos to the lament, finding the subtle spaces between the notes, with microtonal investigation.
Both the lament and the following strathspey, also written by Skinner, are given a distinctly Scottish treatment from The Bothies, honouring their strong Donegal / Scots musical heritage.
The Butterfly
A stately baroque flavour with Ní Dhomhnaill on clavinet, this arrangement has echoes of O'Carolan and the links to the Italian Baroque masters reflected in his compositions.

Do You Love an Apple (1976 Live)
A live video recording from 1976, a year after the debut album was released. Kevin Burke had replaced Tommy Peoples on fiddle.
Listen to Simply Folk on RTÉ Radio 1 on Sundays at 10pm. Ruth Smith is the co-presenter (with John Creedon) of this year's inaugural RTÉ Radio 1 Irish Folk Awards, which take place on October 25th, 2018 in Vicar Street, Dublin - find out more here.