Mia Gallagher's salty Dublin tales, allied to her experiments with narrative approach are refreshing, though sometimes the highly-charged fuse falters.
More Often in Future comes on all David Bowie fixation and adolescent angst, as Noelle fancies Trish's brother before she knows they are siblings. The story appears to be set around 2010 and it is edgy and mercurial about Dublin class sense. Trish hails from the wrong end of the bus line and is ambitious. However, despite her innate intelligence and promise, life doesn't save her from self-harm, anorexia, demons and pills, mundane horrors that don't mean anything really, except to the person who's experiencing them.
Polyfilla is an unsettling story mostly played out a rather shallow dinner party featuring a drunken argument about the invasion of Iraq. On the sidelines is the vengeful late middle-aged woman who gets her claws – or should that be stilettos - into an unsuspecting architect.  It ends with a neat sting, affirming the story's core theme of domestic abuse.
Dublin is a small town, was even smaller then. Inside its Viking walls, everyone is connected. Found Wanting is Gallagher on song, evoking a vivid sense of Dublin, pubs and décor etc nearly 20 years ago, a time when people still spoke of the Internet in capital letters, and dotcoms were only twinkles in their begetters' imaginations.
Shift by Mia Gallagher - read an extract
The lusty, mischievous narrator of the piece is married to Mark but she is smitten with an English guy in a long leather coat who works in the music industry. We hadn't swapped telephone numbers. Back then, nobody had mobiles. I fell asleep, found myself trying to force his number into existence through a dream.
It ends rather pat for a tale about seriously infidelity, a certain loss of poise occurs, though I have no doubt that it is deliberately abrupt in its wrapping up. I got pregnant pretty fast. Good genes. Our kids are beautiful. I would kill anyone who tries to come between me and that. Just compare those four lines with the earlier three in the story, it's like as if they were penned by a different writer.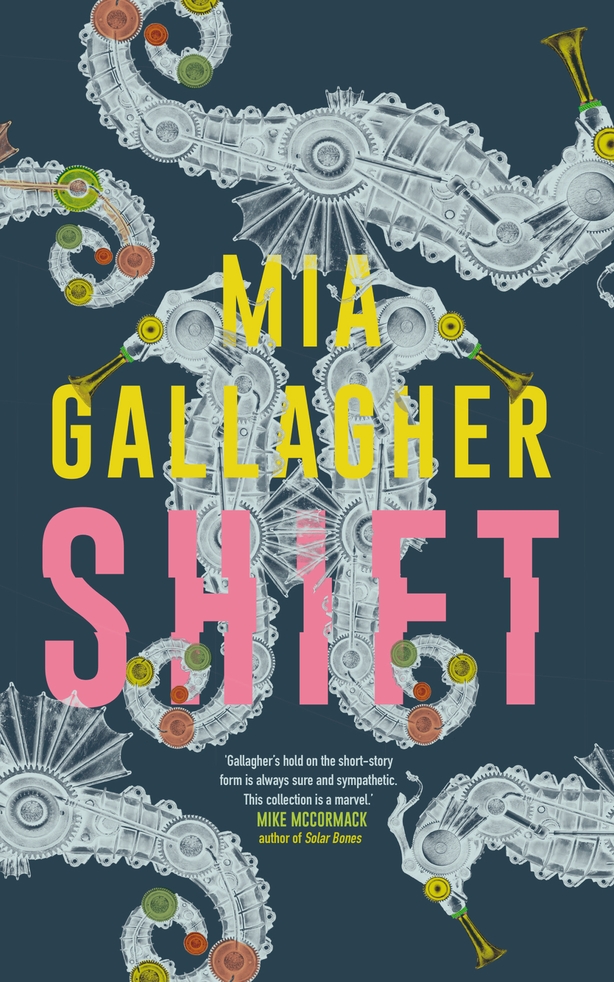 All Bones concerns an American female photographer with weight issues barely eking out a living in Dublin – the story is compelling enough, but becomes slight and ineffectual, it needs more action. Trust in Me features three young male students up from the country and living in a Ranelagh flat complex. We get their reactions to the girl who is working as a prostitute in one of the flats. It ends too in a rather complex twist on a fantasy which was partly lost on this reviewer, but maybe he's a bit dim.
The ambitious story Lure takes dives in sub-Joycean flights, told by a lustful water horse (or kelpie in Scottish legend) who flits around rivers.
I'm looking on from a height, sucked from the mouth of the Camac's sister Poddle into rain vapour by an unseasonal swatch of hot air.
The kelpie narrator observes a passing train and its passengers, early-forties Margaret or Magpie, who daily ingests a 'medload' and lives in 'a Home' and the gang of 'bitches' who terrorise her. The story rides on a torrent of images in what is a contemporary re-imagining of a Scottish folkloric trope.
Gallagher's salty, loquacious style is visceral sensuality unleashed and quite a few of these stories pack a punch.