Every week, critic Cristin Leach talks us through a different artwork for Through The Canvas on RTÉ lyric fm - this week, she's taking a closer look at View of Kilmallock, by John George Mulvany.
Sometimes it's difficult to find a connection to an image of a world entirely different from our own. View of Kilmallock by John George Mulvany (1766 – 1838) depicts a scene two hundred years distant from now, and yet the location exists with many of the physical aspects intact.
Dublin-born Mulvany came from a family of painters and left a legacy of landscape paintings and 'charming' interiors. Along with his brother, Thomas James, he was a founding member of the Royal Hibernian Academy. Thomas was the RHA's first Keeper. In 1862, Mulvany's nephew George, Thomas's son, became the first director of the National Gallery of Ireland. Here is a family whose interest in, knowledge, and love of art helped shape two of the most significant cultural institutions in this country.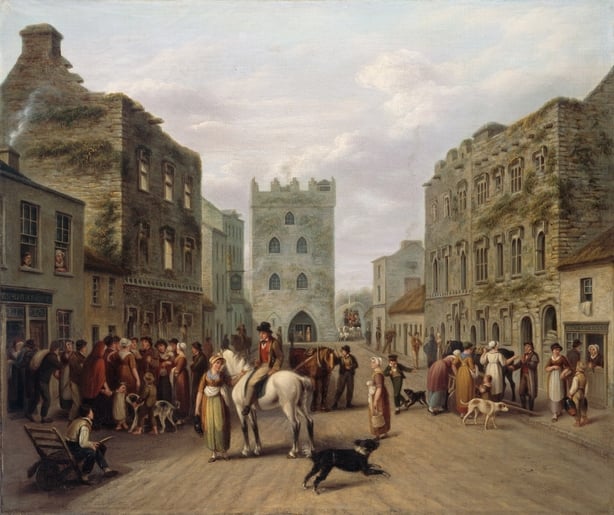 John Mulvany captured romantic views of ruined castles, placid farm animals and small-townsfolk going about their business. He produced a number of paintings of the neat Limerick market town of Kilmallock in the 1820s. He appears to have never travelled outside Ireland.
These are all facts that help us know something about Mulvany, but what about the world he depicted in this painting from the National Gallery of Ireland Collection? Diarmuid and I decided to walk into View of Kilmallock in the company of archaeologist Sarah McCutcheon.
Listen to Through The Canvas on lyric fm, on Tuesdays at 11.30am (as part of Niall Carroll's Classical Daytime) - find out more about the show here.