Every week, critic Cristin Leach talks us through a different artwork for Through The Canvas on RTÉ lyric fm - this week, she's taking a closer look at Gwen O'Dowd's 1992 painting Rain II.
Listen to Through The Canvas: Rain II here.
Gwen O'Dowd (b.1957) paints water like a woman who knows not only how it looks, but how it feels.
In 2014/15 she made a series of works named for the Old Irish word tonn, which means wave, outpouring or abundance. Throughout her career she has painted the thrill, might and calm that the shifting play of water can bring to sky and sea.
The recording we made while thinking about her painting, Rain II, from the Irish Museum of Modern Art collection, is not just about how the rain feels but what happens when we stop and notice it. It is also about the impact weather has on the land.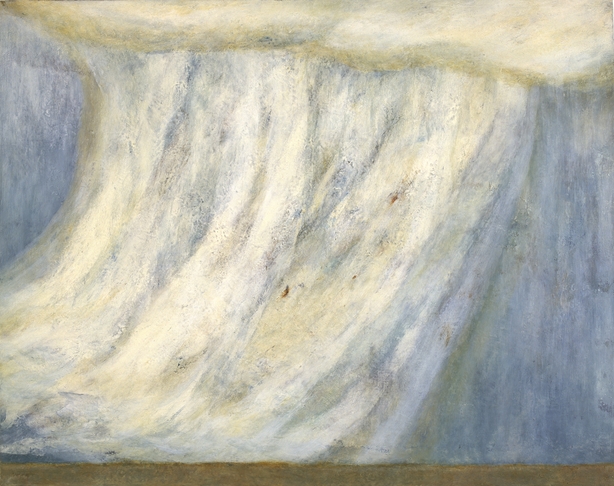 Rain II was painted in 1992. At a metre tall and almost a metre and a half wide, it's an epic image depicting the sheer power of a weather front passing over a flat landscape. The ground is a thin line at the bottom of the canvas, the bulk of the painting taken up with the sweep of precipitation, dropping like a weighty deluge from the cloud above. Here, the rain is an almost solid wall of water, crossing the countryside, drenching everything in its path - just as the rain does, when it falls on a farm in the Golden Vale as Diarmuid and I talk to Noreen Quish about farming, weather, and art.
Through The Canvas, lyric fm, Tuesdays at 11.30am (as part of Niall Carroll's Classical Daytime) - find out more about the show here.