Every week, critic Cristin Leach talks us through a different artwork for Through The Canvas on RTÉ lyric fm - this week, she's taking a closer look at Martin Gale's 1980 painting Sonny's Day.
Martin Gale (b.1949) is a painter whose work I have always admired. As a rule, he paints solitary figures in landscapes pregnant with narrative possibility. Sonny's Day is one of those paintings that gives more the more you keep looking. Gale's compositions operate like visual short stories. In 2016, I stood in the Lavit Gallery in Cork and eavesdropped as the artist spoke to a group of visiting students, "I don't paint scenery," he said. "The landscape is a stage on which to set narratives, little suggestions of stories." Confirmation then: Gale is telling us stories. But, he is not interested in spelling everything out. He sets the scene and leaves it to the viewer to fill in the words.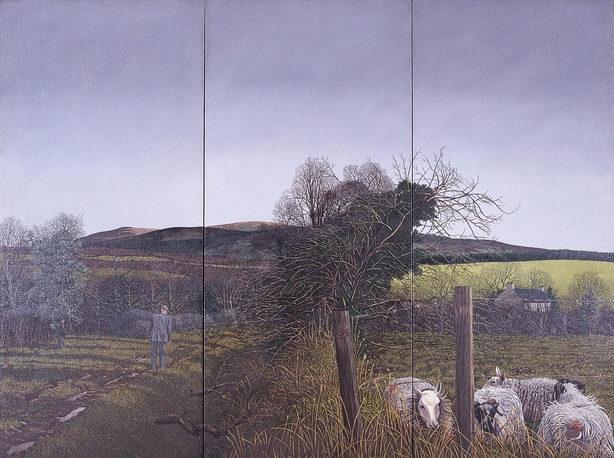 The story in Sonny's Day is a rich one, a tale of rural Ireland, male isolation, family legacy, the call and anchor of the land, and the consolation of nature in a life filled with solitude. Gale, who moved to Ireland from England as a child, is one of the most significant chroniclers of the life of individuals in Irish landscapes of his time.
His photo-realist takes are not about the land itself as much as the feelings and lives of people in the land: their land, our land, Ireland.
Through The Canvas, lyric fm, Tuesdays at 11.30am (as part of Niall Carroll's Classical Daytime) - find out more about the show here.