Karl Spain is set to join a host of all-star comedians at the Kilkenny Cat Laughs Comedy Festival this Summer, including David O'Doherty, Aisling Bea, Deirdre O'Kane, Jarlath Regan, Des Bishop, Maeve Higgins, Reginald D Hunter and many more.
We caught up with the Limerick man to find out what he looks forward to most, whether he'll ever join the social media game - and where his career will be bringing him next.
"The main ethos of the festival is that it's just pure stand-up. Each show will be a host and three acts, so you're bringing your best," says Karl.
Unlike the Edinburgh Fringe Festival, the performers won't be expected to bring an hour-long show or promote their latest tour; instead, they're free to do whatever they like on the night.
"A lot of performers would be touring, doing longer shows, and then [at Cat Laughs] they come back to the early days of when they were in a club and sharing a bill. It's good fun, and there's lots of other shows to be a part of at the festival; podcasts, interview shows and things going on in the afternoon."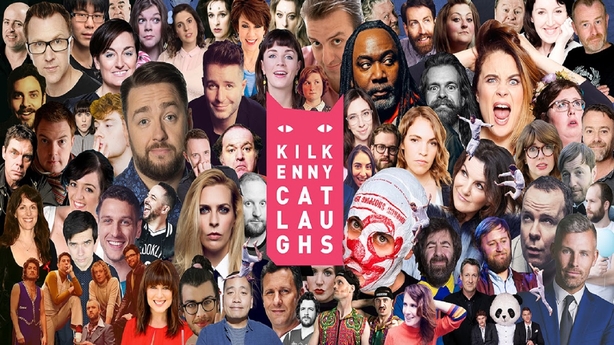 Indeed, outside of numerous stand-up performances, the festival will host The Blindboy Podcast, a live show from Meltybrains?, a comedian's football match (with live pitchside commentary by Karl), performance art, and Karl's own Hilarious Walking Tour.
"It's just an improvised show where you just take the piss, basically" he laughed.
"There's a proper tour guide as well, so it's still a proper tour, but then I just make up extra stuff as we go along. It's something I would have done for friends, walking past shops and making a stupid joke about the names or street signs and stuff like that."
He continued: "It's great. It's actually great fun, it's kind of silly, but you're getting the tour anyway so it's almost like the comedy is free, you know? It's something that I've sort of taken into other places, doing it on video in my hometown of Limerick on a more regular basis.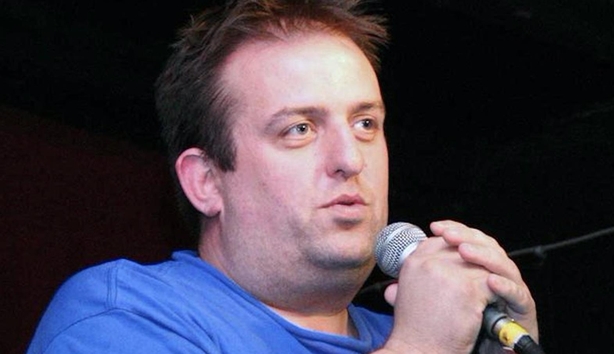 Despite being a lo-fi medium in an age where we would rather order food through an app than have to face speaking to another human being on the phone, stand-up comedy has thrived in Ireland.
"I think there's been a newer wave in recent times. It's weird being one of the older ones now, seeing the younger comics. There's a different style of comedy with people using video clips on social media, but for pure stand-up there's still the live gig... In that moment, there's nothing better.
"For any entertainment form, live is where it's at. Even with wall-to-wall access to sport on television, people are still mad to get to the live match itself. There's always that percentage more of excitement."
While good stand-up only requires a microphone and a willing crowd, most comedians will cultivate an audience through social media, weekly YouTube videos and live podcasts. And although Karl is relatively low key on social media, he agrees that comedy is going digital.
"I should be doing more, yeah," he agreed. "I actually started on Instagram recently, but I've only set up, I haven't posted anything. My girlfriend tells me I need to do more of it, and I've seen the benefits for other people, so yeah I will do more of it... but I've been saying that for a month."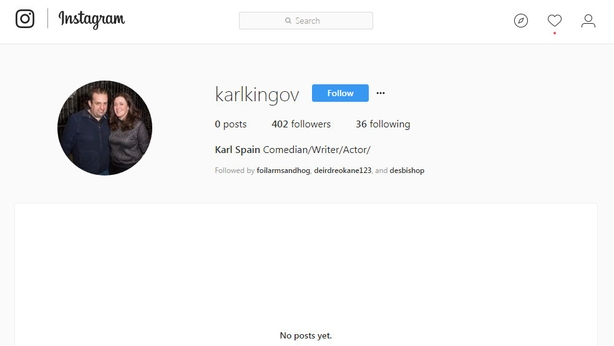 Other than gigging across Ireland, the comedian says he often travels further afield for his work. So much so, in fact, that he was still suffering from jet-lag after a recent trip to China when we spoke.
"I was doing shows out there, I've been out there before, I was there with Fred Cooke and Kevin McGahern and we had such a good time, it was really good fun.
"I was meant to go to Azerbaijan but the dates couldn't work. I've done gigs in Africa, the Middle East... South America is one place I haven't been to, but I think Andrew Maxwell did a gig in Buenos Aires a while ago, so there's a gig there. Everywhere there are people, there will be gigs."
The Cat Laughs runs from May 31 to June 4. Find out more here.