John Kelly writes for Culture about the Albums That Will Save Your Life...
Exploring the gloriously twisted black and white roots of American popular music can be a most rewarding passion. It can lead the curious traveler to all sorts of shady places. But when the traveller turns pilgrim it leads right back to the church.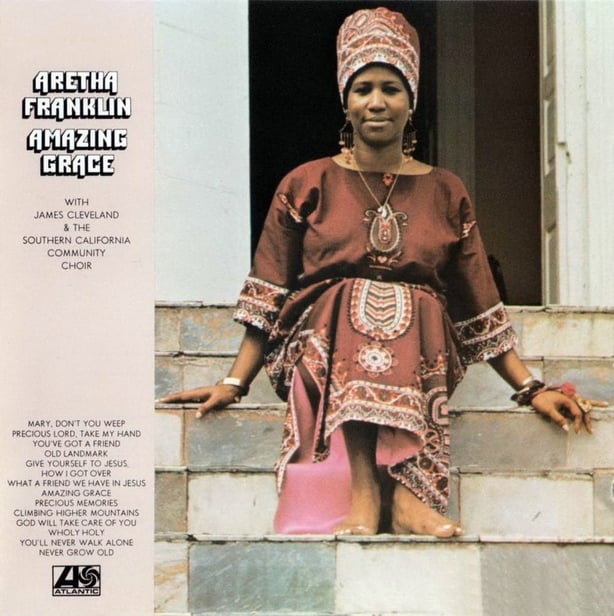 Aretha Franklin's Amazing Grace is a live double album recorded in 1972 at the New Temple Missionary Baptist Church in Watts. Released on Atlantic Records, it went on to sell more than two million copies in the US alone – the biggest selling albums of Aretha's long and regal career. And whether you're a believer or not, what happens on these two discs simply cannot be denied.
In gospel terms this was a very big event. Atlantic knew it and Jerry Wexler and Arif Mardin produced. But whatever about the music business side of it, Aretha, joined by James Cleveland & The Southern California Choir, went straight for the Divine. It was a glorious outpouring of a talent already obvious to anyone who had heard the soul records but, here in the church of her choice, everything a million times more intense. As Rolling Stone put it, "the liberation and abandon she has always implied in her greatest moments are now fully and consistently achieved."
Her father Reverend C.L. Franklin was there. He spoke. The gospel legend Clara Ward sat in the front row, and Jagger and Charlie Watts were down the back – suitably awestruck. And so this really was a special occasion – the live setting, the charged atmosphere and that truly mind-blowing voice transforming a recording session for a record company into something stupendous. The congregation, which plays no small part, on a record like this, responded as they always had – even when their beloved Aretha was just a little girl.
On an odd personal note. I had a friend from Derry who married an African-American basketball player called Dupree. The first time I met him I asked, ridiculously, if he was by any chance related to the guitar player Cornell Dupree? Cornell played in Aretha's band, on this and on many other classic albums. Turned out he was his uncle. A few weeks later a signed CD arrived in the post.
John Kelly presents Mystery Train on RTÉ lyric fm, Sunday to Thursday from 7-9pm