Hedonistic and mystical by turns, The Part of Me That Isn't Broken Inside from the award-winning Japanese novelist Kazufumi Shiraisi explores concepts of love, identity and place and the `why' of human existence in a spirit of serious enquiry.
Naoto Matsubara is an assiduous employee in a Tokyo publishing house, with deadlines to meet and manuscripts to read. The early part of this story shows him as a late twenty-something salary man who works - and parties - hard. After work, he usually meets up for drinks with various acquaintances, attends parties or social occasions of some kind, imbibing vast amounts of whiskey and water or, if not, bottles of rice wine, or sake. Naoto's is a dissolute life, with a sense of perpetual hangover making his life edgy and chaotic. He allows two unfortunate friends - a man and a woman who have no connection - to crash in his apartment, coming and go as they wish, while he looks out for their welfare. He buys a stash of prescription drugs for a painful wisdom tooth. He is prescribed seven days worth of drugs and tranquilisers for what might be cardiac neurosis or, if not, arrhythmia.
Naoto's love life is confused in the extreme, and three women appear to willingly facilitate different needs. On the one hand, there is his indulgent girlfriend Eriko, whose patience with her non-committal lover is sorely tested. Then there is Mrs Onishi, whom he meets up with at hotel room early on. She is married, her husband is away, they indulge in a knowingly pornographic sexual encounter, as though it were a trivial pastime in the grand scheme of things - written deliberately so by the author, a popular novelist in his native land. Shiraisi has won two major Japanese literary awards, the Yamamoto Shugoro and Naoki Prizes.
Yet the occasional unbridled sex is somehow 'by the way' and not explored as such, you are left to make up your own mind about the protagonist's carnal desires. The Part of Me That Isn't Broken Inside is ultimately a serious novel. At one point, Mrs Onishi even offers to have a child for our feckless protagonist, and gives the young man money following their torrid encounters. 
Tossed about on the sea of his existence, Naoto seeks stability and security, as evidenced by his relationship with single mother and barmaid Tomomi, to whose son, Takuya, he becomes a kind of surrogate father. Naoto's own mother was 20 when his father abandoned her, and she later gave birth to his half-sister with another partner. Naoto readily describes his mother as 'promiscuous.' 
The reader learns more about his dysfunctional family background as the story progresses, in intimate conversations with with his girlfriend Eriko. He recalls how during a visit to a zoo, on the pretext of going off to buy ice cream, his mother once abandoned him, an unforgettable experience (there is indeed a lot of abandonment in this 302-page story). Naoto insists that his name be called out over the PA, for fear his mother might take home the wrong boy in the blue shirt. Ultimately, it takes the social welfare officers six days to locate the rather overwhelmed woman at her home.
The young Naoto learned a defiantly reflexive self-protection following this incident, learning to recall everything in a photographic fashion. 'I was the kind of cheeky kid who memorised Sir Arthur Conan Doyle's The Lost World in its entirety,'  the young man tells Eriko, admitting to being 'obsessive' in an unguarded moment.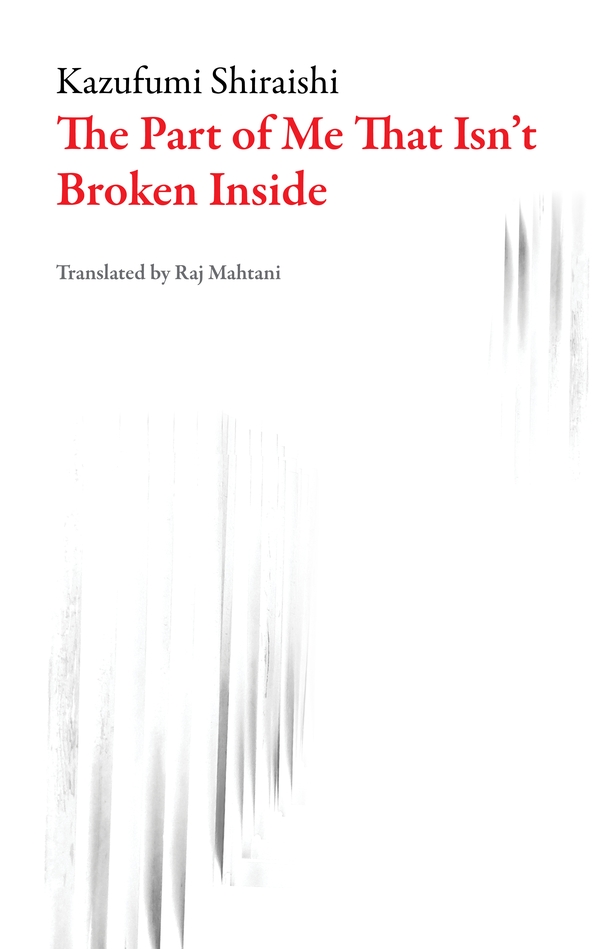 This is an unashamedly existentialist, philosophical book, but with dollops of stuff that through the Anglophone reader's eyes amount to melodrama at times. As early as page 17, there is a full-blown conversational exchange about about love and human nature that is a match for the finicky, philosophical dialogue you might find in a Claude Renoir film. There are references to writers as diverse as Eric Fromm and Anton Chekhov, while Yukio Mishima is arguably the abiding literary exemplar.
Happily, the discussions and disquisitions on life put into the mouths of the cast of characters are relatively short. The novelist knows we are just as eager to hear the sometimes bizarre details of Naoto's sourly picaresque adventure, which is played out mostly along the train and bus lines of bourgeois, well-heeled Tokyo. 
Death and a creeping sense of mortality and transience begin to cluster in the last quarter of the story, as a more mystical, melancholic tone seeps into the prose. Our protagonist attends his troubled mother's funeral, and the funeral that follows the suicide of benevolent but financially troubled company president, Mr Nakagaki. Moreover, Naoto dredges up memories of the late Machiko-San, his first 'crush,' a placid, wise woman in her mid-forties who uncomplainingly endured Parkinson's Disease. Daughter of a former abbot of the local Buddhist temple in Naoto's hometown, Machiko-San had been a kind of surrogate mother to him.
The Part of Me That Isn't Broken Inside is one of a recognisable genre, the so-called "I" (confessional) novel, which according to Motoyuki Shibata, an eminent translator of American literature, tends to reveal "the less savoury aspects of a writer's own life."
Idiosyncratic and eccentric to these Irish eyes (perhaps less so to many Japanese readers), The Part of Me That Isn't Broken Inside depicts with unwavering attention the life of his tarnished protagonist and his all-too-familiar nihilist tendencies.
The Part of Me That Isn't Broken Inside is published by Dalkey Archive Press.