Published in French in 1935, The Pitards is a compelling and decidedly noirish story of baleful shenanigans at sea from the pen of the great Belgian master and Maigret author, Georges Simenon.
Georges Lannec is the Breton owner and captain of the cargo ship Tonnere de Dieu, an oath he constantly uses which translates literally as God's Thunder, or loosely as Goddamit. The stubborn seaman is annoyed as he sets off down the river Seine on a voyage to Hamburg, the reason being that his wife Mathilde has insisted on accompanying him on the trip.
The captain is furious because her presence acts as an unwanted distraction on the journey, with her unorthodox requirements. Also, one of the crew inevitably begins to fancy her. The marriage is not thriving in any case, as Lannec harbours deep resentments against his wife's family, the Pitards, an odiously ambitious set of bourgeois caricatures resident in Caen.
Indeed the Pitard family has a hold over Lannec, as he has borrowed a sizable portion of the cash required to realise his ambition of owning a boat after years of being an enlisted sailor. However, the very fact that Dame Pitard's daughter is married to a ship's captain is itself sufficient reason for their disdain.
On top of all all this in-law trouble, Lannec is reflecting on the import of a mysterious note warning him against the trip in the first place. Thus, the ill-starred sea journey begins with two cows on board and other merchandise bound for Hamburg. In what are unforeseen circumstances that transpire at that German port city, Lannec accepts a further commission to carry railway line parts to Reykjavik. This job is a risky proposition, as lengths of heavy steel can puncture a ship's hull during sea storms. Moreover, the weather will assuredly be treacherous North of Scotland and beyond.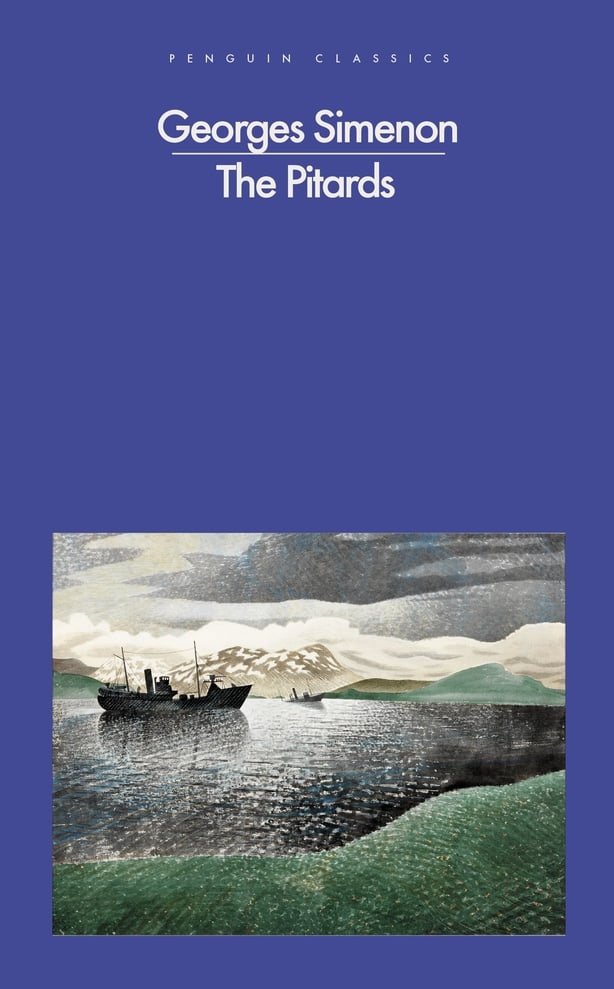 However, Lannec can't resist the challenge and such is the level of estrangement between him and his wife that he actually relishes the prospect of her discomfort when the sea turns nasty, as it is bound to do. Hold on tight, in other words, for a turbulent rain-soaked, alcohol-fuelled trip with a gang of rough-hewn sailors and an increasingly dispirited female passenger. The author's evocation of life at sea, its weather lore and port protocol has the stamp of authenticity. Simenon shows himself well familiar with life on board ships - indeed the Maigret writer spent time living and travelling with his family on a barge in France and Belgium for a period.
The Belgian master of crime confects a compelling tale that is truly noir in a way that arguably many of the Inspector Maigret novels are not, and were perhaps never intended to be. There is often a gentle, inoffensive feel to the tales which may well be the reasons readers like them so much. The most heinous crimes are being committed but Monsieur Commissionaire can still be looking forward to a steaming pot au feu cooked by the loyal missus at home.
The Pitards is an early example of Simenon's romans durs or 'hard novels' and this stylishly-produced 138-page soft cover production is a bit of a treat.