Donal O'Herlihy writes for Culture about his Documentary On One presentation, The Orwell Wheeler - you can listen it in full above.
On the thirtieth anniversary, I had to do it. 
I realised, to my embarrassment, that I'd been kicking the can down the road for nine years on a documentary idea. I'd thought about proposing it for the 21st Anniversary year in 2008, then again for the 25th in 2012 but never so much as wrote the idea down to present it to the Documentary on One team. 
What was this epic tale I'd tossed around in my head for so long? It was the story of a guy from Dundrum in Dublin winning three bike races. 
Underwhelmed? Okay. Let me explain.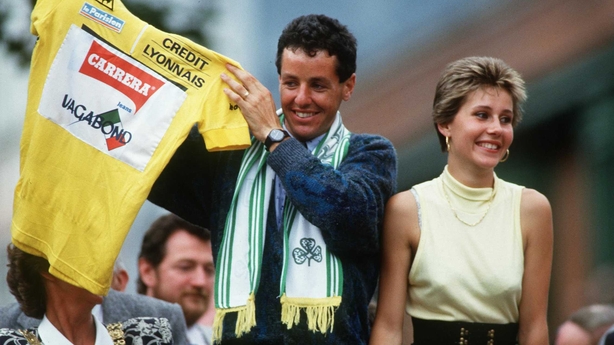 What Stephen Roche won in 1987 weren't three ordinary bike races.They were (and remain to this day) the three biggest bike races in the world. The Giro d'Italia, the Tour De France and the World Championships. I should also mention that he won them all in the same season, and that only one other person in history has ever matched that achievement; the legendary Belgian rider Eddy Merckx.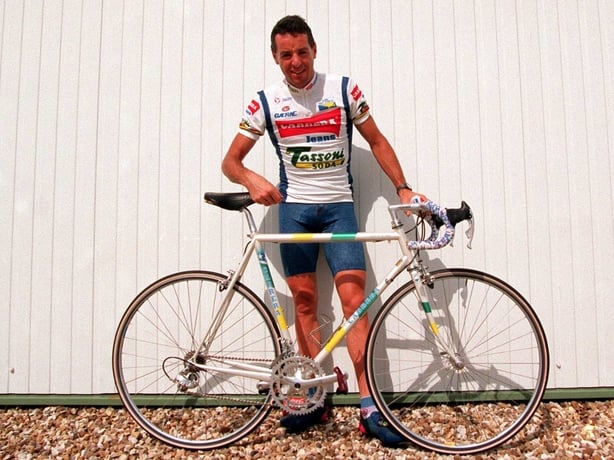 I was 17 when Stephen Roche won the 'triple crown' of road racing. I was massively into cycling, but even then what he had achieved wasn't as impressive as how he had achieved it. In the Giro d'Italia, he had to battle his own team, the Italian press and especially the Italian public in order to win it. He spent the last week of the race under police guard. In the Tour de France, he was two minutes down to his biggest rival and effectively out of the race on an horrific mountain climb. On the last corner (much to the surprise of commentators with only sketchy information) he suddenly appeared, riding among the team cars, and crossed the line just four seconds back to save the race. In the World Championships, he was riding for Sean Kelly, was caught accidentally in the final leading break and had to go for it himself. He did and he won.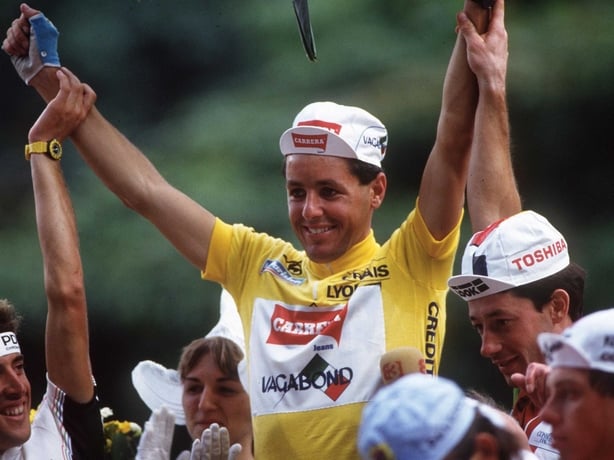 So why did I leave it so long to propose it to the Doc on One team? I'd love to believe it was because I was just too busy doing other stuff. But at least part of the reason is that I, along with many others, was beginning to feel slightly awkward about telling cycling stories. Cycling had been through the ringer during the period of the big anniversaries of Roche's feat. From Jan Ullrich to Lance Armstrong to Floyd Landis, the sport had a severe doping problem. The result was that many journalists and many former fans fell into a sort of default position about cycling. That position was 'Let's not tell old cycling stories at all.' 
I think that's the wrong approach for two reasons. Firstly, we simply don't know whether or not most performances across the last four or five decades were clean. That means we're deciding not to talk about certain racers, races or achievements when journalistically we don't have the information to damn them.
Secondly, if we are going to clean up what I believe to be the glorious, dramatic and extraordinary sport of road cycling we need to at least have a conversation about it. We need to drag it out into the light and look at it for its good and its bad. This is my contribution to that conversation. Some will say it's too harsh - others will say it's too lenient. If this documentary prompts both opinions and many others besides, it's done its job.
Documentary On One: The Orwell Wheeler, RTÉ Radio One, Saturday July 15th at 1pm, with a repeat on RTÉ Radio One on Sunday July 16th at 7pm. More about Documentary On One here.