RTÉ Documentary On One: Mayo Boy, Vietnam Hero by Kathy Raftery tells the story of a school friend of her mother's who became a hero during the Vietnam war and will now have a navy vessel named in his honour.
Listen to Mayo Boy, Vietnam Hero here.
A young boy staring out from an old photograph was my first introduction to Patrick 'Bob' Gallagher.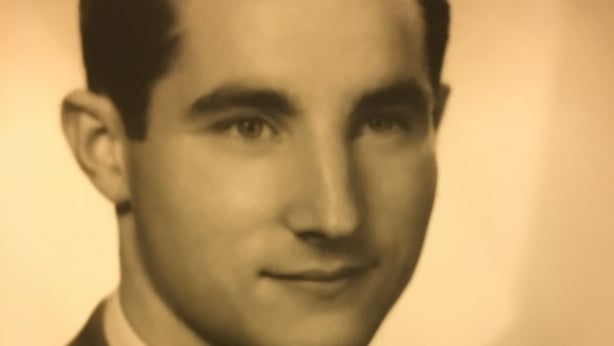 I had found this black and white photograph in the attic at my parents' house and was asking my mother about it. She told me it had been taken for the Irish Press Newspaper in 1956 at the dedication of the local church in Granlahan, a small community near the border between Roscommon and Mayo. My mother was in the photo wearing a beret and she was laughing, looking towards the bishop who stood in the centre of the photo.
We laughed as she pointed out an eye to me that was peeping out in the midst of a group of older women in the back left of the photo, it was my grandmother. Someone had stood in front of her just as the photo was being taken, something she was not happy about when she saw it in the newspaper!
My mother then began to tell me about the other people in the in the photograph. Pointing to a young boy in the second row, on the right hand side of the bishop, she explained that this young lad had been killed in the Vietnam War. I was surprised that I had never heard about this local man before. This was the start of my search to find out more about Corporal Patrick 'Bob' Gallagher.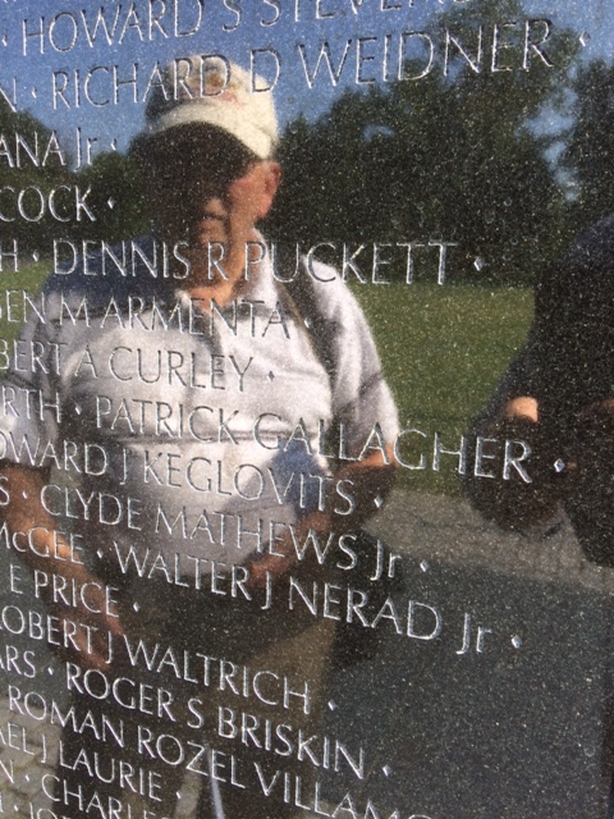 Back in Dublin, I happened to stumble across an article in a newspaper about this same young man. In the article, Patrick's sister Teresa explained that a petition had been started to have a US Navy ship named after Corporal Gallagher. I arranged to meet Teresa to find out more about her about her brother, with a view to perhaps making a documentary about him. She told me that Patrick had been awarded one of the highest military honours by the US government for his bravery during his time in Vietnam.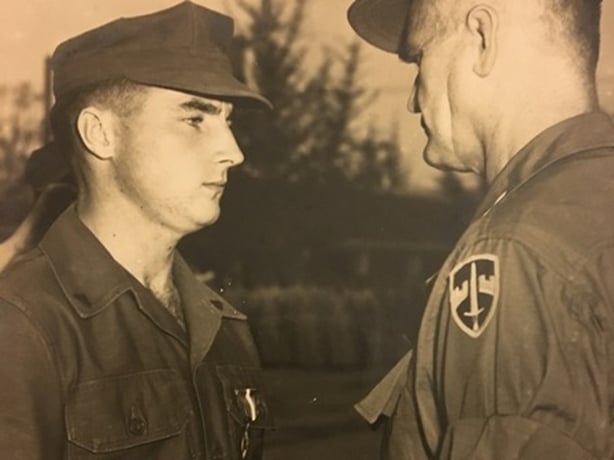 During an operation in the summer of 1966, Patrick saved the lives of a number of his comrades when he threw himself on a grenade that had landed in the dugout the Marines were occupying. Fortunately, the grenade didn't go off immediately and Patrick had an opportunity to throw it out. The grenade exploded a safe distance away; Patrick and his comrades were safe. For his bravery that night, Patrick was awarded a Navy Cross medal. That first day in Teresa's home after we talked about Patrick, Teresa suddenly disappeared; returning with Patrick's dog tags in her hands, we both fell silent. Instantly it struck me that Patrick would have been wearing those the day he died and how personal it was for Teresa to share them with me. It was at that moment that I realised that I needed to tell this story: of how a young man from my local area ended up in the US Marines and, at just 23 years of age, dying in the Vietnam War.
I managed to trace some of Corporal Gallagher's comrades from his tour of duty in Vietnam. They spoke fondly of him and of how focused and thorough he was, the type of Marine you would want by your side in combat. Many of them have not spoken to each other since Vietnam, losing contact once their own tours had finished.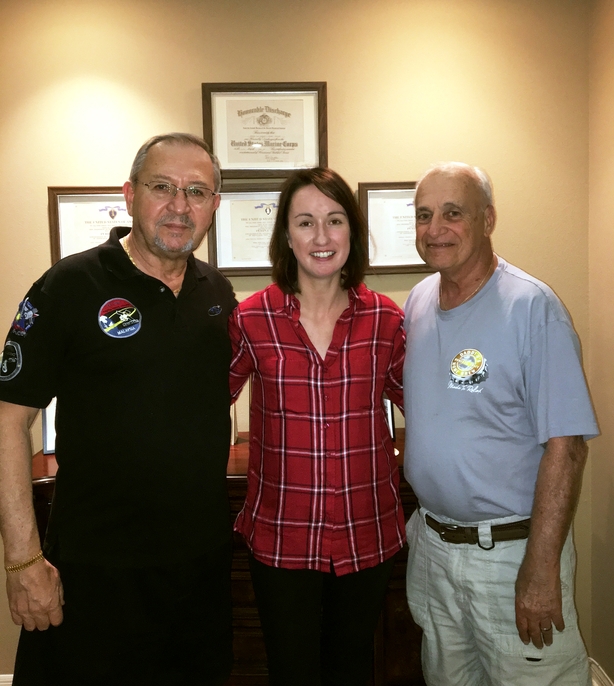 I will especially never forget the look of sadness and desperation in Frank Morelli and Fred Bohenek's eyes as they spoke to me about the day that Patrick died. On March 30th 1967, Patrick's platoon was on a routine patrol to protect villagers as they harvested their rice in the hills north of the city of Da Nang, in an area that had already seen much fighting. The rice paddies suddenly erupted in gunfire when they were attacked by Viet Cong soldiers who were lying in wait. Both Frank and Fred immediately became like the young, scared men I imagined them to have been back then, as they recounted their memories of that day. Fred had been just 19 and Frank was 23, the same age as Patrick. Both men were affected by PTSD (post traumatic stress disorder) since their time in Vietnam.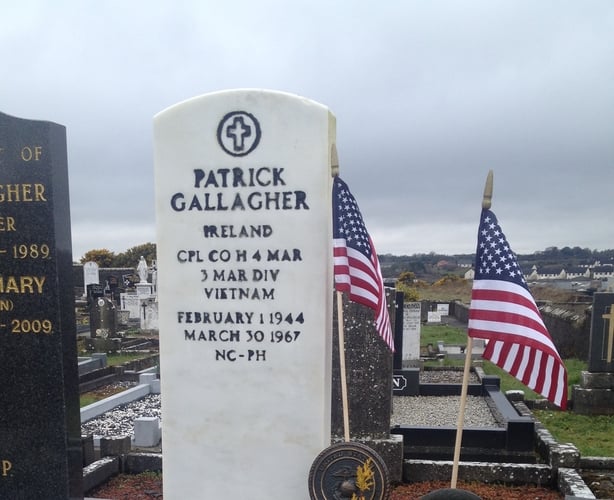 I would have liked to have been travelling to the U.S to sit at Patrick's kitchen table, as I did with Fred & Frank, discussing how he had returned from Vietnam a decorated war hero, perhaps injured but still alive. Being able to ask him what was going through his mind when he threw himself on that grenade, knowing that it would most likely explode and kill him. How he felt when he left Vietnam, and simply finding out what that young boy from the photo did next.
I attended the awarding of the Gallagher Cup, presented by Patrick's family at the local National School in Granlahan in his memory as part of a sporting competition. The school has information about Patrick and his story on display, and the family bring Patrick's Navy Cross and Purple Heart medals to show to the school children during the prize-giving ceremony. It's a celebration of Patrick's life and a happy occasion for both the family and the children.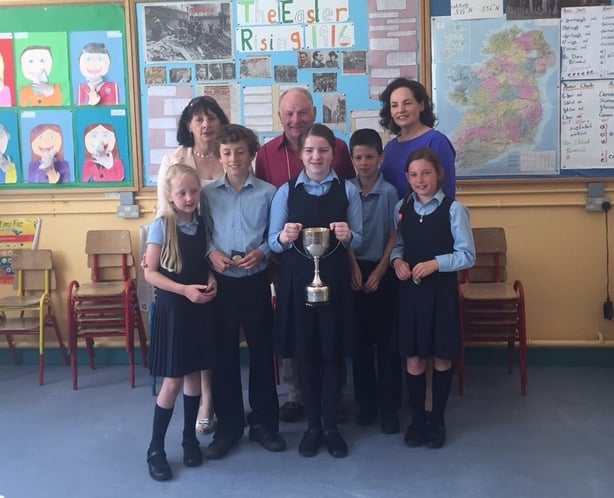 Sadly, I will never get to speak or meet the man who inspired this documentary to ask about his experiences both in the U.S and in Vietnam. Patrick Gallagher was a young man who travelled all the way from a small village in Mayo to the fields of Vietnam, saving the lives of (at least) three people and inspiring fellow Marines along the way. An Irish man, in a U.S war.
Looking at that photograph now, it's strange to think that this young boy went on to win the second highest honour in the U.S military for saving the lives of comrades by throwing his own body on a deadly grenade.
All of this by the young age of 23.
The petition mentioned by Patrick's sister was successful. In 2018, the US Navy confirmed it would name a vessel after him. It said this was in recognition of "exemplary service in defence of the nation" that he undertook. In March of 2022 a keel-laying ceremony took place for a US Navy Destroyer, named in his honour.
Documentary On One: Mayo Boy, Vietnam Hero will be broadcast on Monday 02nd May, 2022 @ 6.05 pm on RTÉ Radio 1 - listen to more from Documentary On One here.