Documentary On One: Dublin is home to many famous commemorative works, some controversial and other less so but none as mysterious as the plaque to Fr. Pat Noise. Listen to A Man Out Of Time here, and read all about it below...
---
There's a little gap half way across O'Connell bridge on one of the balustrades. It's 8 x 6 inches.
Although it sounds absolutely bizarre it represents the collision of a hoax that went on for years and an elaborate project which ultimately failed. The convergence of a story about a clock and a plaque.
A reporter, Jason Murphy was out one Sunday night in Bowes's Pub, he sat enjoying a pint and a bit of music when the ballad singer Eddie Sherlock sang a song called The Ballad of Pat Noise.
It talks about a plaque dedicated to fairly colourful character and describes where it is. Jason made his way down to the spot and, lo and behold, there it was.
The gap where the plaque sat was actually made to accommodate something very different and had hosted it for some time. It was 1996 and during the Celtic Tiger the country finally had a bit of money to spend. So what did they decide to spend a chunk of it on? A massive clock of course.
It was huge a digital countdown submerged just below the water in the Liffey measuring 12meters and weighing 6 tons. It was funded by the national lottery who were looking for a PR campaign to capture the spirit of 1996.
The clock to was tick off second by second until the 31st December 1999. It was to be launched on The Friday of the Patrick's weekend in 1996.RTÉ broadcast the event with a live link from O'Connell bridge to the Late Late Show. On that night's Late Late there were musicians, comedians, politicians and a huge crowd lined the roads. It seemed like a novel idea at the time. You could even print out your own postcard from the console on the balustrade. But the clock was destined to be doomed.
Even as the engineers worked to start the clock they must have known that just three days later it was to come out for the Liffey boat race. It was just, well, in the way. A green sludge built up on it over time and It was taken out of the river for repairs a number of times. In December 1996 after being removed again for repairs It did not return.
The river had won.
Sometime later an observant passerby noticed that the gap which clock console and left had become occupied by a plaque dedicated to none other than Father Pat Noise. It was brass with an image of Father Noise on it and it read…
"Advisor to Peader Clancy, died in suspicious circumstances in what seems like a high speed carriage incident at the beginning of the war of independence"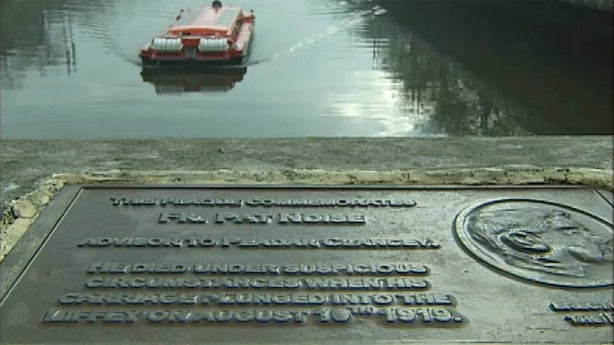 No one knew how long it had been there but suffice it to say Dublin City Council were pretty red faced about it. They even issued this statement…
"Dublin City Council is investigating the extent of damage to the bridge caused by the insertion of the plaque. This investigation will determine the best method to repair the damage to the bridge following the removal of the plaque. The City Council is anxious to contact the people who placed the plaque on O'Connell Bridge. Information can be given to 01-2222222."
In 2007 they ripped it out only to see that had been replaced just days later. They went to remove it again but by this time the plaque had made some influential fans including Councilor Dermot Lacey. Interventions were made and the plaque was saved.
So, is Pat Noise real? Well his influence certainly is. Fr.Noise has become an inspiration for musicians including ballad singer Eddie Sherlock and piper Eoin Dillon who composed The Lament for Fr. Pat Noise. There's even a hip-hop producer based in Dublin who goes by the name of Fr. Pat Noise
Our question in making this documentary was which had the greater impact? A huge digital clock installed at great expense and to a fanfare of epic proportions or a simple bronze plaque to a man who may never have existed.
Listen to more from Documentary On One here.