Historian and broadcaster and Programme Director Myles Dungan previews the new Hinterland Festival Of Literature & Arts in Kells, formerly the Hay Festival... We'll let him explain it himself.
There's nothing to worry about. No one is going to cut you dead and stare right through you if you call it 'Hay' by mistake. I still occasionally call it 'Hay'. My wife almost always calls it 'Hay'. Our five year old child would be calling it 'Hay' if she was not far more interested in the back page of the programme brochure which has a picture of the guy from the Late Late Toy Show. Will he bring Lego?
But, solecisms notwithstanding, we're Hinterland, and we intend to put the name on the map, starting on 22 June with an archive of historians (if it's not the proper collective noun then it should be) breaking wind in the general direction of a number of celebrated historical figures like Ronald Reagan, Charles de Gaulle, and Archbishop John Charles McQuaid. Their reputations are on borrowed time.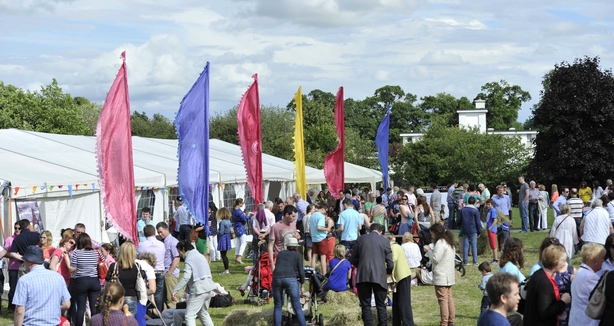 The name change is, as you might expect, all about world domination. Never forget that Rome was once a tiny village bordering on a swamp. 2017 guests, such as Sebastian Barry, Paul Howard, Chris Mullin, Patricia Scanlan, and the dude from the Toy Show are, to use the word of the moment, 'complicit' in all of this. But we won't be declaring our first republic just yet.
We are also getting in touch with our 'inner hippy' on the fiftieth anniversary of the Summer of Love by marrying the huge Litquake book festival in San Francisco and having a child together called Lit Crawl. This includes an adaptation of James Joyce's The Dead performed in a funeral parlour, poems about movies, and the music of Woody Guthrie.
Nerves are a bit frayed at the moment as the ticket machine printer gets out of whack and starts spewing out what looks suspiciously like a novel. Maybe we'll issue it with an invitation next year. But first we have to get the plaque up on the wooden bench where Brian Eno lay down and dozed with his partner for a few minutes (we have photographic evidence… somewhere) in 2015 after a grilling from Sinead Gleeson. Tensions will rise even further when the books start to appear in the themed window displays of most of the local businesses. I'll miss the bales of hay outside the electrical shop myself, but when you're a Roman …
The final sure sign that the beginning is nigh will come when the Local Heroes start to assemble the Type Trail exhibits. Will we have another blatantly phallic object protruding from the front of the hotel? Or a Scrabble solution on the gable end of the solicitor's office? Or another LGBT design on the railings of the local convent (very naughty). Whatever will they think of next?
I don't mean to be obnoxiously smug – well, just a bit – but since 2013 we've had Eno, Jeremy Paxman and Germaine Greer in our wee town. How about you? Because if we can do it, anyone can.
Roll on Winterland, when we will finally get to grips with Hannibal and the elephants.
The Hinterland Festival Of Literature & Arts runs 22 - 25 June 2017 - details here.