The Chilean Nobel Prize-winning poet Pablo Neruda (1904-1973) notched up posthumous notoriety in the Michael-Radford-directed film Il Postino and he was recently the subject of Pablo Larraín's light-hearted biopic Neruda. Now come the undiscovered poems for the poet's many fans around the world.
The poet won the Nobel Prize in 1971 and his Veinte Poemas y Una Canción de Desesparación (20 Love Poems and a Song of Despair) are still big sellers in many languages around the globe, 44 years after his passing. 21 previously unpublished poems, found amidst his papers, have now been published in English by Bloodaxe.
Then Come Back: The Lost Neruda Poems, translated from the Spanish by Forrest Gander, were issued last year by Copper Canyon Press in the USA. Bloodaxe have the honour of bringing UK and Irish readers these poems, presented bilingually, complete with facsimile reproductions of Neruda's hand-written drafts. The poems were written in notebooks, on scraps of paper, on music programmes, even a menu.
In late 2014, translator Forrest Gander read that undiscovered poems by Neruda had been discovered, He writes of his reaction in the prologue, as follows: "Not having read the poems, I assumed that someone was squeezing the last purple juices from the Neruda estate." However, when he got to see the poems, he took to the task of translation with a spirit of utter dedication, devoting long hours to representing as bestr he could in English the tactile appeal of the verses.
Cario Oses, director of Library and Archives at the Pablo Neruda Foundation wrote the introduction to this valuable collection. He draws a comparison to Neruda's book, Maremoto, in which the poet describes the organisms and debris left by the sea's eternal susurrus.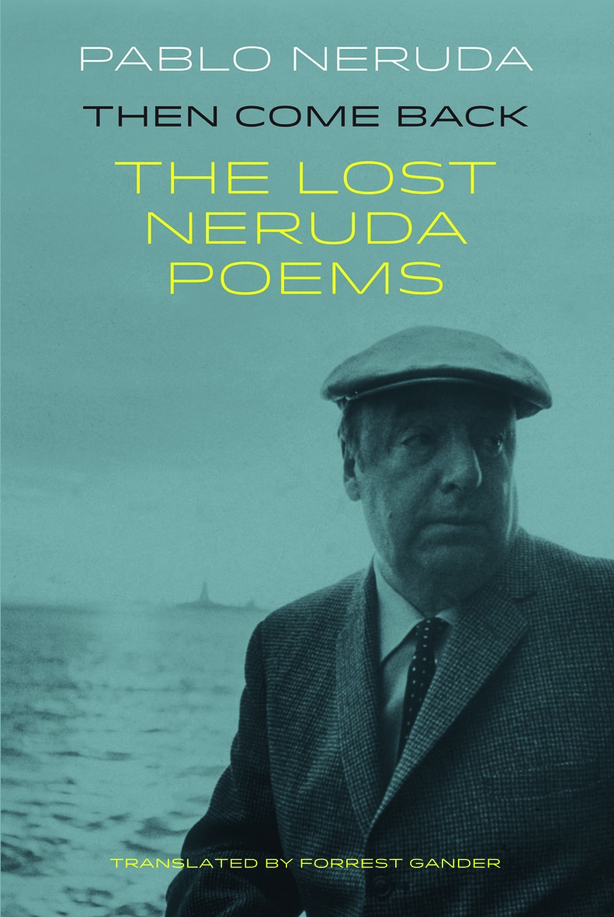 "Studying his manuscripts, at times we had the sense that waves of verse had washed over the paper and withdrawn, carrying with them revisions and reconsiderations, leaving the freshest version of each poem," he writes.
Even in English, Neruda's tender way of asking us to look at the world afresh comes across.
Spring Day, / a long Chllean day, /a long lizard lazing/on the amphitheatre of snow/facing the navy blue. (Poem 16).
Poem 20 which can be read as a vilification of the telephone. He is liable to be phoned by mistake by someone asking for technical information or requesting an escort, or it was a relative I detested, / a forgotten aunt, wholly objectionable,/a National Prize alcoholic/ who longed to smack me/or a blue-tinged, syrupy actress/ who wanted to violate me, seduce me/with her pink telephone. How would Neruda have lived in the smart-phone age? Perish the thought.
Humility comes through in Poem (number) 9 in which he assesses his so-called poetic achievement with a doubtful eye. It finishes with an errant comma.
I've done nothing/more than others,/ maybe less than anyone,
Paddy Kehoe