Analysis: A woman was effectively banished from the country for the crime of kissing of a boy in public in Co Louth in 1937
By Michael Mary Murphy, Institute of Art, Design + Technology Dún Laoghaire
In October 1937, a young man and a woman were seen kissing in public in Blackrock, Co Louth. For the local judge, District Justice Goff, it was an opportunity to apply a recently introduced piece of legislation. Section 18 of the updated 1935 Criminal Law Amendment Act provided Goff with an opportunity to police social activity.
The law was strict but also open to interpretation: Every person who shall commit, at or near and in sight of any place along which the public habitually pass as of right or by permission, any act in such a way as to offend modesty or cause scandal or injure the morals of the community shall be guilty…
The Irish Press headline, 'Embraced in Public', didn't appear to flag any scandalous activity, but that's not how Goff and his local allies felt. It was even argued, in the young man's defence, that 'the boy was respectable and had had one or two more drinks than he should have'. In addition, 'there was nothing whatever immoral in what had happened'.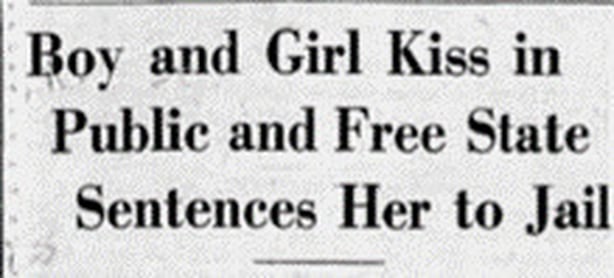 Even Goff at first appeared to judge that the case was not particularly outrageous and was quoted as saying 'there was no criminal misconduct'. He decided to dismiss the case against the boy provided he gave a £2 donation to the St Vincent De Paul charity and paid the court costs.
The boy may have escaped the clutches of Goff, but what about the girl? The local guard testified that 'he couldn't say that the girl had any drink. The man seemed to have drink taken...' That appeared to claim that if the boy was drunk in public, the girl wasn't. However, in court, ominously, Justice Goff asked: 'what type of girl is she?' He was told that there was no record of her ever being in trouble before.
Despite the boy being effectively pronounced legally innocent, the girl was charged with 'committing an act of impropriety in a public place'. The Irish Press reported on her fate and Goff's judgment was quoted: 'I will order her one month's imprisonment.'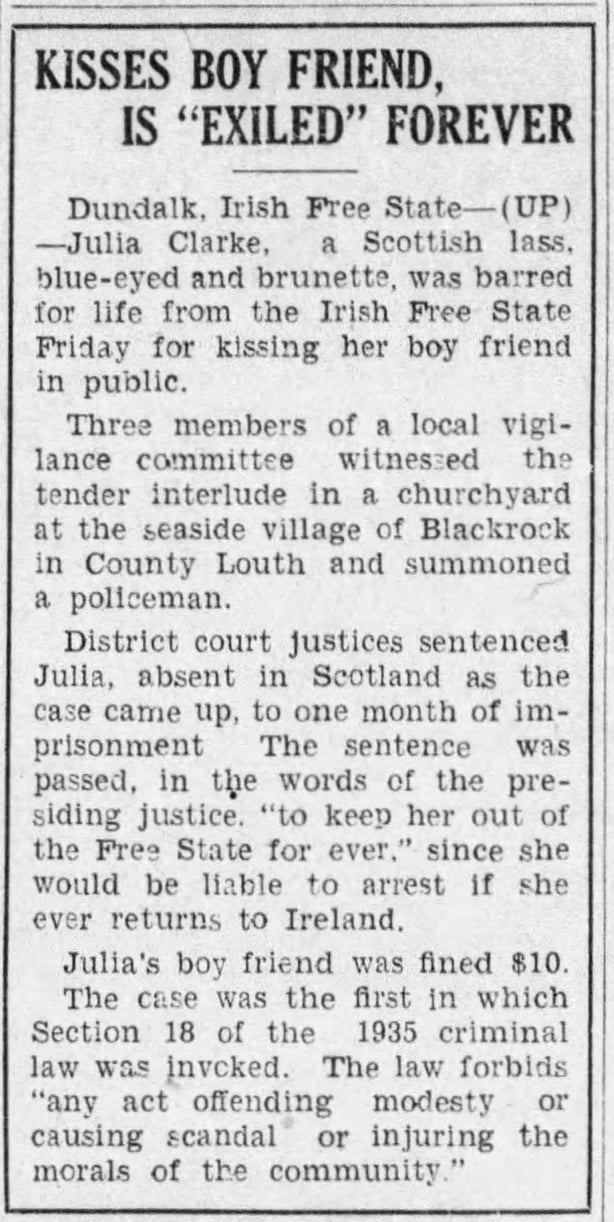 It was an extraordinarily harsh sentence and some of the court reports provide background to the decision and life in small-town Ireland at the time. The boy's defence was that he had been 'carried away by "the appearance and get-up" of his partner' who was 'on holiday from England'. The local vigilance group members had immediately notified the priest as well as the local gardaí. Goff proclaimed that the group 'was to be highly commended' for their alertness and actions.
But there was more to the judgment than might appear at first glance. Goff acknowledged that the girl, Julia Clarke, lived abroad, in Scotland, so she was unlikely to serve her jail sentence. Goff's judgment was a means of ridding Ireland of people like Clarke. Knowing that she faced a month in prison if she ever returned, she was effectively banished from Ireland.
Outside of Ireland the judgment was met with shock. The Irish Times quoted a London Star article: Freedom appears to have brought gloom instead of happiness to the Irish temperament. Now they have a law which makes it a crime 'to offend modesty or cause scandal'. There was never a charter of repression so widely drawn as that. We hope that it is not yet an offence to kiss the Blarney Stone in public.
We need your consent to load this YouTube contentWe use YouTube to manage extra content that can set cookies on your device and collect data about your activity. Please review their details and accept them to load the content.Manage Preferences
Goff wanted to supress the media and prevent them from reporting on his decisions, but it was too late. In a public relations disaster for the Irish government, newspapers globally sneered at the judgment. Accounts of the decision even made it into a newsreel shown in British cinemas. Pathé News filmed Clarke kissing a man, while a narrator retold her story and spoke of this Irish 'crime' and its punishment. Goff had turned her into a film star!
It was a short clip, only 14 seconds long, but it depicted Ireland as out-of-step with the world. Whatever control Éamon de Valera and his government had domestically, they were powerless to stop the story going viral. This was not just a ruling in a provincial courthouse and it reflected directly on de Valera.
The Los Angeles Times depicted the judgment as outrageous and highlighted the gender aspect: 'Yes ma'am it seems the woman pays in Ireland, and how!' The Palm Beach Post ran a front-page story and condemned the '…lack of proportion, lack of humor and plain intolerance'.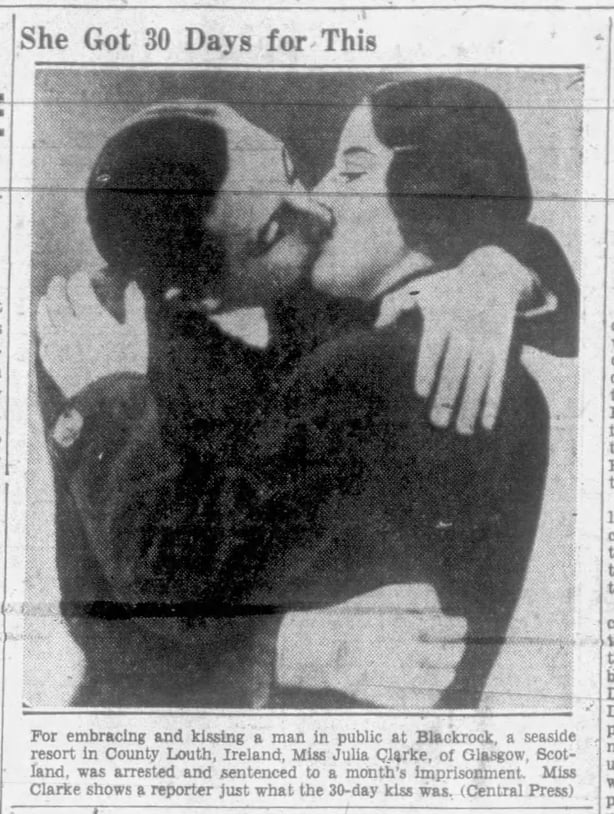 Boake Carter, a widely syndicated columnist, wrote about the judgment in particularly disparaging terms and placed de Valera in ominously disturbing company. Why should some dried-up male moralist pounce upon a poor girl, make an example out of her, but let off her male friend virtually scot free? What de Valera sponsors is simply a return to dark ages witchcraft and intolerance
But in a way, even the international ridicule of Goff's 'one month for a kiss' sentence served a purpose. It broadcast an image of Ireland as innocent. When rock 'n' roll arrived with swivelling hips to mainstream America in the mid-1950s, many people saw it as a curse - and some of them saw the Irish entertainers of the time as the cure. Perhaps someday Julia Clarke will be publicly pardoned by the Irish legal system for her 'crime.'
This is an edited extract from Sounds Irish, Acts Global: Explaining the Success of Ireland's Popular Music Industry by Michael Mary Murphy and Jim Rogers
Dr Michael Mary Murphy is a lecturer in the Department of Humanities + Arts Management, Entrepreneurship at the Institute of Art, Design + Technology Dún Laoghaire.
---
The views expressed here are those of the author and do not represent or reflect the views of RTÉ
---