Analysis: Irish Sign Language interpreters have become familiar faces on our TV screens in recent years
By Lorraine Leeson, TCD
Christmas Eve 2017 was very special. That was the day when President Michael D Higgins signed the Irish Sign Language Act, recognising Irish Sign Language as the third language of Ireland. The act was dedicated to the memory of two elderly deaf brothers – Daniel and William McCarthy – who were found dead in their Dublin home in 2016, just weeks after the Oireachtas Joint Committee on Justice and Equality reported on the extreme marginalisation of Irish deaf people.
The Act brought the promise of access to public services, and participation in Irish life through recognition of Irish Sign Language and a range of measures related to the provision of sign language interpretation. The promise of access is one that we have seen played out on our screens more regularly: sign language interpreters were a daily presence at Covid-19 briefings and appear on The Late Late Toy Show. The question is: what are they doing?
We need your consent to load this YouTube contentWe use YouTube to manage extra content that can set cookies on your device and collect data about your activity. Please review their details and accept them to load the content.Manage Preferences
The Irish Sign Language version of "Santa Claus Is Coming to Town" by the Holy Family School for the Deaf from The Late Late Toy Show
Before we get to the interpreters, we should take a moment to consider sign languages themselves. People often assume that sign languages are representations of spoken languages on the hands, or that they have been invented by someone to 'help' deaf people. The truth is that sign languages, like all natural languages, have evolved naturally over time. We know that there have been signers in Ireland for hundreds of years, and we can trace their presence through such official state records as courts, workhouses, census documents, and, since the turn of the 19th century, school records.
Different languages package information differently. While spoken languages are spaghetti-like, we might think of sign languages as being like lasagne. Instead of a stream of words following each other, sign languages layer information through use of the hands, the body and eyes, head, and mouth. In sign languages, events are typically presented from the point of view of the signer.
We need your consent to load this rte-player contentWe use rte-player to manage extra content that can set cookies on your device and collect data about your activity. Please review their details and accept them to load the content.Manage Preferences
From RTÉ Radio 1's Liveline, as sign language is given official language status, Catherine White speaks of life with her deaf parents (see ISL translation and transcription below)
For example, in the lefthand photo, the signer is telling us how he was (mistakenly) prepped for heart surgery. He has partitioned off part of his body (the hands) to represent the hands of the healthcare worker who was preparing him for surgery while the rest of his body represents his own body.
In the righthand photo, we see a woman telling a story of how a small animal came out of a tree trunk and nipped a boy on the face. Here, her body and left arm represents the small boy, looking up at the tree, while her right arm represents the small animal that pops out of a hole in the tree and nips the boy's face.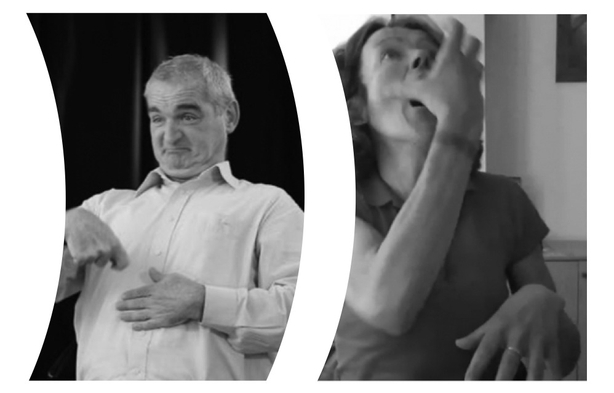 The sign language we use in Ireland is Irish Sign Language. This is not related to Irish in any way, but is simply the sign language used here. Irish Sign Language is used by many in Northern Ireland too, alongside British Sign Language, the sign language also used in Scotland, Wales and England. The languages differ significantly from each other in terms of the vocabulary and the word order they follow. While both are articulated using the hands and the body, they are as different from each other as English and Italian. Both are recognised under the Good Friday Agreement, which is why the Northern Irish Covid-19 briefings have shown two sign language interpreters side by side.
The interpreters on our screens each day have learned how to listen to a message and figure out the best ways of presenting that information in a language expressed in another modality in way that reflects the concept expressed by the speaker. They have to remember what they have just signed and map the unfolding discourse to the train of thought they are expressing in Irish Sign Language all the while continuously listening for the next piece of information. It is a highly complex and cognitively demanding task.
When interpreting for children, there is also a need to consider the language profile of the child watching. How much access to Irish Sign Language will they have had? What level of proficiency might they manage? The ways in which children sign differs from that of adult signers, just as children's use of spoken language differs from that of adult speakers. So the interpreters working on The Late Late Toy Show, for example, have to consider this on top of the regular challenges that all interpreters face.
A moment of appreciation for Amanda Coogan 👏👏#LateLateToyShow pic.twitter.com/gjJDEK3N6y

— RTÉ 2FM (@RTE2fm) November 28, 2020
As in most of Europe, interpreting in Ireland is not a 'protected' profession and anyone can claim to be an interpreter. Fortunately, one of the things that the new Act has done is require public services to hire people who are members of the Register of ISL Interpreters (RISLI). Despite the many challenges the pandemic brought, 2020 will be remembered as a year when sign languages were visible and when the rights promised by the Act became seen. These are things we must keep bringing forward into our "new normal" because how things were before are no longer good enough.
Prof Lorraine Leeson is Professor in Deaf Studies at the Centre for Deaf Studies at the School of Linguistic, Speech and Communication Sciences and Associate Dean of Research at TCD.
ISL translation and transcript of interview between Joe Duffy and Catherine White from RTÉ Radio One's Liveline in December 2020
J: There's a fascinating photograph in front of me. Catherine White, Good afternoon.
C: Good afternoon Joe.
J: And you sent me in this photograph.
C: I did.
J: And I've counted…. so far I've counted forty people and then I missed the man on his tummy on the floor with a bottle of fant..
C: With a bottle on his head
J: With a bottle of, bottle of fanta. It's not Ryan Tubridy. With a bottle of fanta on his head, right, and the amazing thing about this photo…. These are all relatives, aren't they?
C: The…. the photo… my mother, my father, my aunt, my uncle, my cousins and I think it was one or two brothers
J: OK
C: but all of them, all of them are Deaf, so it would be…
J: Everyone in that photograph
C: Are Deaf
J: Bar six of you, are Deaf
C: Yeah
J: Wow and people didn't know….. and that's why your contact jumped out at us this morning. You say yesterday marked a historical moment for the three generations of my family. As a daughter of two Deaf children (?), my whole life was Deaf. Deaf people are now first class citizens. You were crying on the floor yesterday watching Minister Anne Rabbite announce the formal commencement of the Irish Sign Language Act 2017 which is when it began. Why were you crying Catherine?
C: Because it's three generations of my family that have been using Sign Language.
J: Yeah
C: And they are now officially recognised as having a language in their own right.
J: And what does that mean?
C: Well in the past, Deaf people were just seen as 'ah God love 'em'. They can only use a bit of Signing but they weren't given equal value and I saw that growing up. But it was a paradox because my family were fully functioning. They were parents like any other parents were. They'd be giving out to you. They'd be laughing with you. They'd be getting out of bed and getting you to mass and all of that. And sending you to school and making sure you were clean and making sure we were fed and then you'd go out into the outside world and the perception was very different of them. So when you are growing up with that you can't quite understand like but why do people say that? Why do they see them that way. And with the Act yesterday…. now the act was made official the 23rd, 24th December in 2017 when it was signed by President Higgins but it had taken three years to be implemented so yesterday, so Annee Rabbitte yesterday didn't just speak to the implementation of it, she Signed it.
J: So what does it mean now? It means…
C: It means there is hope.
J: But what does it mean practically?
C: Practically, it means that public bodies now have a duty alongside Irish to provide information and services through Irish Sign Language, so a Deaf person can go to any public department now and say that I would like my information in Sign Language and it will be provided. That's a commitment that has been made.
J: And it's ISL
C: ISL, yeah
J: And to explain ISL. ISL is.. it's not as Gaeilge.
C: It's the Sign Language that's used in Ireland to separate it, from let's say England, which has British Sign Language and America's got American Sign Language.
J: And that's the reason…. People often get confused when they are looking at the HSE press conferences, there will be a Signer. They're signing in ISL, aren't they?
C: That's right.
J: But when you look at the press conferences in Northern Ireland - one of the things I discovered when I was researching the book 'Children of the Troubles' because one of the children, her mother was Deaf and she learned Sign Language but in Northern Ireland, there are two Sign Languages.
C. That's right.
J: There's ISL and BSL
C: That's right.
J: Basically, if you're from a Nationalist background and you happen to be Deaf or want to communicate with somebody who is Deaf, you learn ISL, Irish Sign Language and if you're from a Protestant background, to use the telegraphy, if you're from a Protestant background, you learn British Sign Language. It was completely different.
C: That's right.
J: And I remember the story of.. from one person I interviewed, when you go into the dental surgery or doctor's waiting room in Northern Ireland, you'd see a sign up saying 'please let us know if you need a Signer' in advance and please let us know if you want the Signer in ISL or BSL.
C: That's right
J: And that's why there are two Signers at the Northern press conferences.
C: Yes.
J: Because they are doing two different Sign Languages.
C: Yeah.
J: Incredible
C: And that shows the beauty of languages, doesn't it? And the culture.. And it's showing who you are, where you're from and what you do. And that is a very significant…. I mean, worldwide, you don't see that. And here we are, in Ireland, with the counties that we've got with that kind of richness and it's to be celebrated.
J: Yeah. And Catherine, what was it like for you growing up in family…. I mean, you've already prefaced it by saying it was fairly normal but you used a phrase earlier on about your parents that they were almost dismissed. Were they isolated…. if you were Deaf?
C: Isolated in mainstream society, but not within the Deaf Community.
J: Of course.
C: Within the Deaf Community, it's very close knit. They all were educated…. In my parent's time and in my cousin's time in Dublin in Cabra.
J: Yeah, of course.
C: All the girls went to St. Mary's and the boys went to St. Joseph's. So there was a very strong, extensive network within the Deaf Community and when they went back to their own respective counties, they kept that contact and I know that because we would be piled into two cars, as many weekends as possible, and travel to all of these Deaf events and Deaf Clubs and parties. It was just pure.. pure Deaf but a very strong network.
J: Ok.
C: Yeah.
J: And are your parents still alive?
C: No.
J: And they would have, I'm sure celebrated yesterday.
C: Yeah. And that's why it's … my heart was fit to burst because it was my father's birthday yesterday and he would have been jumping up and down. He would have organised a party and he would have just been out and proud.
J: Yeah.
C: Yeah
J: Oh Catherine. Are Deaf people….given the topic of the show today…. propelled by our listeners I hasten to add is discrimination on the basis of social class…. were Deaf…. people who are Deaf…. were they.. are they discriminated against?
C: Yes.
J: I know yesterday was a great step.
C: Yes. And it is a great step because you can't go back on history but you can learn from it and you can move it forward and give people hope and give people inspiration and people to say 'it is ok to be Deaf and it is ok to use Sign Language and it's legally recognised and you can live a full life like anybody else does.
J: Of course.
C: Yeah.
J: Ok Catherine. An incredible story. And congratulations to everyone who campaigned for that over the years.
C: Absolutely.
J. It's been a long time, a long time coming but it's a good, good development.
C: Absolutely.
J: Catherine, thanks indeed and kind regards to you and your extended… who was the man on the floor with the bottle on his head? Who was he?
C: Do you know what?
J: He looks like he's great fun. He's great fun.
C: You see that was the thing. They were great characters. They were very funny. And it's such a pity that there were no video records just to show the humour and the depth of their personalities and their characters and all of that. But that picture there is my reminder all the time. You know.
J. It's a beautiful photograph. A beautiful photograph.
C: I love it. It's my favourite photo.
J: Ok. And it should be. Thanks Catherine. Says so much. Says so much. That's Catherine White.
(Thanks to Catherine Walsh for providing this)
---
The views expressed here are those of the author and do not represent or reflect the views of RTÉ
---