Analysis: many artists, designers and craftspeople have been inspired by the GAA, from traditional portraits of players to public sculptures
Artists and GAA players have many similarities. Both endure years of practice to fine-tune their skills, draw spectators in and enrich our culture. They both enable physical, emotional and intellectual expression and provide a way to connect and communicate with people across borders, cultures, languages and generations. Many artists, designers and craftspeople have been inspired by the GAA, from traditional portraits of players to public sculptures.
Seán Keating's The Tipperary Hurler (1928) is perhaps one of the most recognisable paintings on the subject of Gaelic games. Keating became one of the principal painters of the Irish Free State and had a deep interest in painting emerging history. He based the painting on a sketch of Tipperary's John Joe Hayes that he made at the 1925 All-Ireland final.
Despite the title of the painting, the red jersey and green sash bearing the initials 'C.H.C.' does not belong to a Tipperary team, but Dublin's Commercials hurling club. The painting was first exhibited in Amsterdam as part of the Olympic Games in 1928, when art was still an Olympic discipline. It was taken out of storage in 2009 and hung in The Hugh Lane Gallery amid anticipated strong public interest ahead of Tipperary's appearance in that year's All-Ireland hurling final.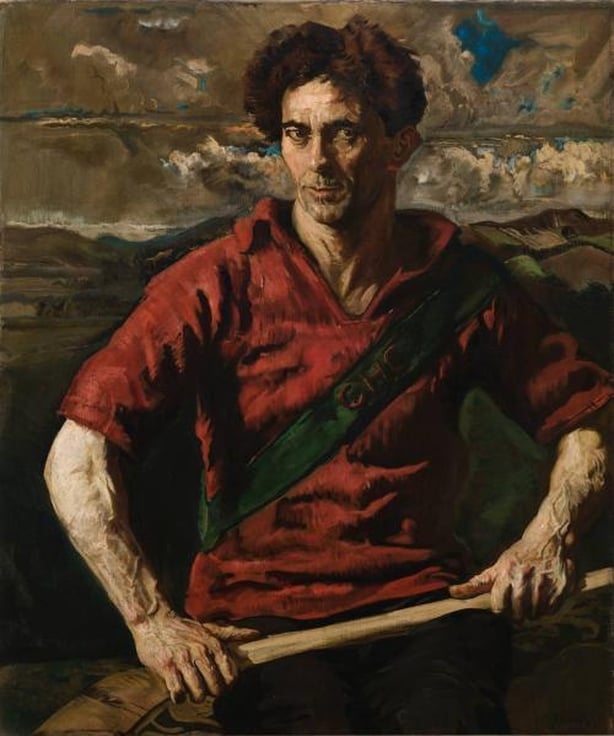 Handball has been a subject that has been incorporated in the works of famed artist Jack B. Yeats, but one of the earliest records of handball in Ireland is by a London-based illustrator John Nixon. On one of his many trips to Ireland, Nixon created an ink and watercolour artwork that depicts the game being played against a ruined castle wall in Co. Monaghan, which is now in the collection of the Monaghan County Museum.
More recently, the National Gallery of Ireland commissioned a painting of former Kilkenny hurler Henry Shefflin. Created by Gerry Davis as part of the Hennessy Portrait Prize 2016, the painting meant Shefflin became the first GAA player honoured with a portrait in the national collection. The 10 time All-Ireland winner and current Galway hurling manager commented "I put my faith totally in the artist's hands, even though he's a Tipperary man".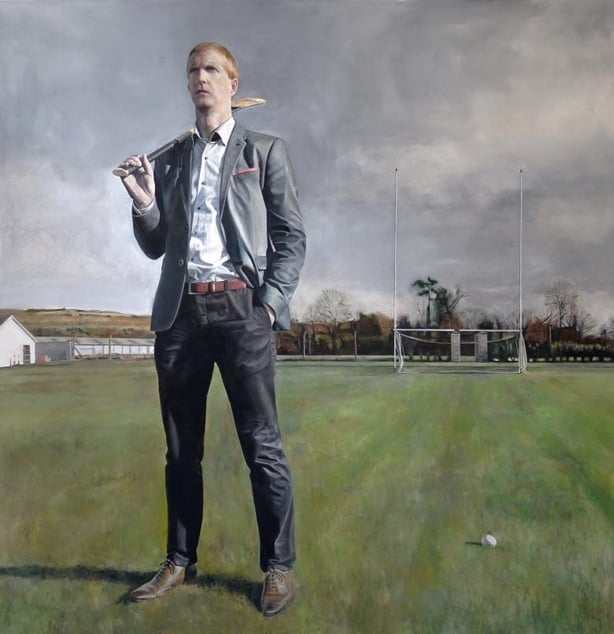 Art has become a refuge for former intercounty hurler David Sweeney. After retiring from the Dublin team in 2009, Sweeney was aware of the need for a new direction to channel his energies and fill the void that the intense commitment to hurling at the highest level would leave. He paints mainly portraits and cityscapes and the GAA Museum commissioned Sweeney in 2020 to create an artwork to commemorate the centenary of Bloody Sunday. The painting, titled Transilience, meaning an abrupt change or leaping from one state to another, contrasts the energy and colour of a match day in Croke Park with the darkness and tension of the events of Bloody Sunday in 1920.
Of course, artworks go beyond those on canvases that hang pristinely on gallery walls. Louis le Brocquy's Táin tapestries, Tom Doyle's Yellowbelly graphic designs and Annie West's illustrations show the breadth of artistic interpretations of the GAA through different mediums and styles. In 2020, illustrator Damien Quinn edited the second volume of The Drawn Game, a 96 page book that celebrates the GAA through a variety of impactful visuals by designers and illustrators around the world. An illustrator himself with clients such as the IRFU and FIFA, designing the front cover of a match programme for an All-Ireland final is near the top of Quinn's bucket list.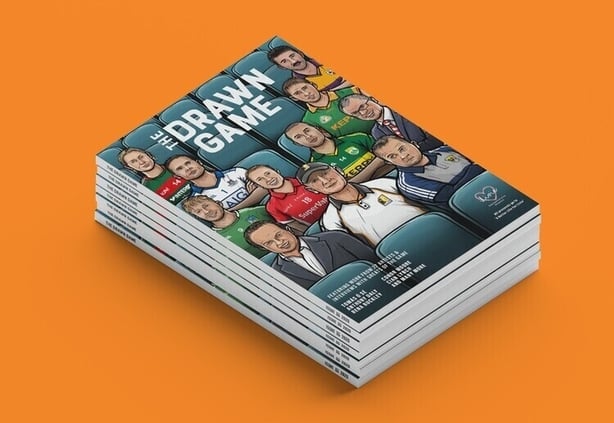 Murals are large-scale artworks that can become a means for communicating a certain message to a large audience and have an increasing presence within the GAA landscape. The village of Cushendall, Co. Antrim has a strong tradition of community murals. Featuring legendary players and famous club members from local GAA team Ruairí Óg, murals have become part of the scenery of the village and the GAA club itself. The mural on the gable wall of the Lurig Bar is dedicated to Ruairí Óg's most famous supporter the late John McKillop and the Laochra Gael mural on the club grounds blends mythical characters with local heroes to create a colourful addition to the village's already impressive landscape.
Sculptures are another example of the GAA's presence in public spaces through art. Statues dedicated to individuals associated with the GAA have become more widespread in the last decade. These are usually in the form of free-standing statues erected in the community where the individuals came from or in the sanctuary where games take place.
Seamus Connolly has been the sculptor of many of these statues including those memorialising Dermot Earley (Gortaganny, Co. Roscommon), Mick Mackey (Castleconnell, Co. Limerick) and Gerry O'Malley (Bridewell, Co. Roscommon). Have you even been to Ventry if you haven't got a photo with the statue of Páidí Ó Sé?
We need your consent to load this rte-player contentWe use rte-player to manage extra content that can set cookies on your device and collect data about your activity. Please review their details and accept them to load the content.Manage Preferences
From RTÉ News, 2015 report on the unveiling of a life-size bronze statue of Paidí O Sé Ventry, Co Kerry
These sculptures have been cast in bronze - one of the most durable metals - as if to bestow permanence on the athletic bodies of GAA players. Other stone based statues have been erected around the country including one of GAA president Maurice Davin in Carrick on Suir and an imposing statue of GAA founder Michael Cusack at the entrance to the Croke Park stand named in his honour.
At Canal Square in Kilkenny City sits a sculpture by Barry Wrafter which features hurlers, in black and amber, with hurleys and helmets, reaching for a sliotar. The sculpture is dedicated 'to all that have hurled for Kilkenny' and was unveiled in 2016. Interestingly, Kilkenny have not won a senior hurling title since the sculpture was put in place: curse or coincidence?
The subjects of these artworks are usually male players in heroic poses or historic figures that have already been memorialised in many different ways
While the inclusion of GAA artworks within the public landscape is an important development in communicating the GAA's wider cultural and social impact, it privileges the few and not the many. The subjects of these artworks are usually male players in heroic poses or historic figures that have already been memorialised in many different ways. A welcome addition would be a sculpture or artwork commissioned by the GAA that is dedicated to all who have contributed to Gaelic games whether that is by attending matches, training underage teams or stewarding on match days.
The GAA: People, Objects and Stories exhibition has included a special design which is a callout to all artists, young and old, amateur and professional, to be more inclusive when representing Gaelic games in their artworks. It is hoped that this may contribute in some way to a shift in how GAA artworks are created, commissioned and interpreted.
The GAA: People, Objects & Stories exhibition is now open at the National Museum of Ireland, Collins Barracks, Dublin
---
The views expressed here are those of the author and do not represent or reflect the views of RTÉ
---