Analysis: 25 years ago, Martin McDonagh's Beauty Queen of Leenane and Druid Theatre were the toast of Broadway winning four Tony Awards
"A new play by a new writer in a new theatre". This was how the world premiere of Martin McDonagh's The Beauty Queen of Leenane was billed in a co-production by Druid Theatre and the Royal Court at Galway's Town Hall Theatre in 1996. Directed by Garry Hynes, the play proved to be transformative for Irish theatre and culture at home and abroad. In 1998, Beauty Queen won four Tony Awards in New York, reaching new heights of success, quite literally on the world stage. 25 years on, how did Druid, Hynes and McDonagh bring new levels of achievement for Irish theatre from Galway to Broadway?
The Beauty Queen of Leenane was first performed at the Town Hall Theatre on February 1st 1996 and later at the Royal Court Theatre Upstairs, London, on February 29th. That same year was also a milestone, marking Druid's 21st birthday with the company having been established in 1975 as a group of recent graduates of then University College Galway.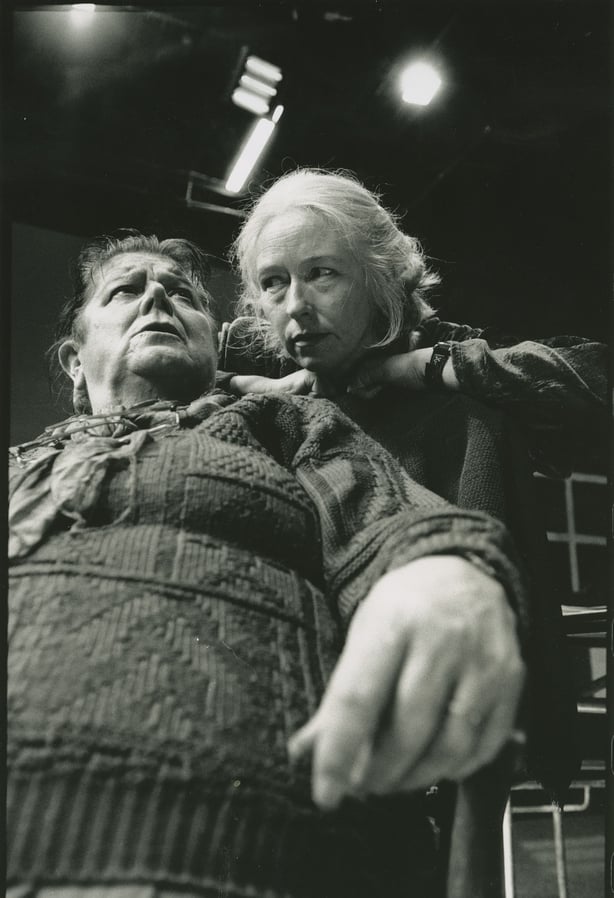 Beauty Queen is set in a cottage in the west of Ireland, in the village of Leenane, in the mountainous heartland of Connemara. Mag Folan is described as being "a stoutish woman in her early seventies . . . sitting in a rocking chair, staring into space". Her daughter, Maureen, is "a plain, slim woman of about forty" and the mother and daughter form the principal relationship and dark drama of the play.
Their relationship simmers with an increasing tension and threat, inching towards the release of an inner passion that aims to break and undo the generations of inherited and prescribed status and dominance within the household. Pato Dooley might prove to be, at last, Maureen's first love (at the age of 40) and allow her to break away from both her mother's controlling grasp and from the grim future that awaits her, destined to care for her aging and ailing mother, or worse, inheriting her mother's seat in the rocking-chair of the cottage kitchen, the motion of which served as a metronome ticking away both their lives.
Wearily, Maureen, wonders aloud: Do I not wish now? Do I not wish? Sometimes I dream . . . of anything . . . of anything. Other than this.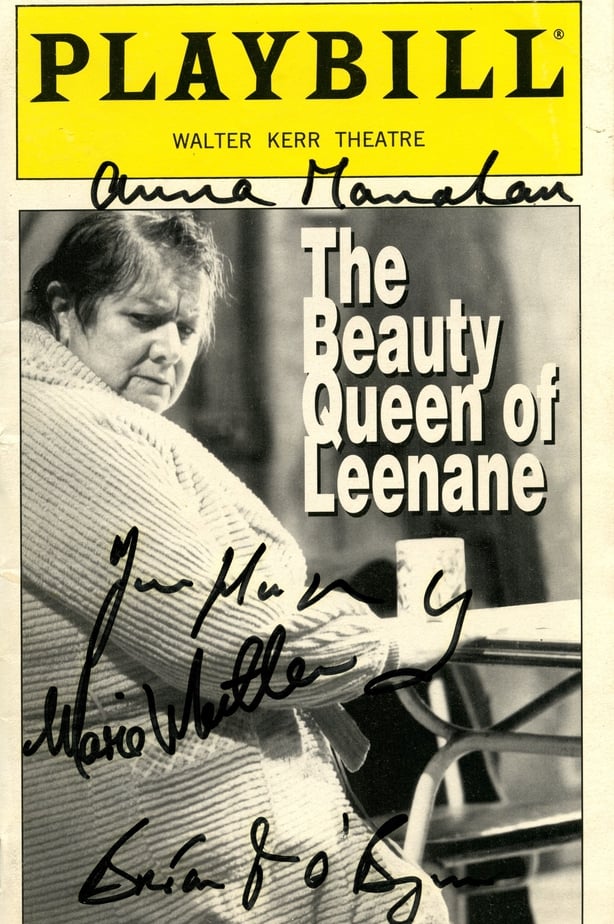 Dysfunctional family stories are nothing new in the history of Irish drama. J.M. Synge's shebeen disrupted by the wandering Christy Mahon in The Playboy of the Western World, Teresa Deevy's Katie Roche, Tom Murphy's A Whistle in the Dark, Marina Carr's On Raftery's Hill, to name a few, have shown us that families ties are not always so strong they can't be undone by force of word or violence. McDonagh's Beauty Queen, however, captivated audiences around the world in a way that few other similar Irish plays have done. Terrifying and hilarious: this couldn't be a real Irish family, could it?
The play's own identity is interesting to decode. An 'Irish' story from an 'Anglo-Irish playwright', it was a Druid co-production with the Royal Court in London under Hynes' direction. After an initial Irish tour, Beauty Queen opened at the Atlantic Theatre in New York on February 11th 1998. The success of the play at the Atlantic Theatre, which was run by Neil Pepe (where the production run sold out 24 hours after opening), was important for Beauty Queen's transfer to the Walter Kerr Theatre on Broadway, where it opened on April 14th 1998, securing over $1.2m in advance ticket sales and being nominated for six Tony Awards, all unprecedented for an Irish play.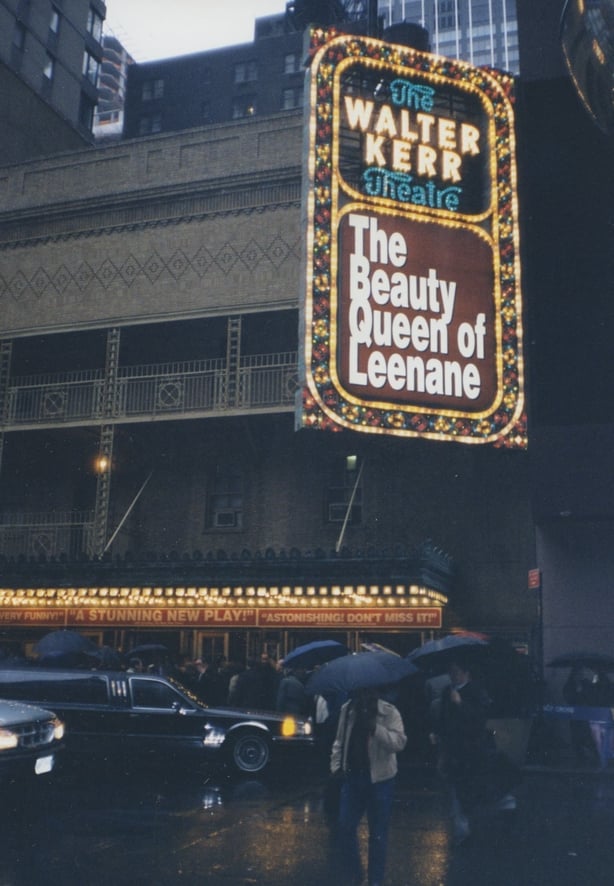 The dark and savage humour, and often equally savage acts, in Beauty Queen, as well as in McDonagh's other plays and films, set in Ireland and beyond, bring audiences into a family setting that is familiar, universal, but also beyond the firm reaches of our own reality. We recognise the controlling figures of authority, see the despairing and often lonely souls, empathise with the isolated lives in harsh and remote locations – but we don't (usually) resort to the violent, sensational, and also darkly hilarious acts of McDonagh's characters. As Patrick Lonergan has noted, McDonagh "is not trying to provide an authentic representation of the places he portrays, but instead chooses locations that are appropriate to the stories he wants to tell".
Interviews and press coverage from 1998 are among other records collected from the play's production in the Druid Theatre archive at University of Galway Library, from original prompt-scripts, production notes, playbills signed by the cast to digitised recordings. These reveal headlines and soundbites such as "McDonagh-mania Hits Broadway", "Irish Gothic", and "Beauty Queen: Dark Reign" across New York and Irish media.
We need your consent to load this rte-player contentWe use rte-player to manage extra content that can set cookies on your device and collect data about your activity. Please review their details and accept them to load the content.Manage Preferences
From RTÉ Archives, Mark Little reports for RTÉ News in 1998 on Druid's production of The Beauty Queen of Leenane's big night out at the Tony awards in New York
When the 1998 Tony Award ceremony took place at Radio City Music Hall on June 7th, Beauty Queen won four awards: Best Leading Actress in a Play for Marie Mullan, Best Featured Actor in a Play for Tom Murphy and Best Featured Actress in a Play for Anna Manahan. Hynes was awarded the Tony Award for Best Direction of a Play, the first time the award was won by a woman.
Murphy, who played Ray Dooley, described the Broadway run as "a kind of out-of-body-experience", while Manahan, who played Mag Folan, commented on the play's journey and global reach: "We never thought it would reach where it has gone, it's gone to the very top now...very proud, you know...coming from such a small island as ours that we should have one of the most successful plays in the world today."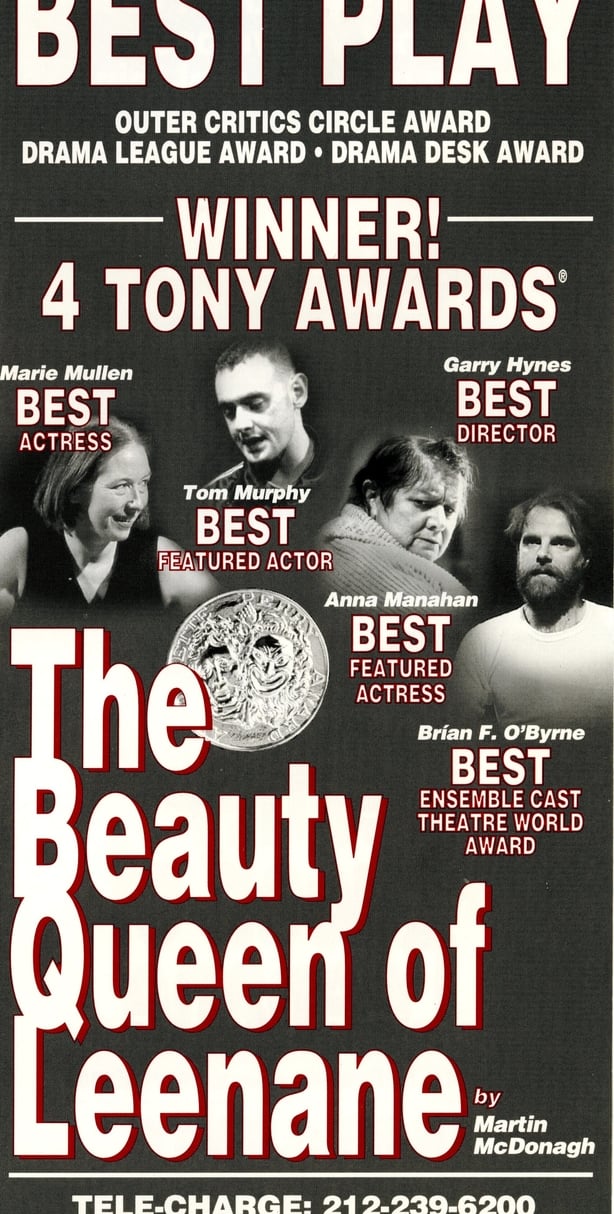 In her acceptance speech, Hynes dedicated the award to her family and parents. From the stage of Radio City Music Hall and on the biggest night in American theatre, Hynes also offered "Míle buíochas do gach duine i nGaillimh". "Maith an cailín!" came the roar of approval in response from a man in the audience. Galway and Ireland had truly taken over the Tony Awards.
25 years after the cailíns, Druids and Beauty Queens landed on Broadway, the global reach of Irish theatre, film, and culture has continued to grow and expand. Continued success on stage in Ireland and around the world by Druid, and recent Oscar recognition for McDonagh, who returned to another west of Ireland story filled with hapless and hopeless characters stuck in brutal relationships in The Banshees of Inisherin, is testament to what began in Galway in 1996. Beauty Queen was a truly important moment: Hynes and Druid choosing to produce a new play by a new writer in a new theatre, with the ripple effects of that bold choice still reaping rewards today.
---
The views expressed here are those of the author and do not represent or reflect the views of RTÉ
---