Analysis: in late 19th and early 20th century Irish political culture, trading on the currency of masculinity was seen as a crucial tool for success
By Loic Wright , UCD
Controversies surrounding the treatment of women in Irish politics have forcibly—and rightly—raised the question of the 'boys club' culture of Irish politics. A meeting with the Ceann Comhairle around the harassment of female TDs has raised further discussions over how political rhetoric—used by politicians, the electorate, and the media alike—can borrow from heavily-gendered language, often incorporating misogynistic language. This, furthermore, raises questions over the Irish political landscape that has, heretofore been, an androcentric—that is, male-dominated—space.
The male-dominated currency of political discourse, of course, is by no means limited to Ireland. Many governments and voters have targeted the perceived masculinity or lack thereof of their leaders as a marker of their aptitude for politics. During the 1840 US Presidential election, White House hopeful William Henry Harrison regularly berated the incumbent Martin van Buren as "little Vanny" the "used up man" (their original song "Tippecanoe and Tyler Too" incorporated these lyrics to promote these viewpoints in the franchised public).
In the Irish context, masculinities in political discourses were often categorised along Nationalist/Unionist lines. During the colonial period, political posters would often cast Unionist or British politicians as portly, well-fed, and ruddy-cheeked. Irish nationalists, meanwhile, were depicted in hyper-masculine terms, confronting the emasculating force of British colonialism.
We need your consent to load this rte-player contentWe use rte-player to manage extra content that can set cookies on your device and collect data about your activity. Please review their details and accept them to load the content.Manage Preferences
From RTÉ Radio 1's The Late Debate, taskforce created after women politicians meet Ceann Comhairle over abuse they experience online and in person
The most evident example is Charles Stewart Parnell, leader of the Irish Parliamentary Party and chief "martyr" in the nationalist imagination of the late-nineteenth century. Parnell's appearance in The Weekly Freeman presents a multitude of hyper-masculine, heroic, and often, hyper-sexual images of the 'uncrowned King of Ireland,' which demonstrate how perceptions of Parnell as a saviour for Ireland poised to secure Home Rule vouchsafed his masculinity in the eyes of the nationalist electorate and preserved his place in the public imagination as an ideal form of Irish masculinity.
After 1922, the currency of masculinity was turned inwards towards domestic politics. Those in power were systematically categorised in masculine terms while opposition politicians and parties were deemed effeminate. During elections, trading on the currency of masculinity was evidently a crucial tool for constructing images of upstanding and trustworthy elected public officials. During this period, the most prominent example of the hyper-masculine nationalist hero is, as expected, Michael Collins.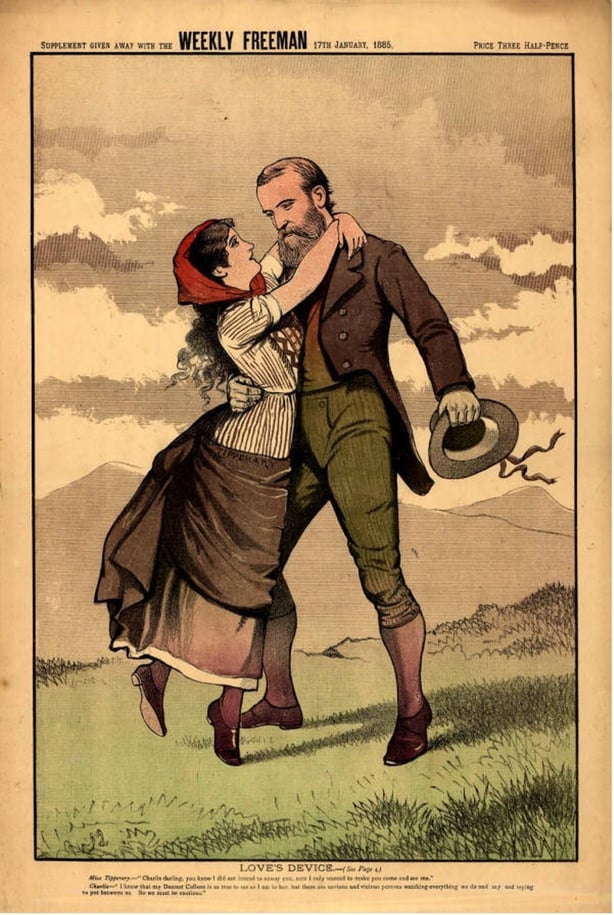 The martyred Director of Intelligence for the Irish Republican Army during the War of Independence has gained a steady faction of followers since his assassination in 1922. Collins has, moreover, been elegised as the hyper-masculine "Big Fella," and was famously played by Liam Neeson in Neil Jordan's 1996 film wherein Collins plays the object of everybody's affection, both romantic and political. Collins' hyper-masculinity has, moreover, been constructed in opposition to Eamon de Valera, whose moniker, the 'Long Fellow,' was devoid of the heroic masculinity embodied by Collins.
Yet, historian Tim Ellis has convincingly showcased how cartoons in Dublin Opinion were used to construct and consolidate the image of de Valera as a viable leader for post-revolutionary Ireland, analysing how depictions of men and masculinity have varied as politicians grew in and out of favour with the Irish voting public. With Cumann na nGaedheal in government, Fianna Fáil and its leader de Valera were regularly depicted as effeminate, weak, and lacking the masculinity required to run the country. Then, once Fianna Fáil gained power, de Valera was uncharacteristically and fancifully depicted in the Dublin Opinion as a large, muscular bodybuilder.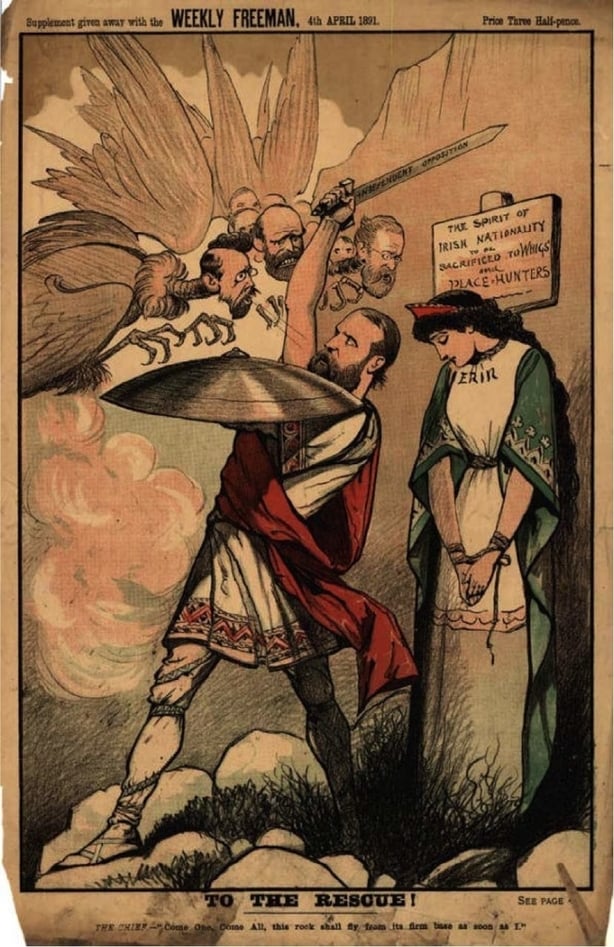 While election posters allowed the male electorate to envisage, and subsequently vote for an idealised masculinity, Irish male politicians similarly manipulated concerns over masculinity as a political tool during debates. The state of masculinity in the country—a discussion always framed in nostalgic, mournful terms—was regularly used as a tool for critiquing opposing political parties and cited as one of the chief concerns of elected officials.
One such example can be seen in Oliver St. John Gogarty's address to Seanad Éireann in 1932 during which he claimed that "manhood is the basic rock on which a nation is founded and on which its existence ultimately depends. The principal expression of manhood internationally, and even inside our own boundaries, is through the medium of national athletic prowess". Gogarty further argued that "if a nation fails in its manhood it would be better if it failed geographically and faded off the map. That is the ultimate fate of an unmanly race."
When framed in these terms, politicians evidently would argue that male politicians were best positioned to recover the masculinity of the country. Consequently, regular Dáil debates heard parties accuse one another of being "unmanly," and therefore, ill-equipped to serve the best interests of the country.
There are, of course, myriad factors why political masculinities have created hostile environments for women, including Ireland's constitutional positioning of women exclusively within the home. However, analysing the construction of political masculinity in relational terms to femininity is a crucial entry point into investigating the roots of how misogyny can become normalised in political rhetoric.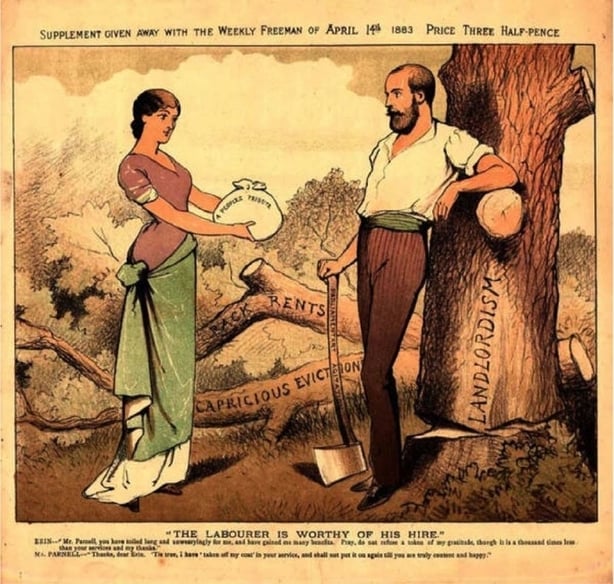 Perceptions of politics as an intrinsically male game may have vestigial roots in these heavily gendered political discourses that conflated political aptitude with masculinity. It is crucial, therefore, to dismantle these perceptions to create a political culture that encourages diverse involvement from many different backgrounds that represent Ireland's electorate.
Loic Wright is a lecturer in Popular Culture at International School of Business, Dublin and Irish Research Council PhD candidate at School of English, Drama and Film, UCD. He is an Irish Research Council awardee.
---
The views expressed here are those of the author and do not represent or reflect the views of RTÉ
---