Analysis: the focus may be on Glen and Kilmacud Crokes right now, but here are 7 other times the GAA rule book caused a stir
Debacles over decisions by GAA officials are inevitable given the fine margins in games. They range from the ethically dubious to the relatively trivial and downright ridiculous, but are united by their capacity to garner media coverage and outrage from supporters. Here are some debacles from GAA history which have caused quite a stir.
Aghabullogue vs Castlebridge (1890)
In the early years of the GAA, Gaelic games were mainly local events with considerable variation to how the sport was played in different pockets of the country. This resulted in many games being abandoned due to opposing teams playing under different rules and unable, or unwilling, to adjust their play in accordance with the play of their opponents.
When Cork's Aghabullogue and Wexford's Castlebridge contested one of the first All-Ireland hurling finals in 1890, Castlebridge's 'undue roughness' led to Aghabullogue captain Dan Lane, in agreement with the referee, withdrawing his team. Castlebridge were leading before the match was abandoned. The matter was considered at the next meeting of Central Council and it was recommended, on hearing the referee John Sheehy's report, that the result of the game be decided by a vote. Aghabullogue were declared All-Ireland champions by a single vote.
We need your consent to load this rte-player contentWe use rte-player to manage extra content that can set cookies on your device and collect data about your activity. Please review their details and accept them to load the content.Manage Preferences
From RTÉ Sport, Damian Lawlor reports from Maghera ahead of Glen's biggest game in their history as they prepared to face Kilmacud Crokes in last weekend's All-Ireland senior football final
Tubberdora vs Navan Pierce Mahonys (1895)
In the 1895 All-Ireland football final, Tubberdora of Tipperary beat Navan Pierce Mahonys by 0-4 to 0-3. Two days after the final, a letter appeared in national newspapers from referee J.J. Kenny, who admitted that he incorrectly awarded Tubberdora a point. He stated how Tubberdora scored a point from outside the 21-yard line, which was illegal at the time, but he awarded it nonetheless. Consequently, the correct scoreline should have been a draw. Navan Pierce Mahonys did not press the issue any further and Central Council presented them with a special set of medals inscribed 'Virtual Champions of Ireland 1895'.
Ballyboden Wanderers vs Emeralds (1913)
On April 15th 1913, the Dublin county board met at 68 Upper O'Connell Street to discuss a number of items on the weekly agenda. This included fixtures, appeals and referee's reports. After a recent minor match between Ballyboden Wanderers and Emeralds, it transpired that both teams had fielded players that were overage. After both teams admitted their wrong doing, they were disqualified from the competition.
Cavan vs Kerry (1925)
Poor administration and the devastating impact of the Civil War led to an uneasy ending to the 1925 football championship. On August 23rd 1925, Kerry beat Cavan in the All-Ireland football semi-final after a close contest. However, objections over the fielding of ineligible players saw both teams disqualified and thrown out of the competition. In the other semi-final, Mayo beat Wexford and, as all other teams had been disqualified, the GAA decided to award the championship title to Mayo.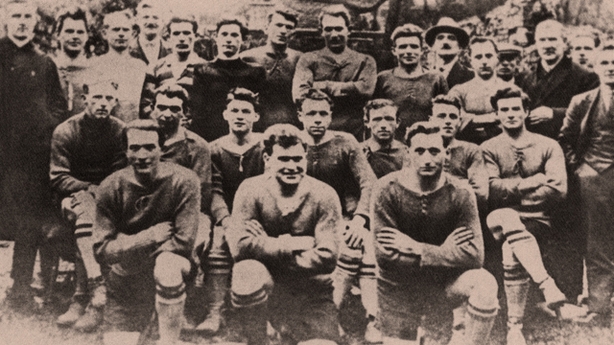 But as with any of Mayo's bids for All-Ireland glory, it was not to be so straightforward and Central Council's decision to award them the title caused uproar. A backlog of fixtures meant that Mayo had contested the All-Ireland semi-final without being provincial champions. The following month Mayo played Galway in the Connacht final and lost by two points. The All-Ireland championship was then controversially awarded to Galway. Today, the 1925 football championship is marked with "no final" on the official roll of honour in the GAA Museum in Croke Park.
Offaly vs Clare (1998)
One of the most (in)famous GAA debacles in living memory was the 1998 All-Ireland hurling semi-final between Offaly and Clare. After the referee Jimmy Cooney blew the match up a few minutes early with Clare three points in the lead at the time, Offaly fans staged a sit-down protest on the Croke Park pitch. The protest even prevented the scheduled All-Ireland U-21 B Final between Kerry and Kildare from taking place.
The next morning, the GAA's Games Administration Committee decided that Offaly and Clare would contest a replay the following Saturday in Thurles. Offaly won the replay by three points and went on to become All-Ireland champions.
We need your consent to load this YouTube contentWe use YouTube to manage extra content that can set cookies on your device and collect data about your activity. Please review their details and accept them to load the content.Manage Preferences
Meath vs Louth (2010)
You know it's a proper controversy when there's a Scannal documentary on the subject. The 2010 Leinster football final between Meath and Louth finished with a decisive goal that was illegally scored in the dying seconds by Meath's Joe Sheridan, who threw the ball over the line. This was followed by widespread disquiet and referee Martin Sludden admitting that he was wrong to award the goal, which cost Louth their first Leinster Championship in 50 years.
The Meath county board took the decision not to offer Louth a rematch. Among the key factors was the position of the players, who were reluctant to grant a replay and Meath's insistence that they would have been awarded a penalty had Sheridan not taken the ball over the line anyway.
We need your consent to load this YouTube contentWe use YouTube to manage extra content that can set cookies on your device and collect data about your activity. Please review their details and accept them to load the content.Manage Preferences
From RTÉ, the end of match scenes after the 2010 Leinster final between Meath and Louth
Dublin vs Clare (2015)
The 2015 camogie championship received widespread headlines for all the wrong reasons. Dublin and Clare drew in their head to head fixture and finished their group games with equal points. However, points' difference or a play-off were not a consideration to decide the rankings and the toss of a coin was due to decide who would progress to the All-Ireland quarter-finals.
Both teams withdrew in protest at the proposed coin toss. After much debate and uproar from many quarters, the Camogie Association deemed that a play-off match would take place instead. Dublin won the play-off, but lost the quarter-final to Wexford 48 hours later.
Historically, the blushes of GAA Central Council have often been spared because controversies have petered out in good time. Today, the large volume of broadcast and journalistic platforms, as well as social media, accelerates scandal cycles, leading to days of headlines, opinions and commentary. The most prominent and well-remembered GAA debacles often combine live televised matches and underdog stories. But they are never just about sport: these debacles and the subsequent analysis are always about fairness and equality, and can have a very direct bearing on how Gaelic games are governed.
---
The views expressed here are those of the author and do not represent or reflect the views of RTÉ
---