Analysis: thousands of Irish convicts awaiting transportation to Australia two centuries ago were housed on ships moored at Cork and Dublin harbours
Carrying a cargo of men, women, and children, the first convict ship to set sail from Ireland arrived in New South Wales, Australia, in 1791. By 1807, transportation had replaced the death penalty for a range of offences, from attempted murder, forgery and rioting to the most common offence, theft.
Increased arrests across the country meant local gaols and larger city prisons came under pressure. To cope with the numbers awaiting transportation, officials suggested converting ex-naval ships into floating prisons to detain male offenders. 'Hulks' were already in use in England for this purpose.
All prisoners sentenced to transportation – male and female – eventually departed from Cork to Botany Bay. Ireland's first hulk, the Surprize, began operating in 1823, and was stationed at Cork harbour, housing around 300 convicts at any one time. Two years later, the Essex went into service at Dún Laoghaire in Dublin. It received prisoners labelled as 'riotous and disorderly' from the overflowing Newgate and Kilmainham gaols. Men convicted of stealing livestock or food, of burglary or of assault, all filtered through the Irish hulk system.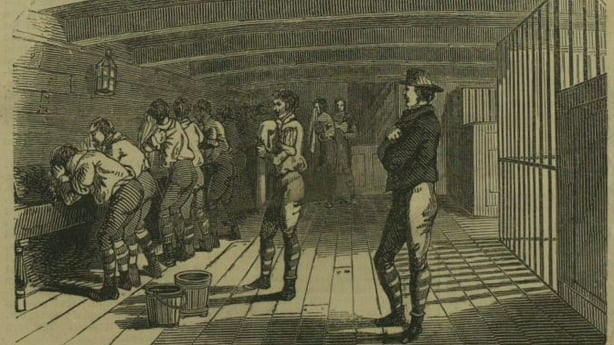 To get to the hulks, prisoners could be marched across the country under military guard, travelling in wagons or sailing in ships down the coast. On arrival at Cork, women were housed in a depot, while men were sent to the Surprize. One local newspaper report commented that a change came over the men as they headed towards the hulk. Dressed in prison-issued clothing, with their heads shaved, the men appeared 'deeply impressed with the change in their situation- in particular those who were married greatly bewailed the separation from their wretched families.'
The superintendent of both the Surprize hulk in Cork and the Essex in Dublin was a government official and prison inspector who drew up the regulations, set contracts in place for food, water, coal and clothing, and communicated directly with the naval officials at Cork who assisted with the embarkation of prisoners. Once on board, convicts were not permitted to leave the ship.
By day, under strict guard, they cleaned the decks and were schooled by chaplains, or put to work sewing clothes, making nets, and picking oakum. At night, the hatches were locked and convicts slept in hammocks, much like sailors. Their stay on board was supposed to be short-term, but many stayed weeks, sometimes months, until boarding a transport ship for New South Wales.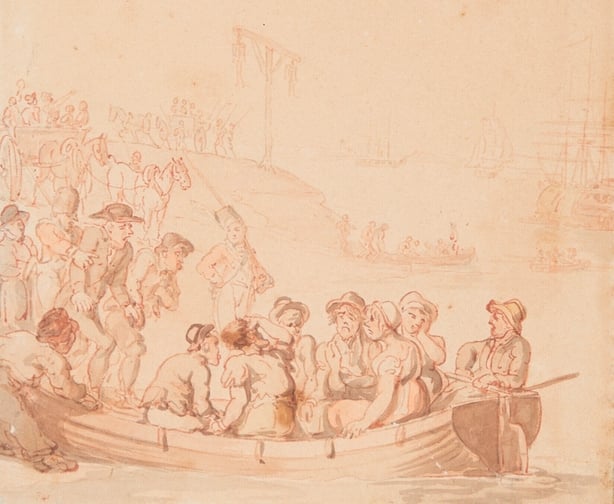 Convicts' ages on the Surprize and the Essex ranged from under 10 to over 70, both of whom were less likely to survive the arduous voyage to the colonies and the punishment that awaited them there. Sickness rates on the hulks were high, as prisoners contracted cholera from drinking unsanitary water, and scurvy from nutrient deficiencies caused by their poor diet. In 1836, one surgeon recorded the rations issued on the Surprize: '8 ounces of oatmeal each to be made into gruel for breakfast, with half an ounce of sugar, served at 8:30am; 4 ounces of meat, including bone, and 4 ounces of inferior cabbage, including stalks, to be made into broth, with a small amount of oatmeal to thicken it, the broth is served at 2pm and each man gets a quart with a pound of biscuit. No more food is served after this.'
Poor rations, harsh discipline and little hope of a pardon created an unstable, rebellious atmosphere on board. Violent outbreaks against prison guards and fellow inmates became frequent occurrences. In 1835, the Cork Constitution newspaper reported that the Surprize was 'boiling with the most wicked and malignant passions of its depraved inmates', and that a company of soldiers had been brought on board to subdue prisoners who had made crude weapons from iron and ropes. However, surgeon William Rae noted that prisoners from the Surprize had been subjected to a system of 'terror, robbery and plunder' from a violent gang on board, who plotted to seize the ship and murder anyone who stood in their way.
In 1825 convicts on the Essex with access to candles and tobacco pipes tried to set fire to the hulk, hoping to cause enough confusion to escape. Local fishermen, marines and inhabitants of the town helped to put out the blaze. On September 16th of the same year, convicts became mutinous at night and tried to fight their guards. One prisoner was killed, and another drowned after jumping overboard.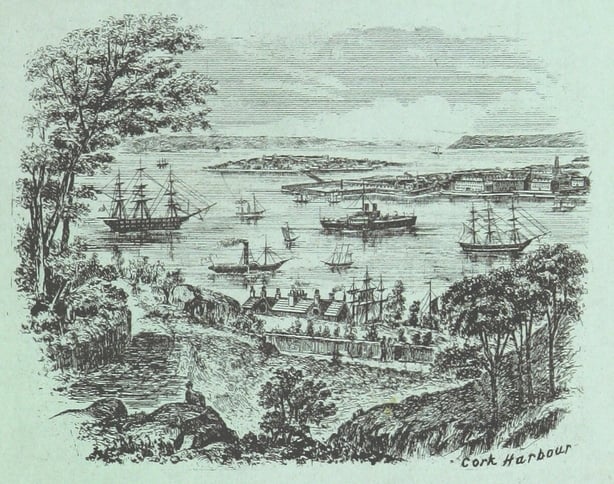 During a bad storm on the Surprize in Cork, 20-year old Timothy Riordan jumped overboard and swam as far as Whitepoint, a mile from the hulk. Lawrence Whelehan, labelled a 'notorious bad character', managed to get as far as Galway. Both men were recaptured.
The hulks in Cork and Dublin were only ever intended as temporary measures until larger prisons and depots – such as Spike Island – could be adapted or built. Negative reports from prison inspectors and newspapers alike contributed to their poor public image. In 1836, the Kerry Evening Post reported that the hulks were to be abandoned, as they had 'not been found to answer their purpose, either in economy or discipline'. They were expensive to run, and it was impossible to maintain law and order.
Between 1823 and 1837, the Surprize and Essex detained around 12,000 male convicts. Although prisons across Ireland badly needed reform, Ireland's floating jails were not the answer. For those who passed through them, it was an experience dominated by violence, disease, harsh discipline and hunger.
---
The views expressed here are those of the author and do not represent or reflect the views of RTÉ
---