Analysis: The island of Bermuda is well known for its sun and sand, but it also has a little-known connection to Ireland
During the years of the Great Famine, thousands of men, women, and children, many driven to crime by poverty and civil unrest, were sentenced to be transported overseas. For some male convicts, their destination was Bermuda, 3,000 miles from home.
In 1791, the first shipload of convicts left Cork harbour for New South Wales, following the so-called 'First Fleet' which had left England a few years earlier. In 1823, a British Act of Parliament authorised convicts to be employed in hard labour in any colony nominated by the king.
Only 20 miles long, Bermuda was a colonial outpost of strategic importance to the British empire, providing access to key Atlantic trading posts. Work at the dockyard complex had already begun to transform it into a strongly fortified naval base, but convicts provided the government with a free source of labour and could be deployed in their thousands at relatively low cost.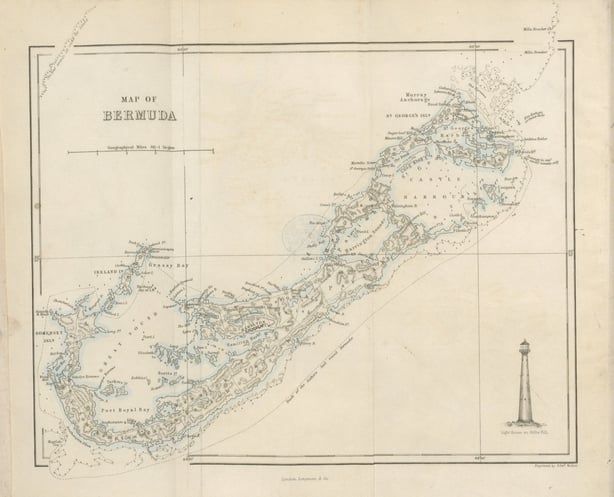 Male convicts first arrived in Bermuda in 1824, sailing on board the Antelope with a detachment of Royal Marine guards. Convicts selected for work in Bermuda were generally young, and in good health. They had been convicted across England, Wales and Scotland of minor offences, such as stealing, poaching and housebreaking, with sentences numbering either seven or 14 years, or life.
Convict numbers in Bermuda steadily increased as the naval works continued, but it was the Great Famine which brought a great influx of Irish convicts to the island. Increased crimes and convictions roughly mirrored the years of shortages during the Famine. Most crimes involved petty theft, with people stealing food or livestock to survive. Furthermore, the introduction of the Vagrancy Act in 1847 criminalised homelessness, meaning that many people who had been evicted from their homes became new targets of penal legislation. At least one and a quarter million people fled the country, emigrating to North America, Australia and British cities.
Many thousands of male convicts from Irish prisons found themselves shipped to Bermuda. Nearly 20 years earlier, the British Home Secretary Robert Peel made the observation that transportation was 'not much dreaded' in England, but 'in Ireland it was'. He added that 'the inhabitants of that country seemed to have a peculiar dislike to be separated from their country and their kindred'.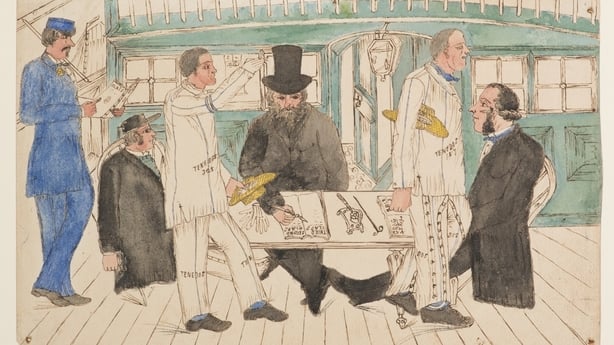 Without an adequate prison on the island, convicts were held on board decommissioned naval ships known as hulks. In total, there were seven convict hulks stationed at Bermuda between 1824 and 1863. Each hulk typically housed around 250 convicts, separated into common dormitories and mess-rooms where men ate, slept and lived alongside each other. Many Irish arrivals, already half-starved before transportation, suffered from scurvy. Their health was so poor that it was recorded that 44 prisoners from a shipment of 704 died in 1848 after arrival.
Working in chain gangs, convicts stood out from ordinary labourers by their straw hats and government-issued white linen shirts marked with their name, number, and a broad arrow. Each morning, they left the hulks to restructure the dockyards, construct administrative buildings and repair roads and bridges on the aptly named Ireland Island, in the north-west.
Quarrying limestone was a particularly gruelling task, as convicts' eyesight became damaged by the reflective glare of the sun from the white rocks and became 'moon-blind', as they called it. In 1846, convicts petitioned for extra rations of alcohol after quarrying, arguing that spirits were 'the only consolation and comfort when we are both faint and weary by working in the burning sun'. Instead, they were issued with cocoa and sugar.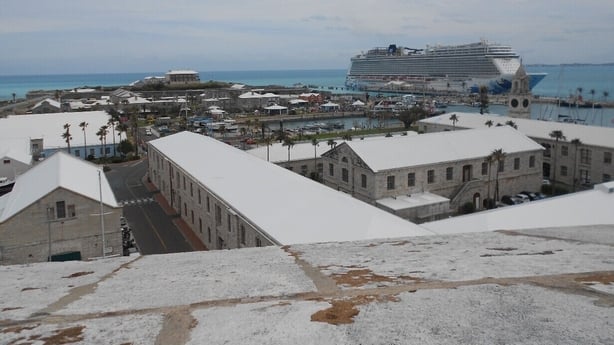 Disciplinary action was carried out for offences such as drunkenness, refusing to work or gambling. Punishments included having rations reduced, being put into solitary confinement, or losing a pardon for release. For more serious offences, such as attempting escape by stealing small boats or attempting to bribe their passage on a passing ship, men could be flogged. Authorities felt that Irish convicts were the worst offenders. In 1859, the Medway hulk was forced to transfer its Irish prisoners to another ship when one man was killed and 24 wounded after a skirmish with English convicts on board.
In 1848, Irish nationalist John Mitchel was arrested on political grounds and sent to Bermuda. Kept apart from other prisoners, Mitchel described himself as being 'sealed up hermetically in a hulk' and that 'the clank of chains is seldom out of my ears'. Mitchel spent his days confined to his cabin, reading and writing. He was lent books by the hulk's chaplain and had access to newspapers and periodicals, which brought news from Ireland. Mitchel suffered from asthma attacks prompted by Bermuda's humid climate and the airless conditions of the hulks, where death rates were high and yellow fever could spread like wildfire.
Transportation was 'not much dreaded' in England, but 'in Ireland it was'
While transportation and hard labour in the colonies was designed to act as a deterrent against crime. Mitchel mused that 'hulking, as a profession' might tempt people suffering back home. Convicts had a roof over their heads, received rations including beef, bread and vegetables, and could save small sums of money.
Not all convicts served out their entire sentences in Bermuda and some were sent on to New South Wales, Western Australia and Tasmania. Those whose sentences expired, or received a pardon, returned to Ireland or were sent on to the Australian colonies. Wherever they were sent, those who were transported faced a life of back-breaking labour and poor health at the mercy of officials, many miles from family, friends and home.
---
The views expressed here are those of the author and do not represent or reflect the views of RTÉ
---