Analysis: the favourite poet of generations of Leaving Cert English students was someone with personal experience of mental health issues
In March 1919, Austin Clarke entered St Patrick's, the hospital founded by a legacy from Jonathan Swift to treat 'Fools and Mad', as the bequestor himself put it in typically blunt 18th-century terms. The poet was not quite 23 years old, but already the author of an epic poem that had seen him hailed by the Irish Times as the heir to W.B. Yeats's 'singing-robes'.
Troubled by a difficult romantic relationship and the recent death of his father, Clarke was 'dangerously ill in body and mind', as he recalled later. He was unable to eat, subject to terrifying hallucinations and dissociative states in which he saw his own body carried in a funeral procession and his severed head presented, like John the Baptist's, on a plate.
Some moments of care and compassion notwithstanding, the treatment he received in St Patrick's was crude and brutal, amounting sometimes to torture. Clarke was force-fed and locked in a padded cell. Warders routinely beat patients on the feet and ankles with bunches of keys. An unpublished piece of prose written some months after he left the hospital, now held in the National Library of Ireland, registers his degradation and fear: 'I was nothing more than an animal, living in perpetual terror of the nightmen...' He titled this memoir 'The House of Terror'.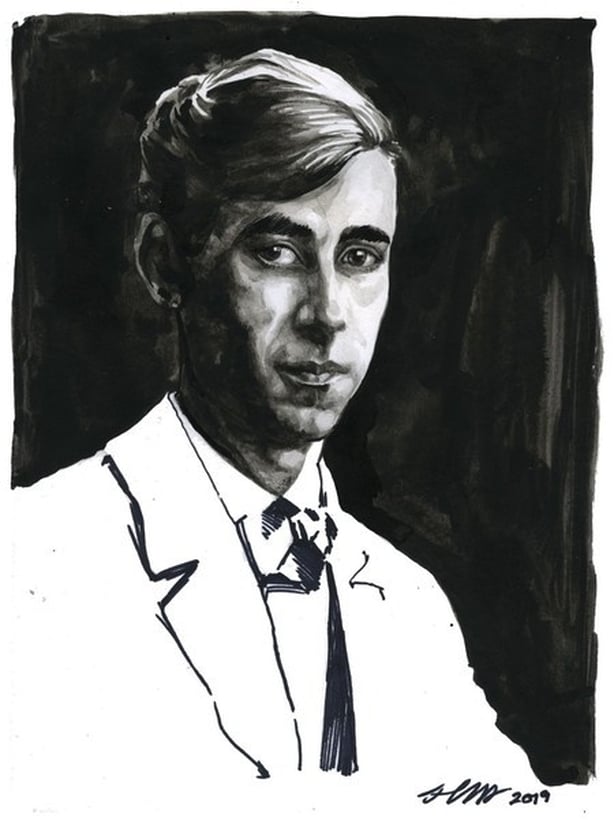 Unlike some of the institution's residents, Clarke recovered sufficiently to be discharged within a few months. Over the next decade, he wrote some of the poems for which he is best known, especially to the generations of Leaving Cert. students who would come to view the Soundings anthology as synonymous with the study of poetry. These include The Lost Heifer, in which Ireland, allegorised in Jacobite fashion as a cherished cow, strays in post-Civil War disillusion and The Planter's Daughter, which tells the story of a fragile reconciliation wrought between coloniser and Gael by one woman's beauty and charm in 16 brief lines.
But Clarke is often unknown to younger readers. Even those who remember Bord na Móna's attempt to sell briquettes with a mixture of crashing waves, chiselled cheekbones in firelight and nostalgia for that latter poem, might not be aware of the full range of Clarke's work, nor how persistently it is shadowed by mental illness.
The legend of Suibhne, a king driven by a saint's curse and the violence of battle to believe himself a bird and nest in the trees, is familiar to modern audiences through numerous translations and adaptations. But when Clarke published a poem entitled The Frenzy of Suibhne in 1925, suffusing it with his own memories of hallucination and horror, the medieval original was obscure. In his 1932 novel The Bright Temptation, Clarke fills Glen Bolcain, a site associated with Suibhne, with figures derived from his stay in St Patrick's, some of whom are portraits of fellow patients.
We need your consent to load this rte-player contentWe use rte-player to manage extra content that can set cookies on your device and collect data about your activity. Please review their details and accept them to load the content.Manage Preferences
From RTÉ Archives, a 1968 profile of poet Austin Clarke
After a period between 1938 and 1955 during which he published no new poetry, but was active in broadcasting, reviewing, radio and stage drama, Clarke turned his attention from medieval and legendary Ireland to the country's present. He used his poetry to document and criticise the neglectful and abusive attitudes of the powerful to the poor and vulnerable. He had always attributed his own precarious mental health in part to a relentlessly repressive Catholic upbringing, noting wryly of the collapse that led to his hospitalisation, 'there is no cure for...the consequences of overindulgence in continence.'
But in the 1950s and 1960s, he wrote more directly about others, less privileged than him, who had no defence against an authoritarian Church and timid State, such as unmarried mothers, the unhoused, people denied reproductive healthcare and children in industrial schools. As we continue to reckon with the legacies of these abuses, and confront their modern equivalents, Clarke's poetry, though written in an Ireland in some ways unimaginably different from that of 2021, assumes a prescient relevance.
In 1966, Clarke published Mnemosyne Lay in Dust, a long poem dealing with his hospitalisation. Considering Clarke's disappointment in what the independent Irish state had become, the coincidence with the 50th anniversary of the Easter Rising is a typical irony. The poem is as unflinching in its depiction of his distress and delusion as it is of the abuse he suffered. But it is also affecting in its portraits of individuals and mischievously funny, as when the biblical figure of Onan stalks the dormitory, conferring the 'balsam' of masturbation on the patients.
We need your consent to load this rte-player contentWe use rte-player to manage extra content that can set cookies on your device and collect data about your activity. Please review their details and accept them to load the content.Manage Preferences
From RTÉ Archives, Austin Clarke recalls his association with early radio (audio from 1965)
For me, Mnemosyne Lay in Dust is most remarkable in being a narrative of recovery that nonetheless refuses to chart a simple progress from affliction to eventual release. Clarke painstakingly records setbacks and reversals, as well as moments of grace in the deepest despair. He places at the centre of the poem its most abject and helpless character, Mr Prunty, who nonetheless, shares much with Clarke's pseudonymous protagonist Maurice Devane.
Without losing hope, it stubbornly insists on the centrality and importance of those who are excluded, forgotten, locked away. Less well-known and read than he was a couple of decades ago, Clarke's fierce social conscience and personally, painfully delineated experience make him now more than ever, a poet who demands our attention.
Dr Kit Fryatt is the author of Austin Clarke: An Introduction (Aberdeen University Press)
---
The views expressed here are those of the author and do not represent or reflect the views of RTÉ
---