Analysis: A mixture of uncertainties means that Sunday's election is the most exciting German federal election in two decades.
Angela Merkel's decision to quit after sixteen years at the helm of the German government will result in an unprecedented federal election this Sunday. For the first time, the incumbent is not standing for re-election; her Christian Democratic Party (CDU) and its Bavarian twin CSU have plummeted in the polls and are heading for a disastrous result.
At the same time the Social Democrats (SPD) have halted their long decline and will probably come out first. The Greens are also vying for the top spot, but – even though they are likely to double their vote share – they will probably only come third.
How people vote
Voters have two votes. With their first vote, they directly elect an individual to represent their local constituency. With their second vote, they vote for a party of their choice. The second vote is the important one: it determines the overall share of seats a party has in the federal parliament (the Bundestag).
Germany therefore has a fairly straightforward system of proportionate representation with one exception: votes for parties that do not attain an overall vote share of 5% are discounted, unless at least three of that party's candidates are elected directly by way of the first vote.
So what is that first vote about? As a rule, the Bundestag has 598 seats; 299 are directly elected members and the remaining 299 members are drawn from the parties' respective lists of candidates drawn up by the parties in advance of the election.
Once each party's share of seats is determined according to its share of second votes, seats are initially allocated to those individuals directly elected in a constituency by way of the first vote. The remaining 299 seats are then filled by reference to party lists.
We need your consent to load this rte-player contentWe use rte-player to manage extra content that can set cookies on your device and collect data about your activity. Please review their details and accept them to load the content.Manage Preferences
From RTÉ One's Six One News Merkel ally Armin Laschet elected Germany's CDU party chief
In a simplified example, this means that if a party's share of the votes is 40%, it will receive 40% of 598 seats, i.e. 239. Assuming the party won 150 of the directly elected constituency seats, this means that those directly elected candidates have their seats guaranteed and the remaining 89 members are drawn from the party's list.
Another party might win 7% of the popular vote and not a single constituency. That party would get 42 members, all drawn from the party's list.
Hence the function of the first vote is only to determine which particular candidate gets a seat, but does not alter the overall balance of power as the relative share of seats is determined only by the list vote.
When we will know the result
Polling stations will close on Sunday at 5pm Irish time and the first exit polls will be released then. Counting will start that moment and the first results will feed into pollsters' projections, which will become more and more accurate as the evening progresses.
A provisional official result is usually announced late on Sunday night. This means that we should know the relative vote share and share of seats in the Bundestag of each party late Sunday evening.
As Irish voters know all too well, this does not necessarily mean that we will know the composition of the next government or indeed who will be chancellor.
In all likelihood, six political parties will cross the 5% threshold and will be represented in the next Bundestag. If polls are to be believed, either Merkel's CDU/CSU led by Armin Laschet or – more probably – the centre-left SPD led by Olaf Scholz will come out on top.
They will then try to form a coalition. It is often the biggest party that leads this coalition government and determines who becomes chancellor; but this is in no way a constitutional requirement.
Since 1961 there have only ever been coalitions between two parliamentary parties. Current polling strongly suggests that in order to achieve a majority this time around, there will have to be a coalition of three, which will make finding a political compromise much more difficult.
We need your consent to load this rte-player contentWe use rte-player to manage extra content that can set cookies on your device and collect data about your activity. Please review their details and accept them to load the content.Manage Preferences
From RTÉ Radio One's Drivetime Maebh McMahon, Euronews Correspondent in Brussels, discusses Austrian and German politics ahead of the European Elections.
No party would go into coalition with the far-right AfD and the CDU/CSU also would not partner up with the Left Party (Die Linke).
This potentially leaves five other combinations open for negotiation, for which the German political commentariat has developed an intriguing array of colour codes:
A traffic light coalition consisting of SPD (red), Liberals (yellow), and Greens.
A Jamaica Coalition (black, green, yellow like the Jamaican flag) between CDU/CSU (black), Greens, and Liberals.
A Germany coalition (black, red, yellow like the German flag) of SPD, CDU/CSU, and Liberals.
A Kenya coalition (black, red, green like the flag of Kenya); SPD, CDU/CSU, and Greens.
And finally a R2G (two red, green) coalition between SPD, Greens, and Left Party (whose colour is also red).
Traditionally, political parties tried to agree a governing coalition within the 30 days before the newly elected parliament first convenes. Yet the last time around, it took until March 2018 following the election in September 2017.
Assuming that coalition negotiations will be at least as complex this year, we might be in for the long run; and Angela Merkel might have to stay in office as a caretaker chancellor for much longer than she would like.
What to look out for
There are a few unusual aspects of this election to look out for. First, due to the pandemic the share of postal voters will be unusually high with some estimating that more than a third of the electorate will vote by post. This means that the exit polls – data for which is collected at polling stations – might be less accurate than usual.
Additionally, many voters will have cast their vote weeks in advance of polling day, so that the final week or two of campaigning and thus any very recent polling data may not have much bearing on the actual outcome.
Secondly, there is a question over whether the new federal parliament will become too big to produce stable majorities. This brings us back to the mechanics of the voting system touched on above.
That voting system used to work fine until more and more parties were starting to meet the 5% threshold and were thus represented in the federal parliament. The current Bundestag features six political parties compared with three in the 1960s and 70s.
In recent years this has led to a problem as the following (simplified) example shows: in 2017 Angela Merkel's CDU and its Bavarian twin CSU together won just under 33% of list votes, but 231 constituency seats.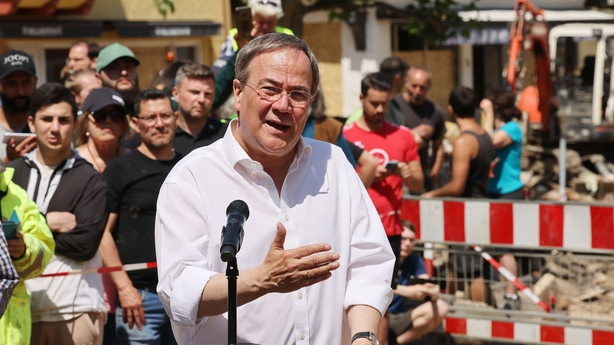 They would thus have been over-represented: 33% of the vote share would entitle them to only 197 out of 598 seats, but they had already won 231. As a result there were around 44 so-called 'overhang seats'. These, however, present a challenge to a voting system that aims for proportionate representation because a disproportionate number of seats would be allocated to parties entitled to these overhang seats.
Hence the Federal Constitutional Court decided that overhang seats had to be compensated for with 'adjustment seats'. This resulted in the parliament elected in 2017 to grow to 709 seats (instead of 598).
The fear is that the parliament elected this Sunday could become even bigger with some suggesting that there might be 800-900 members. This is because CDU/CSU and SPD are likely to win most constituency seats, while only winning between 20 and 25% of the list vote.
Should the Bundestag end up with such a large number of members, this would seriously impede its day-to-day functioning, starting with simple issues of space to organising party discipline and thus stable majorities.
Thirdly, Armin Laschet, the man chosen by the CDU/CSU as Merkel's successor, might fail to win a seat. Perhaps foolishly he chose not to contest a constituency, but to rely on getting himself elected as a list candidate.
Given his party's dismal performance in opinion polls, his party may win more constituency seats in his home state of North-Rhine Westphalia than it would be entitled to according to his parties second votes.
This would mean that no list candidate – including him – from that state would enter the new Bundestag. While it is technically not a requirement for the German chancellor to be a member of parliament, in practice this would probably spell the end of his ambitions to lead the German government.
Finally, the federal election act, i.e. the legislation governing the election, has been challenged before the Federal Constitutional Court. The court will not render its judgment for another while, but there is a risk that it may declare the whole election to have been unconstitutional and that it may need to be repeated.
It is not least for these uncertainties that Sunday's election is the most exciting German federal election in two decades.
---
The views expressed here are those of the author and do not represent or reflect the views of RTÉ
---