Analysis: they're a well-worn pair of size 9, bright blue wool slippers with a wolf's head stitched on the toe caps
Most museums only have space to display a tiny fraction of their collection at any given time. The rest languish in storage, thousands of objects hidden in boxes and cupboards, awaiting a turn when fashion or interest dictates.
On my travels across Ireland researching my book, The Darkness Echoing, I visited over 200 museums and heritage sites, looking for objects that lingered in the mind long after my visit was over. Occasionally, I was lucky enough to be offered a sneak peek behind the public display, and one of those rare treats came when Brenda Malone, curator of military history at the National Museum, allowed me into the stores at Collins' Barracks.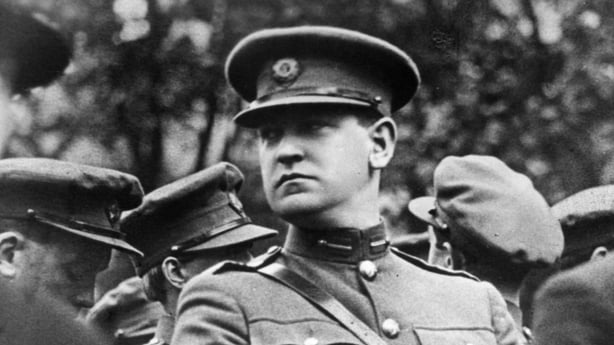 This is a series of rooms lined with grey cupboards full of thick cardboard archive boxes containing thousands of artefacts, all carefully wrapped in acid-free tissue paper. There's a particular whoosh sound, like air escaping from a vacuum, that you hear every time an archive box is opened. I like to think of it as a little bit of the past escaping into the present.
It was in one of those boxes that I discovered my favourite artefact. Of course, as a historian, I shouldn't have favourite artefacts, but inevitably I do. I have a list that I keep updated in my head. The top 10 changes on a regular basis, but this particular object has remained at the top of my imaginary artefact chart for many weeks.
Thanks to ?@BrenMalone? who spoke to ?@LJMUHistoryMA? students this morning - live from the stores of the National Museum. And as an extra treat we got to see my favourite objects - Michael Collins' wolf slippers. #museum #irishhistory #publichistory #artefacts pic.twitter.com/oq0WnaMuAe

— Dr Gillian O'Brien (@gillianmobrien) February 23, 2021
It's a pair of size 9, bright blue wool slippers, with a wolf's head stitched on the toe caps. The colour is a vivid as it was when it was made over a century ago. The slippers are a thing of beauty, but what makes them truly remarkable is that they belonged to Michael Collins.
The slippers were donated to the National Museum by Bridget O'Connor in August 1958, a few weeks before the 36th anniversary of Collins' death. Bridget's husband Batt O'Connor, a builder and developer, had allowed many of the properties he owned to be used as safe-houses during the War of Independence. In some cases, he constructed secret rooms, complete with escape routes to be used in the event of a raid. According to Batt O'Connor's memoir, With Michael Collins in the Fight for Irish Independence, Collins was a regular guest at their house in Donnybrook from May 1918 until his death.
We need your consent to load this rte-player contentWe use rte-player to manage extra content that can set cookies on your device and collect data about your activity. Please review their details and accept them to load the content.Manage Preferences
From RTÉ Radio 1's News At One, Brenda Malone Curator of Military History at the National Museum of Ireland on the slippers which have taken social media by storm
In the photographs most often reproduced of Collins he's dressed in the uniform of the commander-in-chief of the Free State Army, a general's hat on his head, a Sam Browne belt across his chest and waist, a revolver by his side. But Collins' wasn't really a military man, at least not in the traditional sense, and these photos always seem contrived, the propaganda photos of a new state asserting herself.
Despite visiting sites and museums associated with Collins, reading countless books and watching dozens of film clips and documentaries, I've always found Collins elusive (a useful trait in a man who spent much of his time running a network of spies and informers). In the almost-century since his death, Collins' memory has been moulded by those who want to see him as hero or villain, and both versions seem like caricatures.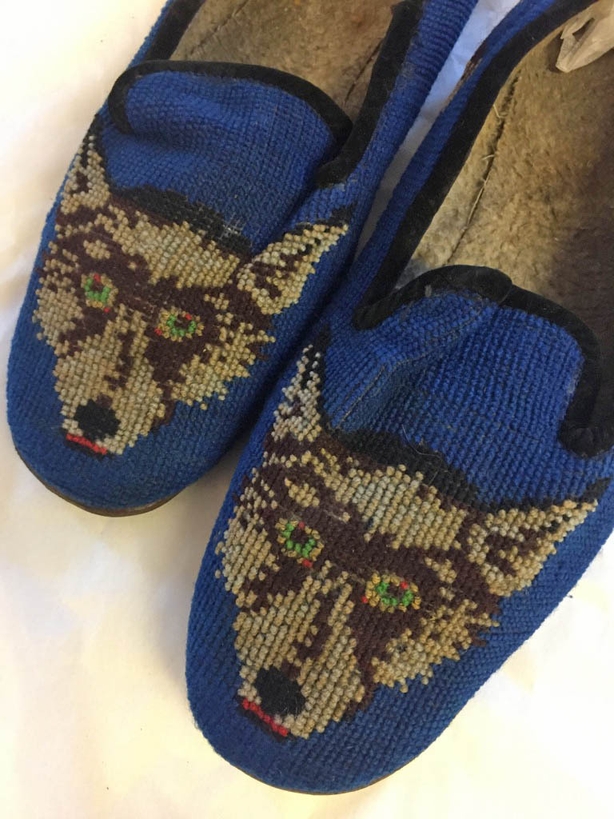 But on that day, standing in the stores of the National Museum, the slippers somehow, made me feel, just for an instant, that I could see behind our manufactured image of Collins into the home life of the man. I found myself wondering whether he'd chosen the slippers himself (it seems unlikely) and, if they were a gift, who gave them to him – might it have been his girlfriend (later fiancée) Kitty Kiernan, his friend Lady Lavery or perhaps Bridget O'Connor herself?
I wondered whether the wolf head on the slipper toe was a sly reference to Theobald Wolfe Tone, the United Irishman so closely associated with the 1798 Rebellion, since many people would have seen Collins as Tone's successor, the next Father of Irish Republicanism. But however he came by them, and whatever they might mean, Collins clearly liked these slippers. They are well-worn, and the leather heel on one of them has been repaired with small tacks.
The wolf slippers 'really made people think about the human side of him'

Brenda Malone, Curator of Military History at National Museum of Ireland at Collins' Barracks on how people often have a two dimensional view of Michael Collins #cblive #slippers @BrenMalone pic.twitter.com/HTFUNcWG76

— Claire Byrne Live (@ClaireByrneLive) March 1, 2021
There is something special about seeing an object that belongs to a different era. Its brings the time and often the person alive in your mind's eye. For me, it's not the objects of the wealthy, nor those of the military, nor those of institutions that make the past come alive. It's everyday objects: slippers, mirrors, pens, cigarette lighters, biscuit tins, perfume bottles. They're the things that make me want to tell stories about the past. In the case of Michael Collins' slippers I think they help us to get closer to the humanity, to peak behind the image and the reputation to get a fleeting glimpse of the man that lived.
---
The views expressed here are those of the author and do not represent or reflect the views of RTÉ
---