Opinion: we need to tell a greater range of stories about the Irish emigrant experience than just tales of great triumph over adversity
The culmination of the GAA championship always puts me in mind of a group of men I grew to know in the East End of London in the late 1990s. At the tail end of a summer, my weekends often revolved around GAA matches. While in London, I had to make do with television coverage instead of a trip to Croke Park. Having lived with a grandmother devoted to the Clare hurling team, it would have been unthinkable to miss any of their matches. But that almost happened when I tried to watch Clare and Kilkenny play the All-Ireland hurling semi-final on the afternoon of Sunday, August 15th 1999.
I pushed open the door of a small, decrepit pub about 15 minutes before throw-in. It was a small L-shaped bar, with a handful of men sitting at the counter and another handful at the small round tables that lined the wall on my right. The television was propped up over the door that led to the toilet.
Before I could order a drink, I was abruptly told that the bar didn't serve women. I said that was illegal and the woman behind the bar said she'd have a chat with the customers. I waited, quietly seething. A few minutes later, she returned. 'You can stay if they can leave their caps on,' she said. I looked around and realised that everyone in the pub was wearing a tweed jacket and a matching cap.
We need your consent to load this YouTube contentWe use YouTube to manage extra content that can set cookies on your device and collect data about your activity. Please review their details and accept them to load the content.Manage Preferences
From the GAA, highlights of the 1999 Clare vs Kilkenny All Ireland hurling semi-final
As far as I was concerned, they could do what they liked with their caps as long as I could watch the match. When it became apparent that I knew what a side-line cut and a sixty-five were, the slight tension in the pub disappeared, and as the game progressed I got chatting to the men. They had all come to England in the 1950s, part of a huge wave of post-war immigrants that saw three quarters of a million Irishmen and women move to Britain.
Most of the men in the pub had moved around for decades, following building jobs, before finally settling in London. None of them had married. None of them thought of London as home. Home was Moyasta and Galmoy and Cloonfad and other towns and villages, but they hadn't been back in years, for almost everyone they knew there was gone or buried. Every Sunday after Mass they assembled in this pub to watch a match (GAA in the summer, soccer in the winter – the GAA ban on watching foreign games hadn't bothered them one whit) and sat in silence or reminisced.
They talked about how the GAA clubs in England had once held the community together but now, with Ireland booming and more exotic locations on offer, the clubs in London were struggling to field teams. Their world was dying and no one wanted to hear about it. Every time I hear Shane McGowan sing Lullaby of London, I think of those men sitting in that London pub snatching at glimpses of a home long gone: 'Though there is no lonesome corncrake's cry/ Or sorrow and delight/ You can hear the cars/ And the shouts from bars/ And the laughter and the fights'.
We need your consent to load this Spotify contentWe use Spotify to manage extra content that can set cookies on your device and collect data about your activity. Please review their details and accept them to load the content.Manage Preferences
The men of my London pub are largely forgotten. They rarely feature in the stories told about Irish emigration. For my book The Darkness Echoing: Exploring Ireland's Places of Famine, Death and Rebellion, I visited hundreds of Irish museums to see how we tell the stories of those who have emigrated. For the most part, the stories that are told are positive and uplifting and seen through a very soft focus lens, with the exception of the period around the famine.
And there are undoubtedly success stories, very few quite as successful as John Fitzgerald Kennedy (Irish grandparents), who became president of the United States, or Eileen Collins (Irish parents), who became an astronaut, or the actress Maureen O'Hara (born in Ireland). Most of those who emigrated settled in their new surroundings got jobs, raised families, quietly living out their lives without it being documented in museums, memoirs or history books.
Far more appealing to museums were the stories of great triumph over adversity. At EPIC: The Irish Emigration Museum, visitors travel through zones which start with challenges such as 'Hunger' and 'Conflict' conclude in a more upbeat manner with 'Discovering and Inventing', 'Leading Change' and 'Celebration'. Even the negative is given a positive spin: one section on notorious Irish immigrants is entitled 'Achieving Infamy'. Like a visit to the Ulster-American Folk Park near Omagh, a trip to EPIC makes for a flattering tale for all Irish-Americans (and those who left Ireland for other countries): their ancestors suffered, their ancestors survived, so they must come from exceptionally tough or driven or talented stock.
We need your consent to load this rte-player contentWe use rte-player to manage extra content that can set cookies on your device and collect data about your activity. Please review their details and accept them to load the content.Manage Preferences
From RTÉ Radio 1's Ryan Tubridy Show, Gillian O'Brien discusses her book The Darkness Echoing and her discoveries about some of the country's most famous tourist attractions
But there are occasional glimpses into the challenges faced by those who left and those where were left behind. On display in the Blasket Centre in Dunquin in Co. Kerry is a transcript of a letter written in 1889 by Jim Boland to his brother in Springfield, Massachusetts. His brother had left Ireland some 15 years earlier and had never written home.
There is something plaintive and heartbreaking about this letter, and Jim's sense of loss and hurt is clear: 'Had I known where you were this long time past I would certainly have sent you many a letter … But you knew all the time where I was and I am surprised that you never wrote to me….Answer this … is the prayer of your fond brother.' There is nothing to indicate he ever got a reply from his brother.
I wonder what happened to the Boland brother who left. Perhaps he had embraced his new life and discarded the old. Perhaps he was had not prospered and couldn't face telling his family that the United States was not the land of opportunity. Or maybe he had thrived and didn't want to send remittances home – those dollar bills that helped sustain many Irish families, both keeping food on the table and helping to pay for the passage, which facilitated chain migration and allowed generations of young adults to leave an Ireland that had little to offer them. Perhaps Jim's brother just never liked him.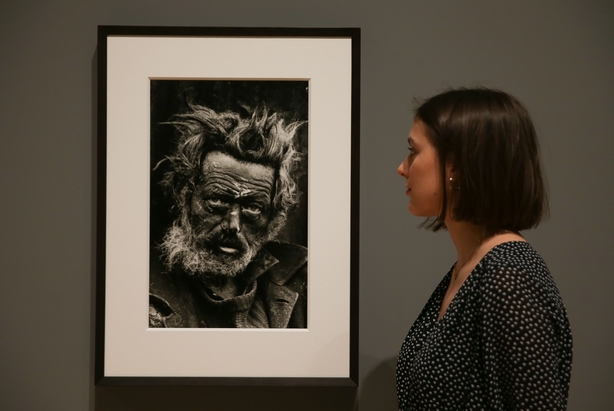 I was reminded of this letter and of my old friends recently when I visited a retrospective of the photographer Don McCullin at the Tate in Liverpool. On display was a remarkable photograph taken in 1969 of a homeless Irishman in London's East End, not far from the pub I used to watch matches in. The portrait shows a heavily lined face, framed by grey hair and beard both of which sprout out in all directions. His face is covered in dust and soot from a fire, and his eyes stare directly down the lens.
It's an incredible portrait of dignity, suffering and challenge. It's a portrait that suggests to me of a man between worlds, not at home in the one he was in, nor in the one he had left. Perhaps if we told a greater range of stories about the Irish emigrant experience, we might offer a more compassionate welcome to those who move to Ireland and make it their home.
---
The views expressed here are those of the author and do not represent or reflect the views of RTÉ
---