Opinion: the electric scooter's economic and environmental credentials make it a transport winner
This article is now available above as a Brainstorm podcast. You can subscribe to the Brainstorm podcast through Apple Podcasts, Stitcher, Spotify or wherever you get your podcasts .
By James Carroll, TCD
For the rider, travelling by electric scooter is socially complex and complicated. Those under 35 years of age envy you and those over 35 want to punch you in the face. Of course, the electric scooter will only suit those who travel alone and travel less than 25 kilometres a day. The next time you're in rush hour commuter traffic, though, count how many people are in fact traveling alone in their cars.
Recent media coverage has highlighted the large regulatory gap. While the electric scooter weighs about the same as a bicycle and travels at similar speeds (the vast majority are limited to 20 to 25kph), it is legally classed as a "mechanically propelled vehicle", which means it must be roadworthy, registered, taxed and insured. However, there is no tax category for electric scooters and most insurance companies will laugh at you when you call for a quote. Limbo.
We need your consent to load this rte-player contentWe use rte-player to manage extra content that can set cookies on your device and collect data about your activity. Please review their details and accept them to load the content.Manage Preferences
From RTÉ One's Six One News, parents have been asked not to buy scooters for children amid road safety concerns
And what about safety? Sinn Féin TD Darren O'Rourke has rightly started this debate by highlighting the 37 collisions involving electric scooters so far this year. Is this high? We really don't know. The latest data shows that there are about 1,000 bicycle accidents each year, but there are a lot more bikes on the road. In the discussion of relative safety, we also need to considerer the share of scooter accidents which involved alcohol, breaking red lights, scooters without 25kph restrictions, riding on pavements and riding without proper safety equipment. We probably need more data before we make up our minds on safety.
However, the electric scooter home-economics is pretty clear. Travelling by petrol, hybrid or diesel car costs between €1.40 and €1.90 over 25 kilometres. While the electric car will bring your costs down to about 70 cent (lower if you use night rates), the electric scooter costs just 9 cent, 95% lower than a petrol car. This means that the electric scooter will cost less than €20 in energy costs over 5,000km.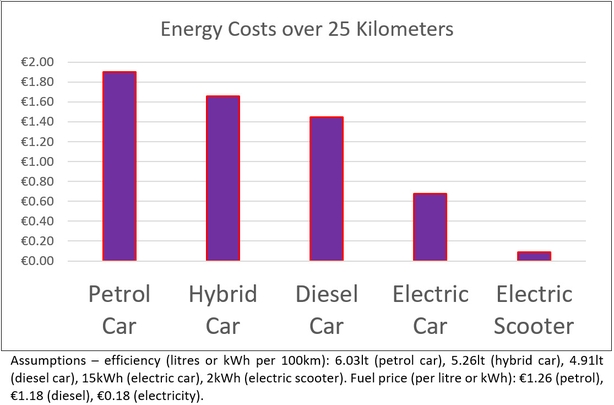 This difference in efficiency probably isn't surprising. Travelling by electric scooter means you are no longer dragging a tonne of metal with you every time you head out to pick up the milk. When we add the upfront investment cost differences, the electric scooter is also likely to be the cheapest form of mechanical transportation available, far cheaper than even public transport. In short, every time someone travels to the city on an electric scooter, they will have more money in their pockets to spend in the shops.
The environmental credentials are also very clear. Compared with a petrol car, the associated carbon emissions of an electric scooter are 96% lower - and that's just by today's electricity credentials. With more and more wind generation each year, the carbon footprint of our electricity will be down 50% by 2030 (at least). The carbon within a litre of diesel and petrol, however, will be pretty much the same in 100 years, give or take a bit of added biofuel. There are other environmental factors to consider, including the physical space taken up on the road and, of course, air quality in towns and cities.
From RTÉ Radio 1's Morning Ireland, Aengus Cox speaks to members of the electric scooter community who are calling for the Government to regulate for the use of the vehicles in public spaces.
But don't we already have low-cost environmentally friendly car alternative? Indeed, the bicycle ticks a lot of boxes, with the added benefit of exercise.
However, there are a number of problems with the bicycle: gender and distance, to name two. The 2016 census showed that about two-thirds of Irish cycling commuters are men. Recent research from Trinity College Dublin shows that the gender-cycling-gap really kicks-in in areas further away from the city centre.
There is a temptation to assume this is due to gender differences in risk aversion and physique, but there could be another factor at play: workplace appearance expectations imposed on females, which could be less acute for men. If this is the case, will the electric scooter (or electric bicycle) remedy this problem?  
Dr James Carroll is a postdoctoral research fellow in energy economics at TCD.
---
The views expressed here are those of the author and do not represent or reflect the views of RTÉ
---