The Road Safety Authority has urged parents not to buy electric scooters for children this Christmas.
It comes after figures released to Sinn Féin TD Darren O'Rourke show that there were 37 collisions involving electric scooters so far this year.
That is up from a figure of 22 for all of 2019.
Electric scooters have become increasingly popular among commuters in recent years, but the law prohibits their use on public roads.
Despite this, many retailers are expecting a busier than usual Christmas, with commuters searching for alternatives because of restricted seating on public transport.
Paddy O'Brien, co-founder and director of LOCO Scooters, based in Ballymount in Dublin said he expects to "sell out" of his stock this year.
"Over the last number of days, especially with the level five restrictions, we've noticed an increase in the number of phone calls ... understandably that's going to increase with the Christmas period coming," he told RTÉ's This Week programme.
"We'd hope to sell out between now and the first week in January and that would be maybe 350-400 scooters in total. We see a huge increase in demand for parents and commuters alike," he added.
Data provided by gardaí shows that 91 electric scooters have been seized or detained between 1 January and October this year.
That compares to 56 for all of the year 2019.
Scooter users have called for legislation to regulate the use of the devices on public roads.
Marty Meany, an electric scooter owner, who stopped using his scooter after being cautioned by gardaí last year said: "Electric scooters are already on the roads in their thousands, the correct term to use is 'the horse has bolted' because they're already out there.
"We just need a framework for them to be used responsibility."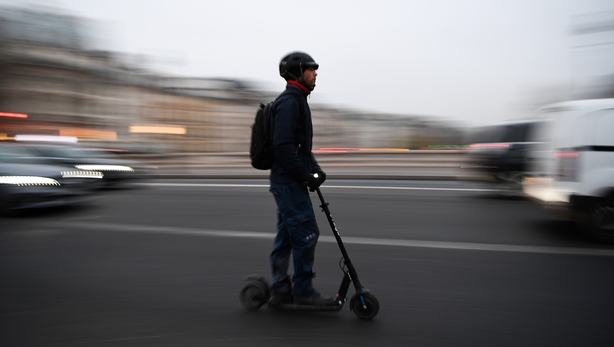 Opposition parties too say it is time for the law to catch up with public demand.
Mr O'Rourke said: "E-scooters are part of the mobility and transport landscape at this stage, and what's needed is regulation and legislation to provide for them."
The Department of Transport said that while it is "currently illegal to use an eScooter on a public road, the Programme for Government does commit to legislating for their use".
"Government appreciates the importance of regulating this new sector as a matter of urgency and work is under way in this regard.
"However, Government is also mindful of dealing with the necessary measures to manage the Covid-19 crisis and to mitigate its social and economic consequences as well as those of Brexit," said a spokeswoman from Minister for Transport Eamon Ryan.
The Road Safety Authority has urged parents to think again before purchasing electric scooters for their children this Christmas.
RSA's spokesman Brian Farrell said: "Some parents may be considering eScooters as a Christmas gift this year, and our advice would be that eScooters can travel at considerable speed and in the hands of children could be high risk.
"There are lots of other safer gifts to get a child this Christmas that would bring them many years of enjoyment and happiness.
"As they say, if it's the thought that counts, think again if you're considering buying an eScooter."