Analysis: a small mountainous region in the former Soviet Union is at the centre of this long-simmering conflict
From Sarajevo in 1914 to the Sudetenland in 1938, small places have played a pivotal role at critical junctures in directing and defining European politics. In the 21st century, it has been places like Kosovo, South Ossetia, Crimea and Donbas that have proven to be the arenas for much larger geopolitical struggles and the fault lines between rival power structures.
Now. it's the turn of Nagorno-Karabakh, a small mountainous region approximately the size of Co Tipperary and home to 150,000 people. Several hundred people are estimated to have lost their lives during as this long-simmering conflict boiled over. Yet Europe is standing by as an inferno threatens to engulf the region.
We need your consent to load this rte-player contentWe use rte-player to manage extra content that can set cookies on your device and collect data about your activity. Please review their details and accept them to load the content.Manage Preferences
From RTÉ Radio 1's Morning Ireland, Donnacha Ó Beacháin discusses the explosive conflict between Armenia and Azerbaijan and what could happen next
The immediate origins of the conflict between Armenians and Azerbaijanis can be traced back to the demise of the Soviet Union. Although its population was overwhelmingly Armenian, Nagorno-Karabakh was designated an autonomous region within Soviet Azerbaijan, one of Stalin's many cartographical time-bombs. With the USSR's collapse, the conflict was transformed from one between competing peoples within the Soviet Union to an all-out war between rival UN member states.
By the time a ceasefire was negotiated in 1994, more than 30,000 people had been killed and a million overwhelmingly Azerbaijani people displaced. Armenians retained control of Karabakh and, more controversially, seized seven additional districts around it to provide a buffer zone and secure transit routes connecting Armenia to Karabakh. The ceasefire froze the Armenian victory and Azerbaijan lost almost 20% of the republic's internationally recognised territory.
Dissatisfied with the status quo, Azerbaijan never eschewed the use of force to regain its territories. Buoyed by fantastic oil wealth, its government spent billions arming for a second round with Armenia to recapture Karabakh.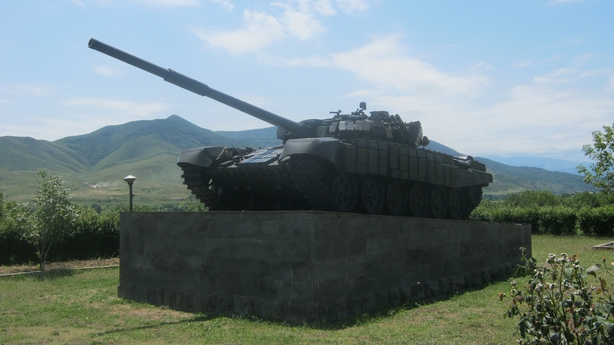 Azerbaijanis ask why western states are lukewarm in supporting Azerbaijan's attempts to exercise jurisdiction over its territories. The answer lies in large part with the fact that the country is ruled by a hereditary dictatorship. President Ilham Aliyev succeeded his father Heydar (whose local prominence dated back to the Soviet era) in 2003 and has since made his wife the country's vice-president. The Azerbaijan narrative focusses on getting back the territory of Karabakh and there is usually no reference made to the people living there. That the Azerbaijani military is currently pounding Karabakh towns with rockets and shells, indifferent to the human cost, reinforces the view that the Azerbaijani regime views the people living there as hostile enemies rather than errant citizens.
Overshadowing Armenian perceptions of the conflict are the events of just over a century ago, widely known as the Armenian Genocide. The death through murder or deprivation of an estimated 1.5 million Armenians at the hands of the Ottoman Empire burns deep into Armenians' collective memory, not least amongst the large and influential diaspora. The sense of vulnerability is accentuated by the fact that the combined population of Armenia and Nagorno-Karabakh is less than three million and dwarfed by ten million in Azerbaijan and more than 80 million in its other hostile neighbour, Turkey. For Armenians, victory in 1994 constituted their first military success in centuries, and it has been jealously guarded.
Until recently, no external power was willing to devote much political capital to the conflict. Turkey has upset the delicate equilibrium by offering full-throated support for Azerbaijan's military endeavours. The two countries consider themselves ethnic kin and 'one nation, two states' is a popular slogan. President Recep Tayyip Erdoğan is projecting Turkey's power in the region and would also benefit domestically should Turkish intervention lead to Azerbaijani gains.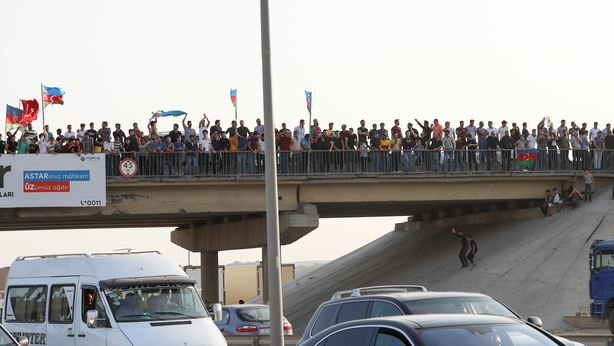 Russia, on other hand, has benefited from the frozen conflict. The status quo has allowed the Kremlin to exert leverage on, and supply weapons to, both sides while being the key player in the decades-long mediation process. Russia has bases in Armenia and Armenians will expect the Kremlin to come to its aid should the necessity arise. An all-out war would also likely have spillover effects in neighbouring Georgia and Iran.
At the heart of the conflict is a straightforward clash between two important principles in international law – self-determination and territorial integrity. It would take imagination and resolve to produce a solution that could accommodate these different perspectives, but both have been in conspicuously short supply.
This new conflagration has highlighted the inadequate security architecture in the region. The EU has largely left matters to the toothless and unwieldly Organisation for Security and Cooperation in Europe (OSCE). While providing an occasional forum for discussion, the OSCE-brokered talks have failed to produce an agreement that would transform the conflict. A weak peace process has now led to a strong military response resulting in a war that was both predictable and avoidable. This is not just a struggle between armies, but between peoples. Both societies are being mobilised for a final showdown and are pledging to fight until victory is assured.
---
The views expressed here are those of the author and do not represent or reflect the views of RTÉ
---