Analysis: nearly 50% of young people in a new survey have reported high levels of depression or anxiety
By Penny Quinn and Sinéad McGilloway Maynooth University
Current figures suggest that at least 750 million people to date across the world – or 10% of the global population – have contracted the coronavirus. The number of recorded coronavirus cases in Ireland is increasing daily as elsewhere. RTÉ's State of the Nation Survey found mental health to be the third most important issue of concern for Ireland's citizens at this time. 
The disruption to education caused by the pandemic is unprecedented and the widespread school closures affected many children and young people and, in particular, children with special needs. A recent United Nations report suggests that almost 1.6 billion students (or 94% of the entire learner population) across almost 200 countries, have been impacted by Covid-19, while UNICEF's most recent Report card, indicated that Irish children aged 11 to 15 years are struggling with their mental health. 
Perhaps those most affected in Ireland were the Leaving Certificate students. The Class of 2020 were the first students ever who were unable to sit the traditional Leaving Certificate exams in June of this year and instead received (highly contentious) calculated grades. 
We need your consent to load this rte-player contentWe use rte-player to manage extra content that can set cookies on your device and collect data about your activity. Please review their details and accept them to load the content.Manage Preferences
From RTÉ News, students react in May to plans for an alternative Leaving Cert grading system
Increasing numbers of young people are testing positive and are being seen as driving the renewed increase in cases due to a lack of social distancing  According to Ireland's Acting Chief Medical Officer, this appears to have led to an emerging culture of blame against them. One approach highlighted recently to help address this problem - and already being implemented in the UK -  is the use of 'influencers to reinforce Covid-19 safety messages across various social platforms. Indeed, this becomes even more urgent as new findings emerge on"Long Covid" which appears to be most prevalent in young, fit and active people .
The "young versus old" narrative is unhelpful in our battle against the spread of the virus and in tackling its impact on the health and wellbeing of all our citizens. Furthermore, the views and experiences of young people themselves have been notably absent from the social discourse in this regard.
In June 2020, we conducted a national online survey of almost 1,000 Leaving Cert students (aged 18 or over) to find out about their experience of Covid-19 at a key juncture in their lives. 82% expressed general concerns in relation to Covid-19, over half of which were health-related. Although only 5% had contracted the virus at the time of survey completion, one in six (15%) had family members who had tested positive. Notably, one third reported health-related concerns about themselves and/or their family members contracting COVID-19, or of loved ones dying, as well as fears about the vulnerability of older people in the general population. 
We need your consent to load this rte-player contentWe use rte-player to manage extra content that can set cookies on your device and collect data about your activity. Please review their details and accept them to load the content.Manage Preferences
From RTÉ Radio 1's CountryWide, Jigsaw's Cian Aherne and Mike Mansfield on how young people's mental health has been affected by Covid-19 as they return to education
"The health of the most vulnerable people, in terms of physical and mental health. I do not want people to feel isolated and unhappy. I also do not want people to continue to contract and suffer from Covid-19."
"Isolation and loneliness…and everything else going on at the moment also piles on top of this anxiety.  I'm doing everything I can to connect with people (like phone calls and video games with my friends), but some days I can't help but feel extremely alone."
"How to live with it and work with it. Emerging into a new world with new rules and restrictions is unnerving, scary and frustrating at times. Figuring out how to navigate everything concerns me."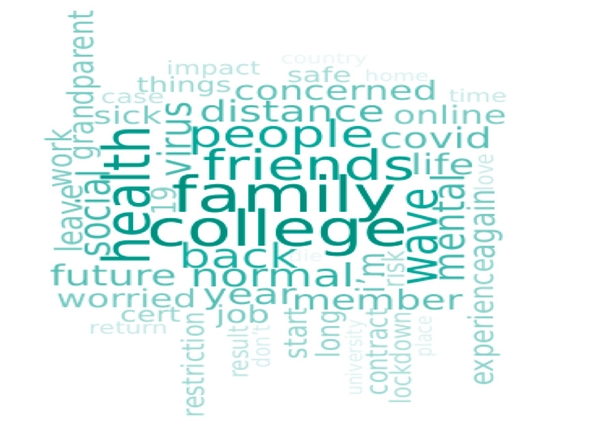 61% of young people reported low or sub-optimal levels of overall wellbeing, almost half (46%) reported high levels of depression and/or anxiety, and similar proportions reported that they were not coping well. Substantial proportions indicated that their health and wellbeing had been 'significantly impacted' by school closures (49%) and having to remain at home during the lock down (43%). A further one in four were significantly impacted by social distancing, which arguably, presents an even greater challenge for teenagers whose lives tend to be characterised by high levels of socialising and multiple friendships.
Compared to a similar pre-pandemic sample of students from five years ago, the Class of 2020 were faring worse in terms of their overall wellbeing and feeling less happy, with fewer positive emotions and lower levels of physical health
Perhaps contrary to popular belief, our findings show that the pandemic has significantly impacted many aspects of the lives of young people and especially on their overall levels of physical and mental health and wellbeing. Many of these students have recently begun third level education and are making what is a typically challenging at the best of times transition to a 'far-from-normal' first year at college.
In anticipation of an increased demand for mental health and wellbeing supports across the third-level sector, the Irish government announced an additional €3m of funding. However, historical chronic under-funding of mental health services in higher education means it will now be even more crucial to monitor and review the extent to which this will be sufficient for future support services. This is especially so in the context of the  increasing numbers of students presenting with mental health problems both in Ireland and elsewhere.
World Mental Health Day is an important opportunity to raise global awareness of mental health issues. This year's theme - "Mental health for all - greater investment-greater access, everyone, everywhere" - is perhaps more pertinent than ever before, as the pandemic continues to exert a toll on the mental (and physical) health of the population.
Penny Quinn is a PhD candidate at the  Centre for Mental Health and Community Research at the Department of Psychology and Social Sciences Institute at Maynooth University. She is an Irish Research Council awardee. Professor Sinéad McGilloway is Founder Director of the Centre for Mental Health and Community Research at the Department of Psychology and Social Sciences Institute at Maynooth University
---
The views expressed here are those of the author and do not represent or reflect the views of RTÉ
---