Analysis: the ferocious sectarian violence which erupted in the city 100 years ago this month had many consequences 
The birth of Northern Ireland was accompanied by intense communal violence and widespread civic disorder, the worst of the 20th century until the modern Troubles. Beginning in July 1920 and persisting until June 1922, it claimed hundreds of lives. Several parts of what became Northern Ireland experienced sectarian violence, but its epicentre was Belfast, where the national community comprised a tiny minority.
While eruptions of intercommunal violence in Belfast were common in the 19th and early 20th centuries, the ferocity of the disturbances of July 1920 was of a different magnitude. The Irish News, the principal nationalist newspaper, deemed it as 'a carnival of terrorism'. Nationalists, north and south saw the intermittent violence as a pogrom against the Catholic community.
Tensions in the north-east grew steadily during 1920 for a number of reasons. First, Ulster unionist leaders were shocked by Sinn Féin's sweeping success in local elections. In Derry a nationalist mayor was elected for the first time since 1688 and nationalists took control of county councils in Tyrone, Fermanagh and Armagh. Even in the unionist citadel of Belfast, over a third of the seats on the city council were won by Labour, Sinn Féin and the Irish Parliamentary Party. Meanwhile, the IRA campaign elsewhere on the island and the dislocation of law and order grew in strength.
We need your consent to load this rte-player contentWe use rte-player to manage extra content that can set cookies on your device and collect data about your activity. Please review their details and accept them to load the content.Manage Preferences
From RTÉ Archives, Fergal Keane reports for RTÉ News in 1989 on the 76th anniversary of the founding of the UVF by Lord Edward Carson
To add to all this, the unionist press published a steady stream of often wildly exaggerated scare stories of impending Sinn Féin assault. The rising political temperature was recklessly ratcheted up by Sir Edward Carson. On July 12th, he told a large crowd of about 25,0000 at Finaghy that Sinn Féin would not be tolerated in Ulster and that unionists would reorganise their own defence. This was a reference to secret plans then in hand by prominent Unionist politicians to resurrect the Ulster Volunteer Force (UVF).
Although the July holidays passed off without incident, Belfast was a dangerous powder keg. The event that ignited a sectarian conflagration took place in the county club in Cork. On July 17th, the IRA shot dead the police commissioner for Munster, Colonel Gerald Brice Ferguson Smyth, who was from a prominent unionist business family in Banbridge with links to the UVF. Smyth had gained notoriety a month earlier for telling police in Listowel 'the more you shoot the better I will like you, and I assure you that no policeman will get into trouble for shooting any man'.
Smyth's funeral on July 21st coincided with the return to work after the July 12th holiday. The inspector-general of the Royal Irish Constabulary noted that some 'very hot Unionist speeches were made … about allowing Sinn Féiners and Roman Catholics to work in the shipyards any longer'. This gave rise to 'a regular hunt' for Catholic workers. Many were severely beaten as thousands were driven out of the shipyards. The expulsions then spread to engineering works, textile mills and other employment centres.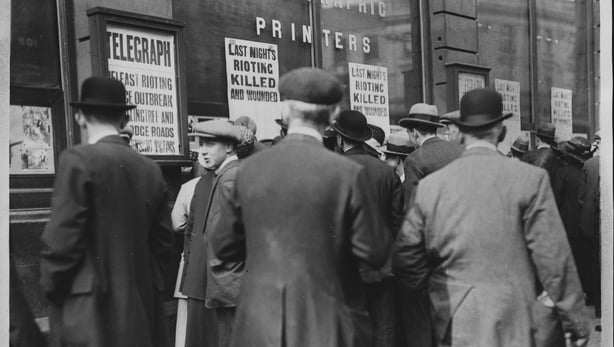 As Protestant workers returned home that evening, they were attacked by the expelled Catholic men. Intense rioting ensued as loyalists took retribution. The violence was concentrated in Ballymacarrett in east Belfast and in Clonard in west Belfast.
For the next three days, there were concerted attacks by armed loyalists on nationalists and their property. Catholic-owned businesses - public houses and spirit grocers in particular - were looted and burned, and entire streets of Catholic houses were set alight. When the fire brigade attempted to intervene, their hoses were cut with axes. The British army was deployed. Wire entanglements and machine-guns were used to repulse waves of loyalist mob violence with limited success.
When the violence eventually abated on July 24th, 18 people had been killed (10 nationalists and eight unionists) and almost all had been killed by Crown forces. Over 300 others had been wounded and thousands of nationalists had been left homeless and jobless. According to some Catholic relief agencies, as many as 23,000 fled their homes.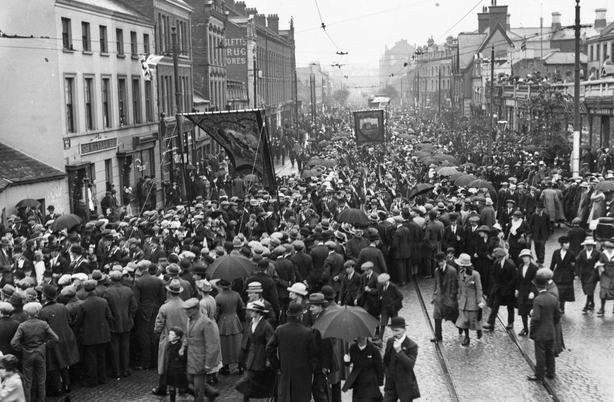 A second wave of sectarian violence followed on August 24th which persisted for a week. It was also triggered by an IRA killing with a Cork connection. The Cork IRA believed that District Inspector Oswald Swanzy had led the police party that killed Tomás MacCurtain in March 1920 and they vowed to shoot him. Swanzy was secretly reallocated to Lisburn for his own safety, but he was assassinated on 22 August (using a gun once owned by MacCurtain) as he returned from church. Almost the entire nationalist population of Lisburn fled in the face of a wave of sectarian violence. No lives were lost, but this was not the case in Belfast, where, in the words of the RIC inspector-general, 'party and sectarian feeling had been raised to fever heat'.
The pattern and location of violence in Belfast was similar to the previous month. However, the large number of expelled Catholic workers willing to defend their localities heightened the ferocity of the violence, particularly in east Belfast which saw running battles where 22 people were killed and 170 seriously injured. In an attempt to restore order, a curfew was imposed from 10.30pm every night from September 1st and workers were escorted to work by patrols of police and military. 
The intensity of the violence in Belfast had a number of significant consequences. First, Ulster unionist leaders used the crisis to obtain greater control over law and order from the British government. This was by means of the Ulster Special Constabulary which was recruited from the ranks of the UVF. This development was not revealed publicly until October 1920. Second, the IRA in Belfast, which was never very strong, organised itself as a defender of Catholic districts, which were subjected to continuous if intermittent harassment and sniping.
The commercial boycott did nothing to aid the plight of beleaguered northern nationalists as Northern Ireland came into being. 
Third, on August 6th 1920, Seán MacEntee, TD for South Monaghan and the only Belfast man in the Dáil, presented a petition from Belfast nationalist councillors seeking a commercial boycott of Belfast firms. Although called the Belfast boycott, it was widely applied to goods from the North.
As a policy it was utterly ill-conceived, yet remained in operation until 1922. No expelled worker was readmitted and it had no impact on Belfast's principal industries. It increased sectarianism by cutting off trading links and hardened partitionist attitudes. It did nothing to aid the plight of beleaguered northern nationalists as Northern Ireland came into being. 
---
The views expressed here are those of the author and do not represent or reflect the views of RTÉ
---