Report: the colourful life of Kate McCarthy, the Cork-born nun whose work in France during both world wars saved hundreds of lives
Chances are you've never heard of Kate McCarthy, but here's an Irishwoman whose life reads like a film script. Born in Drimoleague in Co Cork in 1895, the Irish nun led a very eventful life in France during both world wars, as historian and author Catherine Fleming told Myles Dungan on RTÉ Radio 1's History Show. Here are some edited extracts from the discussion. 
The early years
"She was the eldest of nine children", explains Fleming. "She had an uncle who was a priest, so I'm not sure if that was her inspiration, but she joined the Franciscan nuns in 1913. She was only 18 years old, and she took the religious name Marie-Laurence, and she would spend the first of her years as a young nun in the Great War nursing soldiers and civilians in a little town north of Paris called Béthune. That's how she arrived in France."
The French resistance
After spending some times in the United States, McCarthy returned to France as the country fell to the Nazis. "She went out to treat the prisoners-of-war and the injured soldiers in a POW camp", says Fleming, "and became friends with Sylvette Leleu." A garage owner who led a French resistance group, Leleu joined forces with McCarthy and a local cafe owner called Angèle Tardiveau, whose cafe became the place where soldiers would find safe haven while they were waiting to escape. 
We need your consent to load this YouTube contentWe use YouTube to manage extra content that can set cookies on your device and collect data about your activity. Please review their details and accept them to load the content.Manage Preferences
From Simple History, the story of the French resistance movement during the Second World War
"The aim was to get the soldiers to Marseille and then over the mountains and into Portugal. So this little group and sister Kate McCarthy was instrumental in freeing 200 British officers and soldiers. From October, 1940, things began to change. They're getting bigger and they amalgamate with a very important group in Paris, the Musée de l'Homme resistance group. As well as moving escapees to Paris, Kate now began to get intelligence information. She would ask questions of the British prisoners. She would translate all the information, give it to Madame Leleu, and it would be sent back to England."
Capture
"Kate was arrested on June 18th 1941. She was in the hospital and one of her male nurses, he ran down to her and he said 'Kate, Sister Kate, there's a guy in the hospital and he has a very strange accent. He claims he's British and wants to get on the escape line.' Kate confronts him and calls him a spy. She said 'you are a spy, you are not British.' And he left. He said 'oh, I'm Canadian, I'm Canadian.' She ordered him to leave and the Gestapo arrived within minutes. They were taken to the local jail, and Sister Kate was put into solitary confinement for a year before her trial.
The Gestapo
"In her witness statement, she just says 'I had to endure five very difficult interrogations with the Gestapo.' Her biggest worry was that she would implicate others and she also knew that the Gestapo knew that plans from Calais and Boulogne had been discovered, but they had made copies and these had gotten back to England and intelligence. She was brought to trial a year, 13 months, after her incarceration in solitary confinement in Lille prison, and was condemned to death. Every time the door opened, she thought 'is it my turn now? Am I going to be dragged out?' And then she just disappeared into what became known as Night and Fog.
She hid under beds and climbed out windows with the aid of other comrades and they hid her in different block
Imprisonment
In December, 1941, Hitler issued the Nacht und Nebel decree or the Night and Fog decree, ordering that political activists and resistance helpers would be imprisoned or killed. Along with thousands of others, Sister Kate disappeared into a succession of prison camps and concentration camps. These prisons and concentration camps were designed not just to destroy people physically, but also psychologically and mentally as well.
"She was brought from prison to prison and each prison would go further towards Berlin. In all, she made a journey of 1,500 kilometers. She was very lucky in that shortly into her prison moves, she met up with Sylvette Leleu and they managed to talk to each other by banging out Morse code on the pipes and they eventually met up with Angèle Tardiveau. The three women made a pact that they would resist at all costs, even if it meant death.
"So how can you resist if you're a prisoner? Well you can, in very little ways. One time Kate was employed making shirts for German officers, and she would flush some of the buttons down the toilet. They were meant to make 40 shirts a day but only made 20. One of the last jobs she was given was to make belts for German paratroopers and she said she unpicked every fifth stitch so the paratrooper would have a free fall.

"She was very feisty and had a brilliant sense of humour. These women managed to get through this system by their comradery and love of each other and the idea that they would survive at all costs."
Ravensbruck concentration camp
"Ravensbruck was the only custom-made women's concentration camp in Germany. Sister Kate said 'we were welcomed in Ravensbruck train station by SS women and soldiers with large dogs. They put us into groups of five and drove us to the camp. They counted us many times because the Germans were never sure of their numbers. They made us wait in the yard standing for many hours. I remember there was a big puddle in the line and women prisoners were standing around it. An old 70 year old Belgian woman, exhausted and crippled with rheumatism, was forced to stand in that water. As she refused, she was severely beaten.'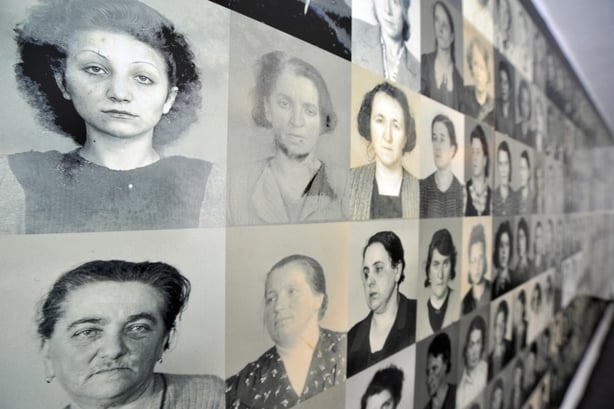 "That was a bad omen and set the tone for what would happen. They would be called in the morning at half four and then they would work a 12 hour shift, digging sand, unloading coal from carts, or going to the forest and digging up the roots of trees. Thankfully, she was again reunited with her two friends who were with her and they slept head to toe in the bunks.
"She actually became very ill. She contracted typhus and her comrades carried her to the infirmary on the door of a toilet. She was very, very ill. She didn't want to stay in the infirmary because very sick people would have been euthanized by a white powder. Once she could walk, she decided to discharge herself and then she found out that her two friends were gone and had been sent to a concentration camp called Mauthausen.
The gas chambers
"Sister Kate said she was immensely lonely: 'it was very hard to bear. I had to put myself together, hold tight and fight with all my physical and moral strength that I had left.' There was now a gas chamber in Ravensbruck and about 5,000 women would be sent to this.
"On four separate occasions, she managed to avoid being selected for the gas chambers. The first time it happened, she said her legs were swollen, her hair was grey, and this was your passport to death. The huntsman, whom I'm 99.9% sure was a man called Dr Adolf Winkelmann, sent her to the left which meant she was going to have to go to the gas chamber. But it was all done in a very subtle fashion and she was able to run and hide.
I had to endure five very difficult interrogations with the Gestapo
"Subsequent times, she hid under beds and climbed out windows with the aid of other comrades and they hid her in different blocks. That's how she survived those four selections. Even though she had recovered from typhus and was painfully weak, she still had the longing to survive within her soul.
Liberation
Sister Kate was on the last bus out of Ravensbruck and brought to Malmo in Sweden, She was extremely malnourished and weighed little more than four stone. She returns to Cork to recover and eventually became mother superior of Honan Home in Co Cork for elderly people and spent the rest of her life there.

"She was awarded the Médaille de la Résistance by Charles de Gaulle and also received the Palm to Victoire from the British government", says Fleming. "In 2014 there was a plaque unveiled in Paris in the Irish College and Sister Kate's name was added to that.
"It's fitting that she should be remembered because she was an inspiration throughout her life and she still is to women and to Cork and to Ireland. She is a most amazing woman and achieved so much in her lifetime. Even if only 150 of those 200 men survived and managed to get married and have children, it's a massive pebble in a pond. So many people will have been saved and helped by the works of sister Kate and her two friends."
Listen back to the full interview below
We need your consent to load this rte-player contentWe use rte-player to manage extra content that can set cookies on your device and collect data about your activity. Please review their details and accept them to load the content.Manage Preferences
---
The views expressed here are those of the author and do not represent or reflect the views of RTÉ
---