Opinion: tips and recommendations for an exercise and activity plan for adults currently stuck indoors
Research has indicated that there are numerous psychological and physical benefits of activity and exercise. Daily physical activity is a central aspect of the Irish National Physical Activity Guidelines and adults between the ages of 18 and 64 are recommended to do at least 30 minutes a day for five days per week (150 minutes in total).
But given the current coronavirus situation and the advice to stay indoors, meeting these targets and just keeping active will be a challenge for us all. But provided you are well, it would be important to set a realistic exercise plan that can be completed indoors or outdoors in a manner that adheres to the current social distancing recommendations.
Such a plan would need to be fitted in around working remotely from home and, for many of us, home schooling. The benefits of regular exercise will be of immense value for you during this challenging period so here are some tips and recommendations for an exercise and activity plan for an adult that you may find useful.
(1) Get a routine going
Plan and incorporate possibly short exercise activities that can be fitted around your other daily tasks, such as working from home, minding kids, home schooling etc.
From RTÉ Radio 1's Today With Sean O'Rourke, chartered physiotherapist Jenny Branigan and Niall Moyna from DCU's School of Health and Human Performance talk about exercising at any age
(2) Take things gradually
Work at your own level and do not start a form of exercise that you have never done before and are not used to. For example, if you have never done high intensity workouts, this may not be the time to do this. Build up your workouts in a progressive, gradual manner. If you regularly exercise on a daily basis, keep this up. If exercise and fitness workouts are new to you, gradually build up the intensity and the number of sessions. Start off with walking every day (this can be done around the house, in the garden, up and down the stairs) and then consider including more intense activities, such as a body weight circuits, every second day.
(3) Count your steps
If you have an activity tracker put it on and try to keep your step count up. For many of us, normal daily living would allow us to hit a relatively high step count anyway, but this will dramatically be reduced now given the current situation. Set yourself a target: can you get 10,000 steps completed each day? See who within your family unit can do the most steps per day. Keep a chart and set a challenge to see who gets the most steps each week. This potentially will keep everyone in the house motivated and focussed on keeping active and engaged during this challenging time.
(4) Keep your distance
If you have the option of going outdoors to exercise, consider doing this, but make sure you follow the current guidelines regarding social distancing. The options available to you here include going for a run, walk or cycle.
From RTÉ 2fm's Game On, coaches Sue Ronan, Liam Hennessy and Niall Corcoran discuss staying fit when sport is called off
(5) Warm-up
You should warm-up before any structured exercise sessions by doing some movement type exercise that raise your pulse and body temperature, such as jogging on the spot. Include mobility exercises into the warm-up as well, like body weight squats and lunges. Keep hydrated during the workout and when you are done complete some stretching exercises. Aim to hold each stretch for at least 30 seconds and also stretch the muscles that you have targeted in the workout.
(6) Here's how to do circuit training
Circuit training is a method of fitness training that is designed to develop many aspects of physical fitness, such as muscular endurance and aerobic endurance. It involves completing a series of exercises for a set time period or repetition number. There is a break between each exercise and the participant generally completes a series of 6 to 10 exercises and then takes a break after each circuit.
(7) How to develop aerobic fitness
To develop aerobic endurance, the circuit would involve dynamic whole body exercises, like jumping jacks, and jogging on the spot, done for 30 seconds with 10 to 15 seconds between each exercise and approximately 90 seconds between each circuit.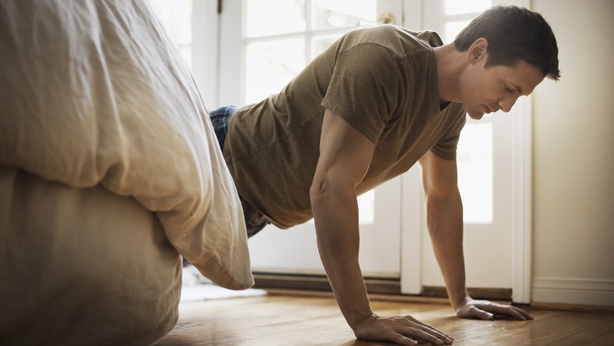 (8) How to build muscular endurance
For muscular endurance, do exercises that target the upper, middle and lower part of the body. Do at least 20 repetitions of each exercise with approximately 15 seconds between each exercise and 90 to 120 seconds between each circuit. Examples of exercises that would be included in a muscular endurance circuit include squats, press-ups and plank holds.
(9) What about equipment?
If you're a beginner, you probably have only limited access to equipment at home. This is fine as many of these circuits can be done as body weight circuits. Do though consider improvising and using bags filled with books or other items as a form of resistance equipment. I have previously written a more detailed article on circuit training with examples of circuits for Sport Ireland.
You can also use a number of apps, such as Seconds, as a timer for the circuit. These apps then count down the 30 seconds time on and the 15 seconds recovery time for you so that you can be free to focus on the exercises.
From RTÉ Radio 1's Today With Sean O'Rourke, Eoin Whelan from NUI Galway and Niall Moyna from DCU's School of Health and Human Performance discuss exercise and fitness apps
(10) I want to do more
Consider doing a high intensity interval workout, which involves completing repeated high intensity exercise bouts interspersed with rest periods. A common HIIT protocol is called the Tabata protocol and involves the completion of 8 sets of 20 seconds of high intensity activity interspersed with 10 second rest periods. Search Spotify for Tabata workouts and there are numerous music playlists that act as Tabata timers.
An example of a high intensity Tabata circuit that can be done at home involves the following exercises; sprinting on the spot, burpees, shadow boxing, repeated squat jumps, mountain climbers, side-to-side skater jumps, sprinting forwards and backwards over a 3 to 5 m distance (whatever is possible indoors), and jumping lunges. This circuit of 8 exercises will take 4 minutes and should be followed by a rest period of 2 to 3 minutes. Repeat this circuit 2 to 3 times. Remember if you have not worked at this level before that this may not be a suitable circuit for you.
---
The views expressed here are those of the author and do not represent or reflect the views of RTÉ
---