Analysis: there's lots of spending planned, but little sense from any of the parties where the money is actually going to come from
Quite rightly there has been a lot of emphasis in this election regarding the extent to which the spending plans of the two largest British parties do not add up (the pessimistic analysis of the independent Institute for Fiscal Studies). The Conservatives are committing to at least £25 billion extra per annum and Labour to more than £138 billion annually.
If (and it's a very big if) those sums were sustainable that would imply a wave of cash coming to Northern Ireland through the Barnett consequentials (at about 2.5% of the British figures in the range of £600 million to £3.5 billion).
Could we cope with such a level of extra money by spending it sensibly and productively over the short to medium term? The cash-for-ash scandal suggests grounds for caution and that was a relatively small scale affair.
We need your consent to load this rte-player contentWe use rte-player to manage extra content that can set cookies on your device and collect data about your activity. Please review their details and accept them to load the content.Manage Preferences
From RTÉ's One News, DUP leader Arlene Foster gives evidence to the cash-for-ash inquiry
When you look at the manifesto commitments of the five largest Northern Ireland Parties (DUP, Sinn Féin SDLP, UUP and Alliance, it is clear there are a lot of spending commitments though almost none of these are costed (one exception is the DUP pledge to increase health spending by £1 billion by the end of this Assembly term). There are also many commitments to cut taxes and it is extremely rare for a Northern Ireland party to suggest either a cut in public spending or an increase in taxation.
All five parties have come up with some genuinely good and sophisticated ideas, though their plans may unfortunately be "too clever by half" and not likely to survive contact with various realities including HM Treasury. Mostly, the parties accept this is "not a normal election" (though what election is normal?) and argue it is about Brexit to some extent. The DUP Manifesto was longest at about 50 pages, followed by Alliance (40), SDLP (29), UUP (20) and SF (15). The latter are the outlier in terms of how little detail they give about specific policies.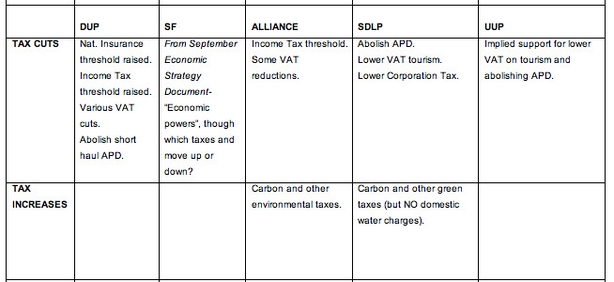 Welfare
All five parties are united on extending the "transitional" welfare package beyond March 2020. But what about how far the previous package was under-spent and don't we have a big problem of high economic inactivity?
Climate change
Three parties aim to make Northern Ireland carbon zero by 2030 (or 2035) and SF would probably agree with that too. The DUP implies that NI should have some flexibility to achieve less than a 100% reduction by 2050 (so, reducing by, say, 80%). The challenge of a quick, deep cut is it implies sudden ramp up in public expenditure demands, large costs on businesses and probably unavoidably higher transport and heating costs to low income households.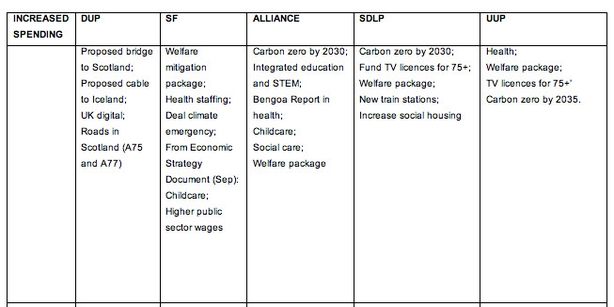 New taxes
There is largely silence on the new tax Northern Ireland "should" have (domestic water charges), which SDLP explicitly rule out. There is no obvious answer in these documents as to how a Northern Ireland Water request for £2.5 billion of investment could be funded.
Apart from water charges, SDLP and Alliance are enthusiastic about green taxing, implying these will be very "progressive" (but will only the rich pay?). There is (rightly) criticism of the Apprenticeship Levy although the DUP curiously want to put a new training levy in place. Lower VAT for tourism is popular, as is abolition of Air Passenger Duty. Can we really be sure that demand would be highly responsive to lower price?

Spending cuts
The only major spending cut I can find relates to Britain and not NI and that's a plane to axe the HS2 rail line, where projected cost has escalated from around £30 billion to £50 billion to £80 billion-plus. Ironically, the DUP propose this, notwithstanding their desire for a feasibility study of a bridge to Scotland and power cable to Iceland.

There is a lot of support for keeping existing levels (as per CAP) on spending to support agriculture. Is this another cop-out, a locking into past policies which haven't worked that well? Only one party, the SDLP, mentions cutting Corporation Tax. This was once almost the only economic policy the five parties had in common. Has that boat sailed in a world where the UK rate is down to 19% and the US down to about 20%?
---
The views expressed here are those of the author and do not represent or reflect the views of RTÉ
---