Analysis: a new book sees the Presbyterian community talk about their experiences of anger, pain, healing and forgiveness as a result of the Troubles
By Gladys Ganiel, Queen's University Belfast
When he was 15-years-old, Terry Laverty's brother Robert, a constable in the Royal Ulster Constabulary, was shot dead by the IRA. As young children, the brothers had been so close that they slept in the same bed. Devastated, Terry spent his days tramping the beach near his home in Ballycastle, shouting at God. Then one day, he felt God healing him. He was able to identify with the tears of all who were suffering in the Troubles.
Terry became a Presbyterian minister. Pastoring others who had suffered made him even more aware than most that healing does not come easy. But he told me, "I want to encourage anybody who is struggling as a result of violence and trauma to consider grace … to consider that there is a possibility of … walking on as somebody who is amazingly and wonderfully free."
Terry's invitation to "consider grace" inspired the title of my new book, Considering Grace: Presbyterians and the Troubles, co-authored with Jamie Yohanis. Terry's story is presented alongside 119 others, including Presbyterian ministers, victims, members of the security forces, those affected by loyalist paramilitarism, emergency responders, healthcare workers, quiet peacemakers, politicians, those who left Presbyterianism and "critical friends" from outside the denomination. It makes Considering Grace the first book to capture such a full range of experiences of the Troubles of people from a Protestant background.
From RTÉ Archives, Kieron Wood reports for RTÉ News in 1987 on the appointment of Rev William Fleming as the new moderator of the Presbyterian Church
Dealing with the past
In 2016, the Presbyterian Church in Ireland's General Assembly approved a proposal to commission a research project on how Presbyterians responded to the Troubles. The project was intended to equip the Church to promote healing among its own congregations and contribute to wider conversations on dealing with the past.
I read about the project in a blog post by Rev Tony Davidson A few weeks later, in a chance meeting with another Presbyterian minister, I asked who was carrying out the research. When he told me that hadn't been decided, I came on board and helped them secure funding from the Irish Government's Reconciliation Fund.
I was intrigued by the project because it signalled the Presbyterian Church's willingness to be self-critical about its own actions during the Troubles. This was in-line with the recommendation of the 2013 report on dealing with the past by American diplomats Richard Haass and Meghan O'Sullivan, which urged societal institutions, as well as combatants, to publicly acknowledge their contributions to division and violence
Reading by an actor of an extract of Rev Russell Birney's story from the book Considering Grace by Gladys Ganiel & Jamie Yohanis
A self-critical church
The churches in Northern Ireland have been criticised for not doing enough to contribute to peacemaking during the Troubles; and for not promoting reconciliation since the 1998 Good Friday Agreement. Asking people how they thought their church responded to the Troubles provided an opportunity for criticism from within the flock to be heard.
We found that most people who had suffered injuries or bereavements described a supportive minister and congregation at the time of their sorrow. Ministers in areas most affected by violence acted as first responders alongside police and medical personnel; they were often the ones who broke the news of loved ones' deaths and remained to provide pastoral support. Their work was courageous and at great personal cost. As Rev William Bingham told us, "there is no easy way to break the news that your husband has been blown up, or that your son has been killed or kidnapped." Others pointed out that preaching on forgiveness or on foregoing revenge prevented further violence.
But the vast majority were unaware of denomination-wide initiatives to promote peace, such as the Peacemaking Programme (2006-2009) or the Irish Churches Peace Project (2013-2015) . This revealed a stunning lack of communication between headquarters and grassroots. Laura Coulter, who worked on both projects, described how when external funding for the Peacemaking Programme ended, the General Assembly shut it down: "the Presbyterian Church in Ireland weren't prepared to pay for [peacemaking]."
Reading by an actor of an extract of Judy and Deborah's story from the book Considering Grace by Gladys Ganiel & Jamie Yohanis
Still others pointed to what they perceived as the malign influence of the Rev Ian Paisley on the Church. They said the the Presbyterian Church in Ireland failed to challenge Paisley's sectarianism because they feared losing members to the Free Presbyterians.
In Considering Grace, we argue that "the perceived failures of church institutions may, indeed, need to be publicly acknowledged and forgiven." We hope that Considering Grace recognises such failures and acknowledges PCI's own need to receive grace, providing inspiration for the church to make peace more central to its mission.
Forgiveness and the future
We did not ask people about forgiveness but most, including almost all victims, brought it up themselves. Some had forgiven the perpetrators, others had not and some hoped they would forgive eventually. One woman admitted skipping the part of the Lord's Prayer that says "forgive us our debts, as we forgive our debtors." Yet former Ulster Unionist politician Trevor Ringland told us, "some people have showed a level of forgiveness a lot of people couldn't be capable of. ... They are all our heroes."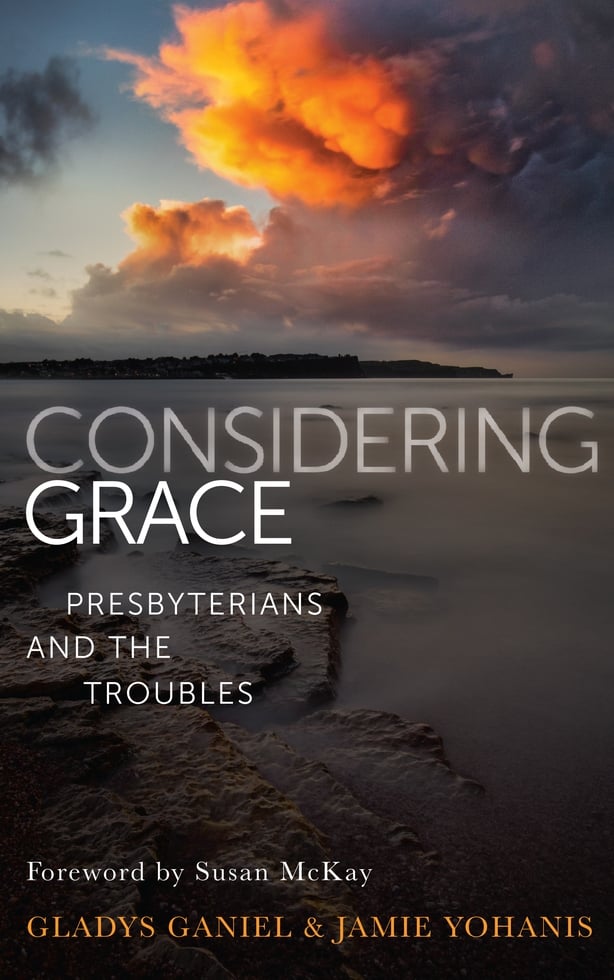 The anger, sadness and pain that fill the pages of Considering Grace should leave us in no doubt about just how difficult it will be to come to terms with the legacy of Northern Ireland's past. The stories also remind us that forgiveness is not forgetting – it always includes remembering. Ultimately, Considering Grace asks if people in Northern Ireland can remember, together, in a way that helps create a better future.
Dr Gladys Ganiel is a Research Fellow in the Senator George J Mitchell Institute for Global Peace, Security and Justice at Queen's University Belfast
---
The views expressed here are those of the author and do not represent or reflect the views of RTÉ
---