Analysis: here's why you consider swapping the bike for the barbell on your next visit to the gym
This article is now available above as a Brainstorm podcast. You can subscribe to the Brainstorm podcast via Apple, Stitcher, Spotify or wherever you get your podcasts.
The day has finally come where women are descending upon the weights room in their droves and ditching the endless hours on treadmills for deadlifts and dumbbells. Hopefully long gone is the tired myth of weights making women big and bulky. However, if setting foot in the squat rack is still a stretch too far for any ladies out there, here's why you should consider the barbell over the bike.
Heart health
Cardiovascular diseases are one of the leading causes of death of adult women. Though aerobic exercise, such as running or swimming, is widely accepted as beneficial for heart health, weight training may have additional benefits providing a greater increase in blood flow and a longer-lasting drop in blood pressure after exercise.
Bone health
While our bones become weaker with age, a key risk factor in developing osteoporosis, a disease that makes bones brittle and more likely to fracture or break than healthy bones, is simply being female. Women are four times more likely to develop osteoporosis than men and postmenopausal women in particular are at greater risk for brittle bones due to hormonal changes at this time. Weight training increases bone mineral content and bone density and can help to prevent or delay osteoporosis. The sooner you start strength training, the better the odds of having healthier bones in later life.
We need your consent to load this rte-player contentWe use rte-player to manage extra content that can set cookies on your device and collect data about your activity. Please review their details and accept them to load the content.Manage Preferences
From RTÉ Radio 1's Mornings With Dave Fanning, an interview with women weightlifters Alex Craig and Sinead Ryan
Improved body composition
As a personal trainer working predominantly with women over the past few years, I can safely say that when it comes to what women want, the majority want the exact same thing; to lose a little weight and "tone up". Simply put, this means simultaneously dropping body fat whilst increasing lean muscle mass, which in essence, is strength training (combined with adequate nutrition). Thankfully, more and more women no longer fear that weights will make them big and bulky. If anything, it is exactly what most women need to do for how they want to look.
Improved sporting performance
Though not necessarily female-specific, strength training can benefit your performance across an array of different sporting activities. Whether your sport requires the ability to run faster, jump higher, tackle harder or go longer, your performance will be significantly inhibited without incorporating resistance training into your training regime. Regardless of the sport, effective strength and conditioning programmes are now paramount to athletic performance globally.
Injury prevention
Weight training can help to prevent injuries by strengthening and stabilising muscles, bones, ligaments and tendons and ultimately improving joint stability. Greater balance and stability are associated with a reduced risk of falls and injuries both during exercise and daily activities. Similar to bone health, the more muscle mass you have as you get older, the better chance you have of preventing sarcopenia (natural muscle loss due to ageing).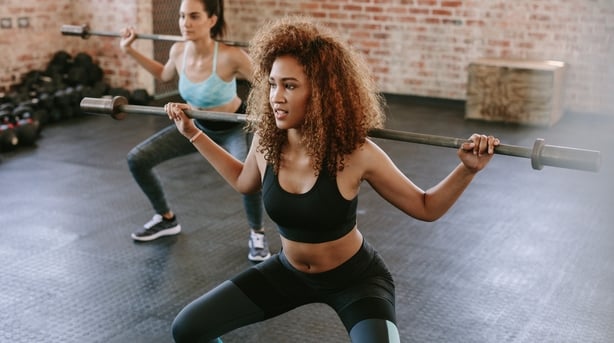 Increased metabolism
Not only does strength training effectively burn body fat during training but your metabolism remains elevated for several hours afterwards meaning that your body will continue to burn fat long after you stop exercising. An increase in lean muscle mass results in a higher metabolism and a higher metabolism means more calories burnt throughout the day.
Mental health
Young Irish women have the highest levels of depression in Europe. Women are twice as likely to be diagnosed with an anxiety disorder and women also tend to be less self-confident and negatively evaluate their physique far more frequently than men. With such worrying statistics on female mental health, recent research has focussed on exploring weight training as a preventative treatment. Lifting weights has been shown to alleviate depressive and anxiety symptoms, boost self-esteem, reduce stress and improve overall body image.
Benefits during pregnancy
There are many benefits to strength training during pregnancy; decreased incidence of preeclampsia, improved weight management, reduced incidence of gestational diabetes, enhanced body image, easier labour and a reduction in lower back pain through the strengthening of abdominal and back muscles. Supervised and structured training regimes have been shown to be both safe and effective for pregnant women.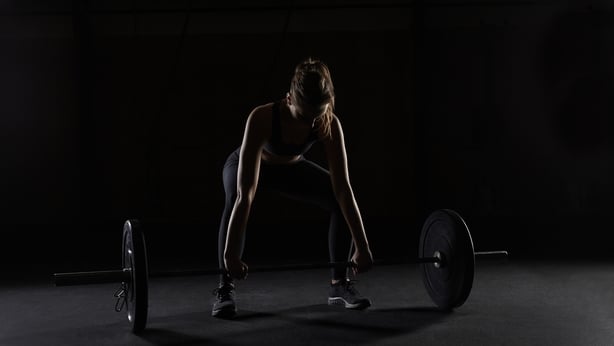 Reduced pain intensity
Weight training has been shown to ease pain intensity by strengthening muscles and improving flexibility in those suffering with chronic lower back pain.
Improved sleep quality
Strength training may improve sleep quality by reducing the amount of stress hormones released by the body. It can also help to fall asleep quicker and wake less frequently throughout the night.
READ: So you want to know about strength and conditioning...
It is never too late to start lifting weights. Yes, the gym floor, weights, machines and not really knowing where to start can be quite daunting for complete beginners. However, two to three strength training sessions a week can have a significantly positive impact on both your physical and mental health.
If you are considering taking up the barbell, you should seek out an educated and experienced trainer or beginner's class and start there. In addition, please consult with your GP before undertaking any fitness regime, especially during pregnancy. The sooner you start, the better!
---
The views expressed here are those of the author and do not represent or reflect the views of RTÉ
---