Opinion: it's time for a public space where citizens can experience, contribute and interact with the island's colourful popular music history
Popular music surrounds our everyday lives. Perhaps for this very reason, though, we are less inclined to imagine its heritage, history and cultural value in ways that we view classical music or traditional music. This is reflected in arts policy and provision in Ireland which funds both the Contemporary Music Centre (CMC), supporting Irish classical composers, and the Irish Traditional Music Archive (ITMA).
To date, no equivalent centre exists to document, celebrate and develop Ireland's unique popular music legacy. Even were we confine our history of popular music to everything that followed the international explosion of rock 'n' roll, this still represents at least three generations of musicians, fans, venues and media that have been integral to the cultural and social life of this country.
From RTÉ Archives, Aengus Mac Grianna reports on the opening of the short-lived Irish Music Hall of Fame in July 1999
First steps towards recognisng the heritage value of popular music came in the 1990s with the establishment of a Dublin music trail. Titled Rock n Stroll and funded by Dublin Tourism and Hot Press magazine, the 1996 brochure/map presented a self-guided tour of the city. That magazine as also behind the short-lived Irish Music Hall of Fame based on Abbey Street from 1999 to 2001 in what is now music venue The Academy. With some memorabilia from well-known artists, it featured an audio-visual experience of Irish popular music history and continued as a touring exhibition until 2005.
A decade later, there was more on offer in the capital city by way of popular music collections and tours. These included the U2 Made in Dublin exhibition at the Little Museum of Dublin, guided U2 tours of Dublin, and from 2015, the Irish Rock 'n' Roll Museum Experience in Temple Bar (using material from the earlier Irish Music Hall of Fame).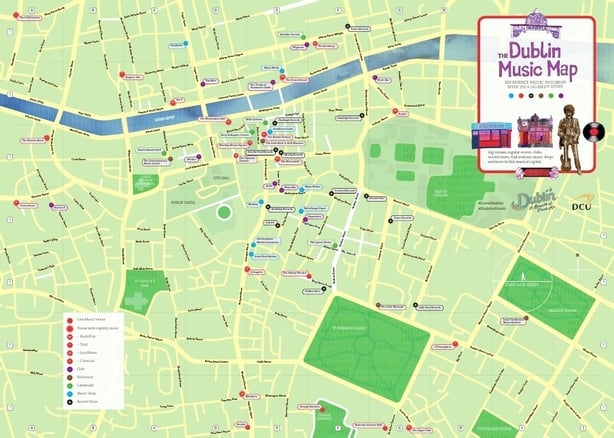 Between 2015 and 2016, my colleague Áine Mangaong and I carried out the Mapping Popular Music in Dublin project. Based at DCU and funded by Fáilte Ireland, we surveyed hundreds of fans at gigs and facilitated workshops where members of the public drew music memory maps. Among other outputs we developed a new Dublin Music Map based on participants' collective experiences.
To date, most ventures promoting popular music heritage in Ireland have been led by music industry and tourism interests. The number of facilities for visitor experience has steadily grown, with the soon-to-be-built U2 visitor centre on Dublin's Grand Canal Quay the most significant to date.
From RTÉ One's Nine News, a report on U2's proposed visitor centre in Dublin's docklands
As welcome as such developments are, these private enterprises do not enjoy the national status of the CMC or ITMA. Nor are they conceived as public cultural spaces that can accommodate local histories or that can facilitate interactions between citizens and curators - including, among other possibilities, crowd-sourced exhibitions of music memorabilia.
And what of popular music histories beyond those associated with Dublin and/or with mainstream artists? As H. Stith Bennett reflects in his book, On Becoming a Rock Musician, there is "The Music" - the most commercially successful music that represents a tiny minority of musicians – and then there is the other music, the songs and tunes composed and/or performed by vast numbers of artists and bands across the amateur-professional spectrum.
Right now, there are some encouraging signs of a more inclusive approach to popular music heritage, some through public institutions and university departments, others through voluntary networks and initiatives. As media scholar Ciarán Ryan documents, fanzine exhibitions and digital collections have recently begun to appear in public libraries in Cork and Dublin, in addition to other online 'zine' archives. Cork City Library has adapted innovative approaches to documenting music heritage with local communities, including for its Rory Gallagher archive.
From RTÉ 2fm's Dave Fanning Show, 2014 interview with TV producer and creator of Reeling In The Years, John O'Regan
Meanwhile, memories of gigs, festivals and former venues often come up in curated public talks organised by community-based groups including the Young Hearts Run Free collective in Dublin, and in online local history blogs such as Come Here to Me. These tap in to more general trends of "retromania", a term recently coined by music journalist Simon Reynolds, but this is an appetite that has been with us for quite a while if we consider that RTÉ's Reeling in the Years was first screened by in 1999. Mention of the national broadcaster here points to what is as yet a largely untapped national resource, its extensive library of sound and audio-visual archives.
All of the above collections and initiatives point to a growing capacity and appreciation for Ireland's popular music culture and heritage. Together, they represent a blend of material, audio-visual and digital resources and a combination of official, community and underground networks. It is surely time to establish a national centre for popular music that can coordinate this wealth of cultural assets for the public good. It can also serve as a space where citizens can experience, contribute and interact with aspects of the island's varied popular music history - from showbands, country and rockabilly to punk, singer-songwriter, electronica and hip hop scenes.
And what of popular music histories beyond those associated with Dublin and/or with mainstream artists?
Comparable international models range from major tourist attractions (British Music Experience in Liverpool) to museum-type spaces (New York's ARChive of Contemporary Music) to underground or scene-based repositories (the LSC Punk Archive in Los Angeles). A centre for popular music in Ireland might draw on best practice from these and other examples abroad, while also bringing together existing resources and acting as a shared space for generating new resources. Critically, it could interact with, and connect the initiatives of many institutions, collectives and individuals already taking place across the country.
---
The views expressed here are those of the author and do not represent or reflect the views of RTÉ
---