Opinion: as an electoral exercise, the Indian elections are awe-inspiring in the electorate's belief in their democratic rights
The biggest political event of the year started on April 11th. The Indian elections are the largest democratic elections ever seen, with more than 900 million eligible voters. Electronic voting machines are used to register votes, and winners are decided on first-past-the-post basis. There are seven national parties, 26 state parties and more than 2,000 smaller political parties registered for this year's election. The voting process will continue in seven phases till May 19th and the results will be declared on May 23rd.
The Parliament of India has two houses, the lower house being the Lok Sabha with 543 seats where a party needs a minimum of 272 seats to form government. The current government in power is the conservative Hindu right wing Bharatiya Janata Party, led by prime minister Narendra Modi. Their main opposition comes from the Indian National Congress (INC) led by Rahul Gandhi, whose father, grandmother and great grandfather have all been prime ministers of India. Dynasty politics are hard to rule out here.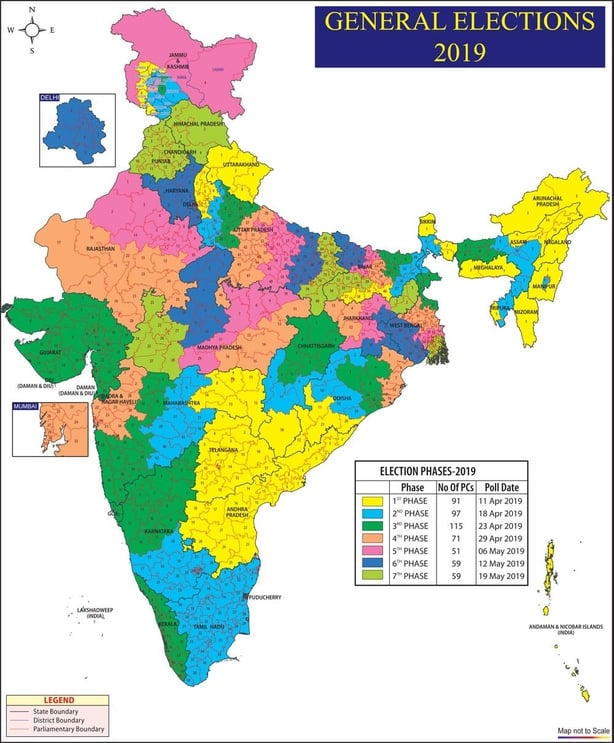 Though the BJP won the 2014 elections with a comfortable majority, policies like demonetisation combined with corruption charges and rise of unemployment might prove to be crucial factors in this election. Despite being the sixth largest economy of the world with a 7% GDP growth rate, unemployment has been as high as it was in 1970s, according to a report by the government itself. Public grievance was visible in the recent state level elections held in the five states in 2018, where BJP did not win a single state.
While these criticisms against the government continue, the rise of Hindu nationalist ideological fervour, combined with anti-minority sentiment has fermented a sharp political divide in the country. The present government has also faced criticism internationally from organisations like the Human Rights Watch for its failure in curbing lynch attacks on Muslims by the cow protection vigilante groups formed since 2014.
We need your consent to load this rte-player contentWe use rte-player to manage extra content that can set cookies on your device and collect data about your activity. Please review their details and accept them to load the content.Manage Preferences
From RTÉ Radio 1's News At One, New Delhi Journalist, Rahul Bedi describes the process that will see 900 million voters go to the polls 
A 2017 report by Pew Research Center rated India as the fourth worst country in the world for religious violence. BJP President Amit Shah caused furore on April 11th when he said that "we will ensure implementation of NRC [National Register of Citizens] in the entire country. We will remove every single infiltrator from the country, except Buddha, Hindus and Sikhs".
The INC had been mostly ineffectual in countering the rising tides of Islamophobia, and alliances with regionally crucial political parties like Rashtriya Janata Dal (RJD) is the way it has taken to secure their chance of forming a government. INC president Gandhi is standing for election in his family's traditional stronghold Amethi, where he faces Smriti Irani, former BJP Human Resources Minister mired in a controversy over her educational degree.
But despite highly visible candidates like Irani, the falling number of women candidates fielded by BJP has been a cause of concern. Of the 1271 candidates who contested the first phase of elections, less than 8% were women. In the current Lok Sabha, less than 12.5% of members are women, way below the international average of 24.3%. This is despite women making up 48% of the electorate. Two regional parties, Trinamool Congress from the state of West Bengal and Biju Janata Dal from the state of Orissa - have taken serious steps to amend this, and have announced 41% and 33% party tickets will be reserved for women.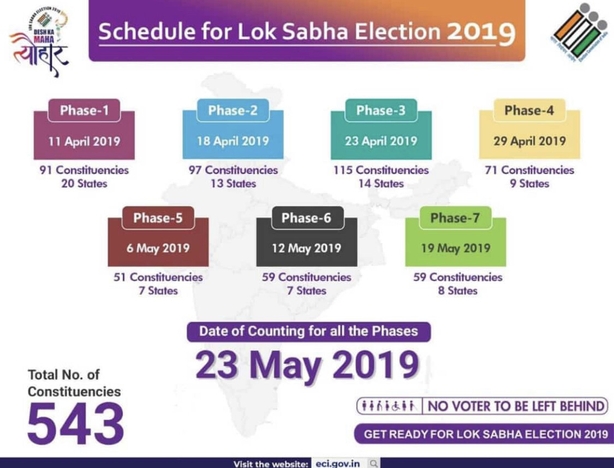 With 18 to 19 year olds accounting for 15 million voters, this election has seen parties using social media in their campaigning. The current prime minister is famous for his strategic use of online campaigning with more than 46 million followers on Twitter. Modi is often compared to American president Donald Trump for his vociferous use of Twitter as a mode of communication, though he is yet to hold a single press conference since coming to power.
Other parties are also following suit, with Facebook videos, Twitter feuds, and viral Whatsapp campaigns increasingly dominating strategies to get to voters. India has 1.14 billion mobile phone connections and, with at least 200 million people holding Whatsapp accounts, it is the largest market for Whatsapp.
Above all else, this election is important as a marker of the democratic process in action is such a large scale
Fake news has become a threat that the Election Commission of India is finding increasingly difficult to contain. In 2017 and 2018, viral fake news has led to at least 31 deaths by mob attacks, and mounting communal tension, with minority communities like Muslims increasingly feeling at risk. BJP has assigned 900,000 people to the task of localised Whatsapp campaigning before elections. Though fact-checking websites like Alt News have been created to combat such risks, the scale and scope of use of social media makes it an uphill task. According to reports, the government is about to launch a new set of regulations which will allow companies like Youtube and Whatsapp to screen "unlawful" content.
Above all else, this election is important as a marker of the democratic process in action is such a large scale. States like West Bengal witnessed as high as 81% voting in the first phase of elections. As an electoral exercise, it is awe-inspiring both in its scope as well as in the electorate's belief in their democratic rights. It is crucial in order to determine the political and economic role of India in the world stage in the next five years - and the future of its citizens. As they decide their leaders over the course of the next one month, the world will watch eagerly.
---
The views expressed here are those of the author and do not represent or reflect the views of RTÉ
---