Analysis: a new book looks at how and why an European Capital of Culture textiles project in Cork in 2005 caused so much controversy
In 2005, more than 2,000 people, most of them women from Cork, took part in a project that would create as much controversy as it did collaborative joy. Commissioned in 2003 by the executive of the European Capital of Culture: Cork 2005, The Knitting Map was a project led by Richard Povall and I, both directors of half/angel. Nearly 15 years later, the project is now the subject of a new book entitled Textiles, Community and Controversy: The Knitting Map.
The project was viewed as controversial for multiple reasons including the level of funding (€250,000), because it was an artwork which used knitting and because it was made mostly by older, working class women. The nationality of the two lead project artists (British) probably didn't help and the project became emblematic in the public imagination of the perceived failures of Cork 2005.
From RTÉ Archives, a 2005 RTÉ News' report by Anna Murphy on The Knitting Map project
Textiles, Community & Controversy uses The Knitting Map as a case study and site of contested debate. Published at a unique moment of reclamation and debate about women's textile art, this book marks an important moment in The Knitting Map's history. It unravels the contradictory gestures of community and controversy in contemporary textile art practices involving women as artists and makers, and allows readers to see the work from a fresh perspective. The 13 essays include some of the best known art/textile critics of our time including Lucy Lippard, Jessica Hemmings and Joanne Turney. Fionna Barber also introduces the work as a key moment in Irish art history.
The recent resurgence of interest in women's textile art practice, has been buoyed up by shifts of consciousness around gender (such as the #MeToo campaign). In October 2018, Adrian Searle reviewed the Anni Albers exhibition at The Tate for The Guardian, giving the show five stars under a headline of "ravishing textiles that beg to be touched".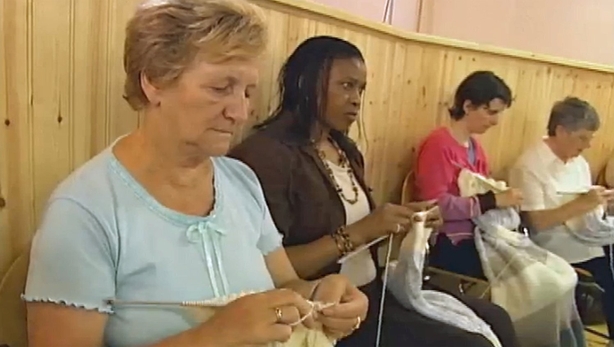 Searle's visceral response to the cool abstract woven textiles of Albers is gorgeous to read – a longing to sense the textures and slubs in the order of perpendicular threads, to smell the work through his apprehension of the play of shape and material: "there are grilles and grids of woven colour, close-toned patterns and wandering webs, flexing chevrons and teaming bands, oddly reminiscent of the untuned pixelated glitches that bedevil the images when we're streaming a movie. But here the jumbling visual noise resolves in clusters of pattern, tiny rows of pictograms and mysterious signs."
Albers' work played a critical role in framing textiles as an art form, emerging from a centuries' old debate about art vs. craft. In her marvellous book The Subversive Stitch, Rozsika Parker notes that this separation emerged first during the Renaissance, and was secured in the 18th century, when an ideology of femininity coincided with a clearly defined separation of art and craft. As a young art student at the Bauhaus School in the 1920s, Albers was prevented from studying what Walter Gropius termed the "heavier crafts" (sculpture, painting, glass) and steered instead towards its most "feminine" discipline, weaving.
From RTÉ lyric fm's Culture File, Jools Gilson discusses The Knitting Map
The belated acknowledgement of Albers' importance as a major artist is certainly connected to both her gender and her medium. Such acknowledgement is part of a zeitgeist shift of considering textiles as central to meaning-making in art and politics, rather than peripheral. Two recent books from 2017 exemplify this: Fray: Art & Textile Politics by Julia Bryan-Wilson focuses on "fractious disputes about what and how textiles mean, where they should live institutionally, and where they belong politically." Radical Decadence: Excess in Contemporary Feminist Textiles by Julia Skelly explores representations of female consumption, from cupcakes to alcohol and cocaine.
Seen in this broader context, the dispute about The Knitting Map was also connected to gender and medium, but in a markedly different way to the textile art analysed by Skelly, as well as other contemporary textile art. One example is the Profanity Embroidery Group (PEG) based in Whitstable, Kent (UK), who sew swear words into traditional designs. Such slow and pretty cursing revisions embroidery, assaults its passive reputation and supports its members "through loss, loneliness and rage". It's also just good old fashioned hilarious.
Underestimating the troubled ground of textiles, femininity and appropriate behaviour recently got textile artist Angela Wooi into trouble on Margate Station. In March 2019, Southeast Trains in the UK closed down her exhibition of textile art because of complaints from staff and the general public. Wooi's beautifully embroidered and sequined vulvas were being shown as part of Pow! Thanet, a festival of arts and culture celebrating and exploring issues around feminism, women and girls, and coinciding with International Women's Day.
The Knitting Map's tales of gender, labour, technology and material will continue to unravel and evolve as it undertakes its unpredictable journey
These playful, pretty female genitals have a serious political point, as they reimagine the visual representation of "lady gardens" as counterpoint to pornography, and in a cultural climate of labioplasty and female genital mutilation. But they are also quite rude, and, as my mother might say, "that's just not really necessary is it?" Such work is a world away from the Albers' exhibition at the Tate, but they trouble the same ideas about who has permission to be an artist, through what medium and with what message.
Next year, The Knitting Map will be on the road again for exhibitions in Manchester and Pennsylvania. As Deborah Barkun writes in her Whereabouts uncertain essay in the new book, "maps of all kinds tell stories. The Knitting Map's subversive tales of gender, labour, technology and material will continue to unravel and evolve as it undertakes its unpredictable journey."
Textiles, Community and Controversy: The Knitting Map is edited by Jools Gilson and Nicola Moffat
---
The views expressed here are those of the author and do not represent or reflect the views of RTÉ
---