Opinion: as Brexit shows, sticking too long in the negotiation process damages both sides when one side does not know what it wants
I was a 17 year old student when I met Dr Elisabeth Kubler-Ross at a public lecture in Dublin. Her transformational work on grief, death and dying set me on a path exploring why we make the decisions we make and how we behave in times of change. The Kubler-Ross Change Model describes the emotional responses people go through when they are aware of impending change.
The stages are denial, anger, bargaining, depression and acceptance. Various versions have evolved over the years which define in more detail the inner dialogue of people and groups processing and understanding the ramifications of change.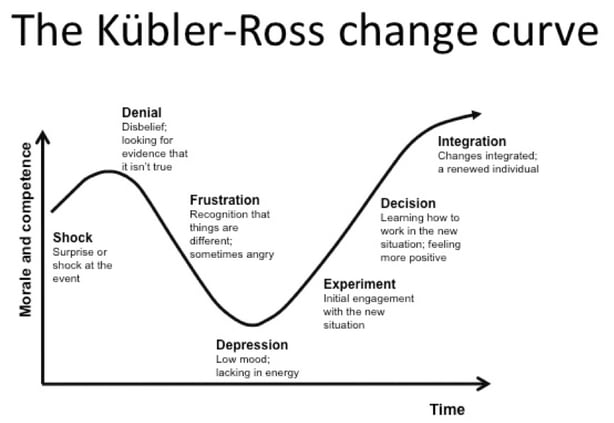 For example, when a management buy-out of a profitable division in an organisation takes place, the leadership teams on both sides will. of course, aim to facilitate a smooth transition to ensure continuity. When one or both sides are not in a position to finalise the terms of business, both organisations are legally obliged to find alternative ways to meet business needs. Uncertainty and disruption are the foundations of innovation but, no matter how good the relationship is, sticking too long in the negotiation and discovery process damages both sides when one side does not know what it wants.
Managing change is not a step-by-step process where one moves from A to B to C. It is a flow where parties move forwards, backwards and clash. Circumstances change, unexpected things happen. As Westminster currently goes through the Frustration and Experimental stages of change in a very public way, Europe so far appears to be in the Decision and Integration stage of change. Events demonstrate that Westminster is not in a position to negotiate its exit deal yet.
While Brexit has consumed civic dialogue in the UK, it is important to remind ourselves that it is business as usual for the remaining 90% of European citizens. In the past week alone, the European parliament has worked on climate change, copyright, banning of single use plastics. Although many may be genuinely sad that the UK are leaving the EU, the remaining 500 million plus citizens have a right to participate in an election process that focuses on the EU moving forward. It is unfair to allow local political and business issues in the UK hijack their right to vote on European performance.
We need your consent to load this rte-player contentWe use rte-player to manage extra content that can set cookies on your device and collect data about your activity. Please review their details and accept them to load the content.Manage Preferences
From RTÉ Radio 1's Morning Ireland, RTÉ London Correspondent Fiona Mitchell on what's next at Westminster
The current situation reminds me of my divorce a few years ago. After a long negotiation process, I made the decision to stop. I took a significant financial hit to move on and although painful in the short term, it was the right choice. For the first time in five years, I could make clear decisions, no longer dependant on ifs, possibly and maybes.
Perhaps it is time for the EU and Westminster to stop and recommence negotiations in 12 to 18 months when their respective political landscapes have settled? If voter participation increases in May and citizens actively participate in politics at local, national and European level, then a no deal Brexit with all its pain could be worth it.
Regardless of what happens, new ways for trade, education and travel across the new borders that the referendum created will be established. As someone who would have voted to remain if I had a vote, I'm surprised that I'm considering the benefits of a no-deal scenario. But you do reach a point when it is time to let go, pick up the pieces and move on. It's time to make the most of this once in a lifetime opportunity.
---
The views expressed here are those of the author and do not represent or reflect the views of RTÉ
---