Opinion: how can we explain the British prime minister's ability to carry on despite a constant wave of attacks, onslaughts and setbacks?
Much has been made of Theresa May's humiliation in recent commentary on her embattled position as British prime minister. The term has been widely used by headline writers, pundits, and political correspondents ranging from Channel 4 to The Daily Telegraph, and even as far afield as the editorial board of The New York Times. I suspect that the word, whether in verbal or noun form, will haunt her in any word cloud dedicated to coverage of her premiership.
Few could argue with the view that she has suffered a remarkable onslaught during her tenure. She has endured the resignation of a succession of ministers and junior ministers (including two Brexit secretaries), who have gone on to form a chorus against her, coupled with denunciations in the conservative press where we might ordinarily expect support for a Tory leader. The Telegraph, in particular, has allocated large swathes of space to Jacob Rees-Mogg and Boris Johnson intent on trouncing her.
From RTÉ Radio 1's Drivetime, Barry Lenihan reports on how Theresa May survived the vote of no confidence in her leadership
In parliament, her marathon sessions at the dispatch box defending the Brexit deal have been distinguished by relentless attacks not just from the opposition benches but from her own MPs. Even her supporters in the Commons have confined themselves to tepid endorsements at Question Time.
Beyond that, she has suffered a series of comical mishaps, including a disastrous appearance at the Tory Party conference in October last year, featuring a coughing fit, a comedian handing her a P45 and part of the signage falling down during her address. Getting trapped in the back of her car as she arrived to meet the German Chancellor Angela Merkel (due to a recalcitrant door handle) is only the most recent incident.
From RTÉ Six One News, a report on Theresa May's speech to the Conservative Party conference in 2017
Most politicians would have crumbled, and either resigned, broken down or returned venom with venom. How does she carry on?
I have a theory about Theresa May. To understand the theory, one must first remember that her father, the Rev. Hubert Brasier, was an Anglican minister, serving as a hospital chaplain before becoming vicar of two different parishes in Oxfordshire over the course of his career. Why is this relevant? The key to Theresa May's fortitude may be her acceptance of the model of the humiliation of Christ as a guide to political life. I'm being facetious of course in characterising her this way, but only a little.
Christ's humiliation is a central component of Protestant readings of the Christian narrative, starting with the acceptance of a human form and culminating in the crucifixion, in the midst of jeers. Numerous examples recur in the Bible, such as his treatment at the hands of the Roman soldiers, their mocking of him, the freeing of Barabbas rather than Jesus by Pontius Pilate, the beatings and abuse of chief priests, the temple guard, and his scourging on the orders of Pilate.
Those who accept humiliation as their destiny also potentially take the country with them in this fate
Theresa May's sturdy will to carry on despite her relentless humiliation testifies to an expectation that this is what public life offers, not glory and redemption but daily trial, suffering, and abuse. Countless examples come to mind: the business of trundling back and forth to Brussels in a position of obvious weakness, selling something to her party and to the Commons that no one accepts, the thorn in her side of Boris Johnson, confronting a vote of no-confidence, the certainty that she would never be allowed to lead the party into another general election (now cemented in her pre-vote announcement that she would retire from the post). One could go on.
If all of this speaks of a character not driven by ego but by a service ethic, it comes with a risk. Those who accept humiliation as their destiny also potentially take the country with them in this fate. The scenario becomes a national norm. One could argue, mind you, that this unenviable predicament is built into Brexit and would beleaguer anyone who served as Prime Minister, regardless of party or persuasion.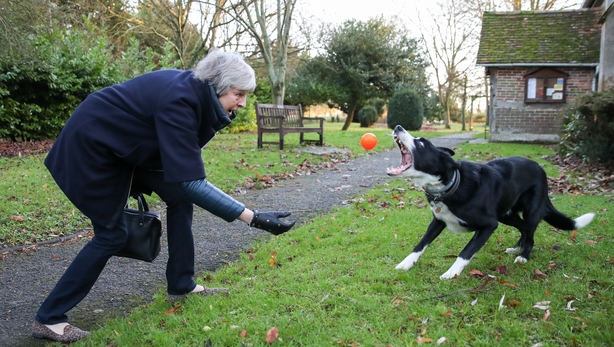 But there is also something strangely refreshing about her acceptance of this condition. The deep humility sets her apart from most leaders, and certainly from her female predecessor as Tory leader, Margaret Thatcher, who occupied much more the role of Warrior Queen. May's determination offers an antidote to the public school arrogance that features so prominently in her party, not least among her internal opponents. She is now becoming a phenomenon. Perhaps the resilience derives from a religious source, a secular incarnation of the humiliation of Christ.
---
The views expressed here are those of the author and do not represent or reflect the views of RTÉ
---