Opinion: get set for expensive machines, natural gas powered farm vehicles, precision agriculture, big data and even driverless tractors
The humble tractor has evolved immensely since Henry Ford mass produced the Fordson tractor almost 100 years ago. Within a short time, the tractor has revolutionised farming across the world. Today tractors are all about power, comfort and reliability, but the future of tractors is about big data, automation and of course… big price tags.
Tractors are an essential part of any farm. A typical tractor seen on an Irish farm will churn out 80 to 150 horsepower with much larger machines of over 500 horsepower available to tackle the toughest challenges on bigger farms.
The largest tractor in Ireland is rumoured to be the Case IH Quadtrac which is huge four-tracked Goliath capable of pulling heavy seed drills and ploughs through the toughest soils. In Ireland, this type of very large tractor is rare and is more suited to large open crop farming on the Continent or in North America. Not surprisingly, tractors are expensive. A new mid-range tractor will cost anything from €60,000 upwards, with higher end tractors costing up to €200,000.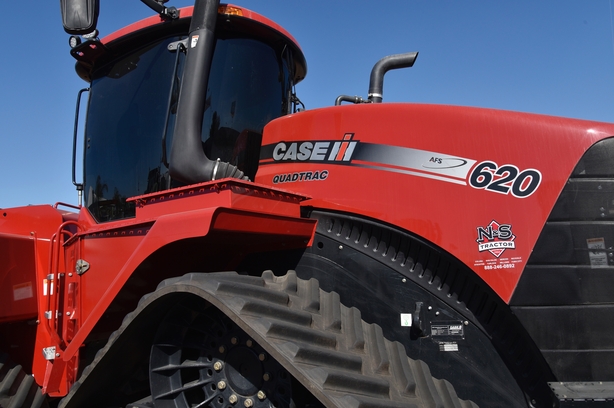 In recent times the trend in tractor development has been similar to cars with a strong focus on technology, fuel efficiency and reliability. In peak farming seasons, drivers spend many hours in the cab so there is a big effort from manufacturers to increase comfort and reduce driver fatigue with smart driver assist technology to automate repetitive driving sequences, chilled food cabinets, air suspension seats and even compartments to keep food warm.
Like passenger cars, electric tractors are also on the market, but don't expect to see lots of them anytime soon. Many farmers need the tractor to run long hours on busy days and the limited operating time of a battery may not suit many operations. Natural gas or renewable gas powered tractors are also available, but have yet to make it to the mainstream.
Farmers are also facing shorter weather windows for land access due to changing weather. Agricultural contractors are coming under increased pressure to deliver high-quality silage, maize and crops in shorter periods with quicker turnarounds so reliability and size of machines are important. In the silage season, a tractor will use over 200 litres of diesel on a typical day so stopping to fill up every few hours is not an option.

From RTÉ Radio One's Countrywide, why are men obsessed by tractors?
But size doesn't always a matter. One advantage of smaller tractors is that they are lighter and reduce soil compaction. Soil compaction can lead to reduced crop yields for tillage farms and sometime large tractors will use tracks or large multiple wheels to reduce its impact.
The modern tractor is also an integrated part of a drive towards what is called "precision agriculture", which is the latest phase in the agricultural revolution with the tractor at the centre of big data and software systems. These systems use lots of data and measurements collected by tractors and farm machines to make the best use of land.
While not so common yet in Ireland, integrated farm management systems connect telemetry collected from the tractors to analyse crop yields, fertilizer output, soil quality and planting efficiency. This allows a farmer to use each square inch of soil to its maximum potential for example by planting seeds in the right spot and depth, with the right amount of fertilizer and applying the right amount of spray. Crop productivity can be monitored and fertilizer rates can be adjusted to fine-tune performance. This is driving a trend across the world in producing more food from less land.
From RTÉ Archives, Joe O'Brien reports for RTÉ News on the arrival in Dublin in January 2003 of a tractorcade of 300 tractors to protest over falling farm incomes
But will future tractors need drivers? In the film Interstellar, Matthew McConaughey wakes up to find a number of driver-less tractors outside his home. The film may be science fiction, but the tractors that McConaughey sees exist today and are part of early stage testing and development by Agri giant Case IH
Many tractor manufacturers already offer systems that automatically steer and guide the tractor but the driver must be present for safety and supervision. This means the driver sits in the cab while the tractor is guided up and down the field by GPS which optimises the route travelled to avoid any overlaps and to make it as quick and efficient as possible.
Driverless tractors are still in early stage development but could deliver potential benefits in terms of longer operational hours and reduced costs
Future concepts take this one step further for complete automation of tractors and the driverless tractor is part of a move to increase automation in farming.
The farmer of the future might remotely monitor and control the tractor using a device such as a tablet from the comfort of their home. Driverless tractors are still in early stage development but in the future could deliver potential benefits in terms of longer operational hours (no driver fatigue) and reduced costs for labour.
Of course, public perception and trust must be developed in these new technologies. Farmers might not be so willing to trust their work to equipment that does not have someone in the cab to make decisions and deal with problems.
---
The views expressed here are those of the author and do not represent or reflect the views of RTÉ
---