The Brainstorm Long Read: what does the change of name say about the past and future of the Irish film industry's development agency?
A few months ago, the Irish Film Board announced it was changing its name to Fís Éireann/Screen Ireland. The change has attracted very little coverage or comment and would seem to have been received as a timely rebranding after 30 years of existence. But does it also indicate a broader shift in the state's support and understanding of cultural endeavour?
It's 25 years since Neil Jordan's border-crossing landmark The Crying Game was nominated for six Academy Awards, including Best Picture, in 1993. It was an outstanding achievement for a low-budget, thematically complex film that had failed at the UK box office and followed a similar success to for Jim Sheridan's highly local My Left Foot, which had garnered five nominations and two wins in 1990. As it turned out, The Crying Game won in just one category - best screenplay - but it went on to re-write the script for Irish film.
The Crying Game trailer
During a hastily convened celebration party at the Irish Film Institute 24 hours later, Ireland's first Minister for Arts, Culture and the Gaeltacht Michael D. Higgins took immediate steps to revive – some would say to invent – a moribund and long delayed local industry. He announced that he would re-establish the Irish Film Board and locate it in Galway, a gesture that connected it to the symbolic wellspring of the Irish imaginary since Yeats.
Soon afterwards, Higgins built on that initiative by extending the Section 35 tax incentive to individuals willing to invest up to £25,000, transforming the amount of cash available to the nascent industry. By 1996, such investments amounted to £40m and a sustainable Irish film sector gained momentum as a slew of young talent embarked upon often faltering but previously unimaginable careers in film production.
From RTÉ Archives, Colm Connolly reports for RTÉ News in 1993 on Michael D Higgins' raft of measures for the Irish film industry
A new phase of government intervention in Irish film has gone all-but-unnoticed when current Minister for Culture Josepha Madigan announced in the summer that the Irish Film Board IFB would be renamed Screen Ireland (awkwardly translated as Fís Éireann, "Ireland-vision"). While the new name seems innocuous enough it might be suggested that it represents a fundamental shift in emphasis. It may indeed represent the final credits on long laboured for ambitions to create a distinctively Irish contribution to what is widely considered to be the art-form of the 20th century.
The re-branding was accompanied by a release stating that the new name recognises "the widening remit of the agency and gives greater voice to Irish creative storytelling on screen." Reactions within the industry have been mixed, if broadly supportive.
Whatever the reason for the change of name, it nonetheless marks the end of an era
Neasa Hardiman is symptomatic of shifts in the wider industry, having established an international reputation as an award-winning director of such small screen shows as Happy Valley (BBC) and Jessica Jones (Netflix) among others. Like many, she has had to go to the UK to find challenging, well resourced work in TV drama. She praised the name change as "a welcome enlargement of remit, given Irish TV's minimal engagement in screen drama and an acknowledgement of current realities."
Oscar nominated director of Room and The Little Stranger, Lenny Abrahamson, also picked up on the importance of small screen production going forward. "I'm OK with it in that I think it's important that TV is supported", he said. "RTÉ are not in a position to sustain the TV industry here and Screen Ireland have a big role to play." Similarly, Element Pictures' boss Ed Guiney said the change "very much reflects the way the world is moving."
A key influence on the name-change was the striking success of Irish animation, with studios such as Cartoon Saloon, Brown Bag and Piranha Bar now world-class players. However, Cathal Gaffney, co-founder of Brown Bag, questioned whether the new name marked a genuine widening of remit: "changing the logo for the Film Board without changing the 1980 Film Board Act is pure PR." He argued on Twitter that "content consumption has changed since 1980 and a more up to date mandate is what's needed. Same act has been interpreted to exclude and marginalize animation."
From RTÉ Radio One's The Business, Brown Bag's Cathal Gaffney and Darragh O'Connell discuss the success of their company
Others have also expressed reservations, albeit for different reasons. John Carney, the multi award-winning writer/director of Sing Street and Once, described the adoption of the screen as "daft": "I think the whole caving in to the laptop and phone screen as some sort of fait accompli is tiresome and wrongheaded," he said. "TV is a passing pleasure. Films do really last a lifetime. Who wants to watch a comedy at home one one's own? Or a musical!"
Writer/director Joe Comerford was at the forefront of efforts to establish an Irish film agency and sector with films such as Reefer and the Model (1987) and High Boot Benny (1993). Perhaps unsurprisingly, he is therefore one of the most damning of the new name and accompanying ethos, which he describes as "a travesty...abolishing five decades of serious work and which will have very serious consequences for Irish storytelling."
The death of Irish cinema?
Whether the change is understood as a response to realities, a shift in state attitudes to the meaning and value of cultural production, or simply a re-branding exercise, it nonetheless marks the end of an era. It's the aftermath of an effort by many to establish and imagine a distinctively Irish cinema, initiated by John Huston in a government-backed committee he chaired and which produced in the Huston report in 1968.
In 1993, Michael D Higgins saw the re-establishment of the IFB as an overdue gesture of political independence, describing its re-establishment as a choice between "whether we become a consumer of images in a passive culture or whether we will be allowed to be makers of images in an active culture, in a democratic society."
From RTÉ Radio One's Morning Ireland, Irish Film Board/Screen Ireland boss James Hickey on its plans for the future
While his decision to re-launch the IFB, following its disbandment after just six years by Charles Haughey in 1987, was lightening fast; it grew from the persistent lobbying by a group of politically conscious filmmakers such as Comerford, Pat Murphy, Bob Quinn and Lelia Doolin. Many of these figures were central to the "first wave" of Irish filmmaking during the 1980s, whose work was defined by an experimental approach and a desire for self-representation to counteract the cinematic stereotypes established and perpetuated by British and American cinema.
Surprisingly those filmmakers featured far less prominently in its new incarnation and the crucial US successes of My Left Foot and The Crying Game established a template of universal storytelling which grafted local narratives onto mainstream narrative styles and structures. Nevertheless, despite many often underdeveloped and frankly forgettable efforts during its first decade, Irish cinema gradually grew in confidence, reaching something a pinnacle in recent years with the success of films such as The Guard, Room, The Lobster and Brooklyn. However, while these are the most visible successes of Irish filmmaking, they do not reflect the full picture in either cultural or economic terms.
Reaching global audiences
The global networked screen has radically changed the character and location of the audience. Netflix and those who have followed co-opted and then pushed much further the business model of cable channels such as HBO (producer of Six Feet Under, The Sopranos and The Wire) to enlist huge numbers of subscribers through the production of high quality small screen drama. Today, Netflix boasts 125 million subscribers, a production budget of more than $8 billion and has commissioned 700 original series.
These changes have had an transformative impact on national cinemas as audiences stream whatever and wherever they wish with an almost limitless level of choice. Surprisingly, while this may be expected to be especially problematic and potentially cataclysmic for a tiny and fragile industry as Ireland's, the opposite has occurred.
The decision to replace "film" with "screen" seems both timely and an acknowledgment of Irish production and consumption practices.
In recent years, the Irish production sector has blossomed. This is as a result of both massive inward production of big-budget TV drama (beginning with The Tudors in 2004 and including shows such as The Vikings, Penny Dreadful and others) while also experiencing a golden age of home-grown creativity in a diverse range of feature live action and animation production.
A striking characteristic of the contemporary Irish audiovisual sector has been the emergence of strongly individual creative voices who no longer obsess about what an Irish film should be or do and whose work is all the better for it. Indeed a great many recent Irish films - Frank, Room, Mammal, The Lobster - have even eschewed Irish settings and stories. So outward-directed has the focus of the industry become that a majority of Irish films now premiere outside of Ireland at elite festivals of independent cinema such as Toronto, SXSW or Sundance and secure international distribution deals before local ones.
Alongside an emerging and overlapping gaming industry, and the exponential rise in content production for social media platforms, the decision to replace "film" with "screen" seems both timely and an acknowledgment of Irish production and consumption practices.
From RTÉ TEN, director Lenny Abrahamson and actor Domhnall Gleeson talk about their new movie The Little Stranger
But one might also detect broader motives at play in a globalised, neoliberal Irish economy that has significantly upped the ante in branding and monetising its culture, while simultaneously attracting huge numbers of high value "platform economy" jobs (Google, Twitter, Linkedin, Apple, Amazon, Uber and AirBnB) since the 2008 economic crash. This is reflected in a subtle shift away from discussions about the value of the arts to a creative economy discourse heralded by the 2011 Building Ireland's Audiovisual Creative Economy report published by the Department of Arts, Heritage and the Gaeltacht.
One producer who did not wish to be identified suggested that the Screen Ireland name signalled a not-so-subtle subtle drift away from the artistic, cultural and political values upon which the IFB was re-established in 1993, and towards the creation of an agency geared to increase incoming film and TV productions such as Game of Thrones (just finishing) and The Vikings (entering its sixth, and rumoured final season). Supporting this view is the fact that production space in Ireland has significantly increased in recent years with the building of Ashford Studios in Wicklow (soon to be further expanded at a cost of €90m), Troy Studios in Limerick and another massive complex of sound stages planned for the south Dublin coast (backed, naturally, by Bono)
Certainly, the uninspiring new Screen Ireland logo offers a revealing and perhaps troubling shift in brand identity. Several geometric shapes (presumably screens of various dimensions) are arranged on a classically corporate background and its overall effect is generic and deracinated with no recognisably Irish element. The "Talent, Creativity, Enterprise" tagline takes up the creative industries discourse first mooted by Tony Blair's New Labour and reflected in dozens of similarly "inspiring" start-up and tech industry slogans.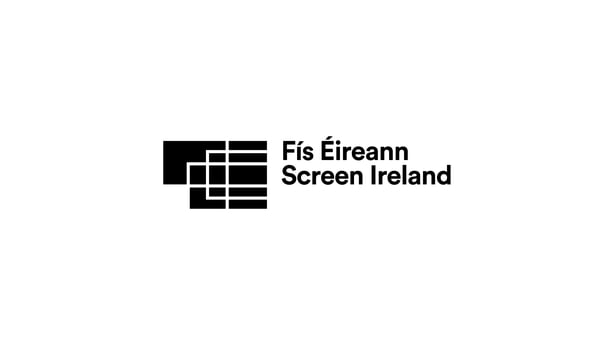 At its most literal, the tagline locates creativity in the individual, disavowing wider contexts of state and society. But as John Carney suggests, the foregrounding of screen also elides the specific virtues and values of cinema as art form and social experience.
The most memorable and enduring Irish films of the Irish Film Board such as Nora, The Butcher Boy, Song for a Raggy Boy, Adam and Paul, Once, Garage, Michael Inside, Song of Granite and many others grew from powerful evocations of Irish character, place and history and addressed indigenous, as well as international audiences, on a range of local themes. Such films were made to be consumed at the cinema and articulate in a communal setting local perspectives on a particular culture.
Does the foregrounding of "Screen" allow for a richer and more inclusive variety of such stories? Or signal the death of a state-subsidised commitment to self-representation in favour of jobs and transnational content output? One hopes that it can accommodate both, but it will require leadership, vision and a delicate balancing of priorities.
---
The views expressed here are those of the author and do not represent or reflect the views of RTÉ
---