Opinion: red tape and burdensome regulations are a huge cost for businesses and individuals and have an impact on a country's reputation
I quite like my job. I get to think and write about things that interest me and that seem important to me. I also get to talk to, and ideally with, students who share that view, albeit to varying degrees. I think that most of the academic economists that I know would agree with me about these very positive aspects of our jobs. I am also pretty sure that most of my colleagues would agree with me that amongst the most annoying parts of our job are the public perceptions that we get the entire summer off and that economists are all free market fundamentalists. Neither of these things are true of the average economist. Now, let me tell you why I spend my summers thinking about how regulation is a terrible scourge...
By regulation, I do not mean all regulation. The same body of economic theory that holds free markets up as a benchmark ideal also makes allowances for the existence of market failures that can justify intervention on efficiency grounds. Likewise, few would argue that the arms or financial industries should be completely unregulated. Indeed, studies point to public mistrust giving rise to a demand for regulation. However, there is evidence that points to significant economic costs of burdensome regulation of small and medium enterprises.
Corrupt officials generate excessive red tape because every piece of paper they put in front of business people creates an opportunity to extract bribes
Every piece of paper you must fill in as an entrepreneur to start your business or form that you must complete to pay your taxes imposes a cost in terms of your own time or the fees you must pay to others to comply with the law. The World Bank has a project that demonstrates that there are huge differences in such red tape requirements around the world. In conjunction with legal experts in each country, they calculate how easy it is for a hypothetical standardised firm to do its business.
In New Zealand, it takes one procedure and half a day to start a business, but it takes 20 procedures and 230 days in Venezuela, the worst performing economy in terms of starting a business. Not to pick on Venezuela, but it takes 792 hours per year to pay your taxes there as opposed to 82 hours in Ireland. Even allowing for substantial errors in measurement, one cannot escape the conclusion that some states place a higher regulatory burden on firms and that such red tape probably imposes real costs on firms.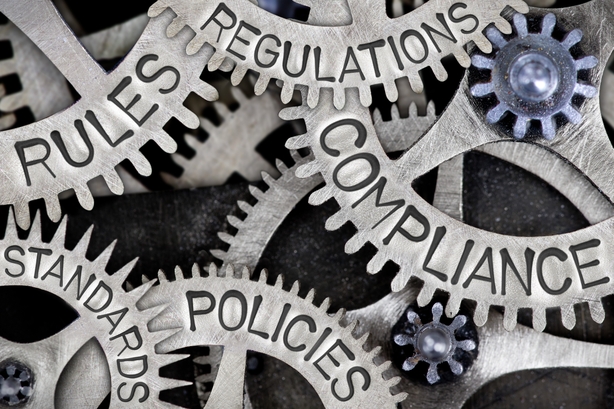 So can we see any evidence of these costs? An excellent study and one that may be worth bearing in mind when contemplating Brexit, finds that three quarters of the delay in getting product from factory to ship can be accounted for by regulatory requirements. Given that the study finds that each day of delay reduces trade by one percent on average, this points to substantial costs arising from red tape.
Another strand of the research, and again one with particular relevance to Ireland, has studied the role red tape plays in terms of the Foreign Direct Investment a country attracts. A key study in this area, carried out by Martina Lawless of the ESRI, found that the complexity of a country's tax system matters as much as tax rates. Multinationals, like other firms, face costs from paperwork and factor this into their decision making process. Later work, including my own, has pointed to a general aversion of FDI to red tape, particularly the burden associated with importing and exporting.
A natural question in light of these findings is "do countries with more red tape grow more slowly?" The answer seems to be yes. My work with Karl Whelan of UCD found an appreciable and meaningful penalty in terms of economic growth and development. This is a somewhat less dismal finding than it may seem as it suggests that incremental reform of a country's processes can yield tangible rewards.
One cannot escape the conclusion that some states place a higher regulatory burden on firms and that such red tape probably imposes real costs on firms
So why do some countries have much more red tape than others do? History, politics and culture surely play a role and we have evidence that corruption is a key factor that determines the extent of red tape in country. Even after allowing for differences in country size, both geographically and in per capita income terms, countries that are more corrupt do worse on the World Bank's rankings of the ease of doing business.
Corrupt officials generate excessive red tape because every piece of paper they put in front of business people, or meeting they oblige them to attend, creates an opportunity for them to extract bribes. If the cost of the paperwork or the meeting exceeds the cost of paying a bribe to make it go away, then officials stand to pocket some bribe income. Corruption can therefore explain the observed difference between formal legal requirements and firms' experience as reported to the World Bank's Enterprise Surveys. Even so, ongoing research with my DCU colleague Michael Breen suggests that corruption does not ease the realised burden of regulation either.
Another part of my job that I am beginning to enjoy is talking with businesspeople. I am not a businessperson but, as an economist, I understand that constraints and other people's incentives shape our lives. When I teach a class on the economics of red tape and regulation to business students or when I meet with businesspeople, I stress that the data underlying the dense academic studies is a resource that can and should be consulted before doing business with partners abroad. Even if it is noisy, it can give you a sense of what to expect – formally and informally.
---
The views expressed here are those of the author and do not represent or reflect the views of RTÉ
---